By Carolyn Austin
Housing starts are up 7.8 percent, to .593 million units, on a YOY basis, but multi-family, not single family, starts show the strongest rebound. Single family starts fell to their lowest level since 1991, to .468 million units, and declined in all regions.
In May 2007, housing starts lingered around 1.4 million units.
Permits continue to decline, with the May rate standing at 0.574 million units, but were still 4.4 percent higher than a year ago. Homebuilder stocks fell after the report, along with the broader market.
But while home prices are off 30 percent on average from their peak in June 2006, many homebuilders are employing a cheap-land strategy to bulk up profits. Three such cash-rich residential home builders in the publicly traded arena with this strategy are DR Horton (NYSE:DHI), Lennar (NYSE:LEN), and Toll Brothers (NYSE:TOL).
DR Horton
In its second-quarter earning statement, DR Horton reported a 20 percent revenue increase to $2.0 billion for the first six months of 2010 compared to $1.7 billion from the year-ago period. Net income for the same six months stood at $203.4 million, or $0.61 per diluted share, compared to a net loss of $171.1 million, or $0.54 per diluted share, for the same period a year ago.
The company has $1.8 billion in cash and marketable securities on its balance sheet after paying off senior debt, which reduced its overall debt by $524.8 million. It declared a quarterly cash dividend of $0.0375 per share.
With the government's home purchase incentives (which expired April 30 for home purchase contracts) in mind, Chairman Donald R. Horton made these comments:
Our focus on providing affordable homes enabled us to take advantage of the spring selling season demand, resulting in 6,438 net sales orders for the quarter, an increase of 55% from the year ago quarter and 59% sequentially.

Market conditions in the homebuilding industry are still challenging, with rising foreclosures, significant existing home inventory levels, high unemployment, tight mortgage lending standards, the expiration of certain government support for the housing and mortgage markets and weak consumer confidence. However, new home inventory remains low, interest rates are favorable and housing affordability is near record highs.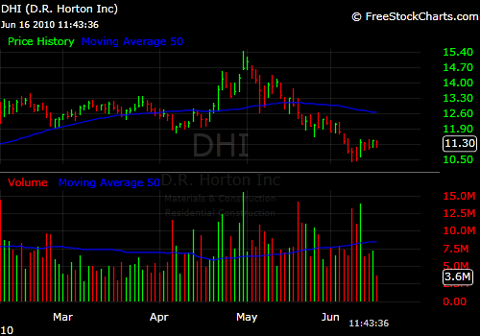 (Click to enlarge)
Comments: Despite its solid fundamentals, this stock is not likely to outperform in the coming months, particularly in an increasingly uncertain economic environment. The stock price is fully valued, overbought, and struggling to break above its 13-day moving average.
Lennar
Reporting for the quarter ending Feb. 2010, LEN surprised analysts with a narrower than expected loss of $0.04 cents per share – analysts were expecting a $0.32 cent loss. For the same period last year, the company reported a loss of $6.52 million. Compared to the previous quarter, sales dropped 3.14 percent and revenues decreased 3 percent. The stock gapped up following the report but now hovers below its 13-day moving average.
Stuart Miller, President and Chief Executive Officer of Lennar Corporation, said:
We continue to see that the overall housing market is moving towards stabilization, as more confident homebuyers recognize the increased affordability of homeownership… In addition to the investments made by our new reportable segment, our homebuilding operations acquired access to well-located home sites through strategic land deals.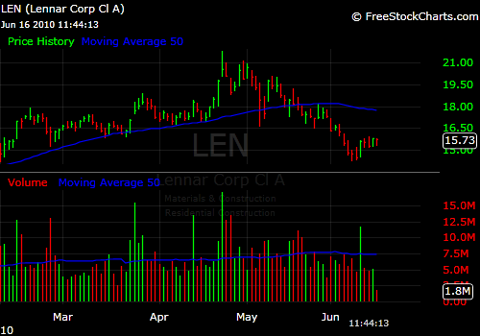 (Click to enlarge)
Comments: In its recent news articles, the company has highlighted its demand at select communities and its lease program for solar panels to existing Lennar homeowners. Its PEG ratio is high at 21x earnings, and although an improved earning report is likely in June (reflecting carryover from the home purchase programs from April), the company looks ripe for a short.
Toll Brothers
For the six months ending April 30, Toll Brothers reported a 21 percent decrease in revenues to $6.38 million and 53 percent net loss decrease of $8.21 million. The company reported a second-quarter net loss of $40.4 million, or $0.24 per share diluted, compared to an $83.2 million loss, or $0.52 share diluted, for the year-ago period.
Although delivered revenues and units declined 22 percent from the year-ago period, signed contracts and units rose 56 percent and 41 percent respectively. Robert I. Toll stated:
It appears our business has finally emerged from the tunnel and into a bit of daylight. For the third consecutive quarter, our signed contracts per community exceeded both of the previous two years' comparable-quarter totals. Deposits and traffic per community have been trending positively for the last four-, eight- and twelve-week periods.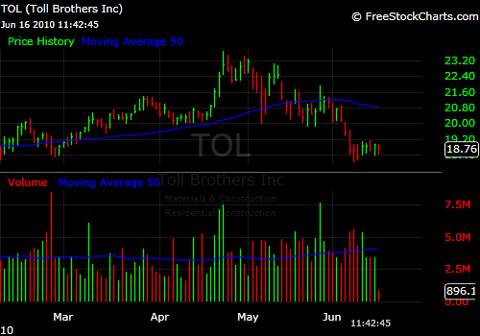 (Click to enlarge)
Comments: The company looked like a good bet last January when Barclay's upgraded the stock to overweight, but the stock sunk with the broader market like most other homebuilders. The company's improvement with signed contracts is encouraging, and the next earnings report should be stronger. The company looks good for future growth and may get a boost with its July earnings report, but a weakening housing market makes this stock a short-term trade.
Disclosure: No positions