The Industrial Metals & Minerals industry remains cyclical and price competitive. It thus has an imbalance between supply and demand. Economic situations, housing markets, the vehicle industry and other fixed assets impact this business. The Industrial Metals & Minerals industry involves extracting and processing minerals and metals. It includes markets for base metals, aluminum, iron and steel in addition to precious metals, including silver, platinum, gold and other minerals. I looked at the circumstances and headwinds this industry has been facing and picked two giants, Cliffs Natural Resources (NYSE:CLF) and Vale SA (NYSE:VALE), to analyze. I will look at their future prospects, business strategy and financial situation to gauge which one is in a better position to invest in.
Where Does Cliffs Natural Resources Stand?
Cliffs Natural Resources drives demand for steelmaking raw materials from both developed and emerging economies. China and the U.S. are the largest markets for Cliffs Natural Resources. In 2013, China produced approximately 49% of crude steel, and the U.S. produced around 5% of total global crude steel production. Chinese production increased 8%, while production from the American region decreased 2% over the past year. Global crude steel production increased 4%. Further, in 2014, the company expects demand for steel to increase further with the growth in the economy, increased spending in motor vehicle production and increased spending from the energy sector. In China, increased investment in fixed assets should generate demand and, thus, the country will need to import steelmaking raw materials to satisfy demand.
Cliffs Natural Resources was strongly working on merger and acquisition strategy to enhance its product pipeline and portfolio of assets. However, with the changes in executives and the volatility in commodity prices, the company changed its aggressive investment strategy. It now wants to strengthen its existing asset portfolio while concentrating only on organic growth along with enhancing financial strength. Consequently, it reduced its capital expenditure in the last year and for this current year. It reduced its capital spending by 50% for 2014. The company wants to strengthen its financial and liquidity position. To do this, it suspended various projects, including the Chromite project. It also plans to idle underperforming projects.
I fully support the company's strategy of getting back to enhancing financial strength, which involves reducing costs, improving productivity and right-sizing its organizations to meet immediate needs. All these initiatives led the company to turn back to profitability. As in the fourth quarter of 2013 alone, it increased its gross margin by 23% and had an 18% decrease in selling general and administrative expenses. For the full year of 2013, it generated a net income of $414 million compared with the loss of $900 million in 2012. Its cash flow from operations grew to $1.1 billion; capital spending was reduced to $862 million, and free cash flows became positive at $284 million. Now its dividends look completely safe as both net income and free cash flows are covering dividend payments of $91 million. In the past year, its cash flows were negative at $613 million, and the payout ratio based on income went to 142%. Consequently, it reduced quarterly dividends from $0.625 to $0.15/share.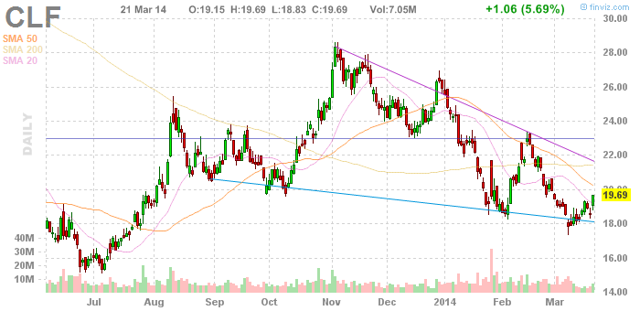 Click to enlarge
Because of the poor financial performance from volatility in commodity prices, massive capital expenditures and high operating expenses, the stock has been selling off since late 2011. The stock has gained some momentum since November of last year with the change in executives and business strategy. However, it is again selling off on concerns related to demand from China and price stability. Amid this, I think the market overreacted to these concerns, but all this is providing an attractive opportunity to initiate a position in the company. I believe that with a newly-adopted strategy, the company is setting better footprints for long-term growth. In this year, the company plans to generate better profitability with its significant cost cuttings. Also, with all the changes, it is now well set to face any big volatility in commodity price. Based on the International Monetary Fund, the economy is predicted to grow at a higher rate of 3.8%, in this year compared with 3.6% growth in the past year.
Where Does Vale Stand?
Vale, on the other hand, has been quick to respond to these commodity price challenges. The company, after losing earnings in 2012, came back sharply with cost cutting and recent investments to produce underlying earnings growth of 15.4%. Vale has also generated massive cash flow growth, particularly led by increased income and low capital spending. The company has had record sales volumes of iron ore and pellets (305.6 Mt), gold (297,000 oz), copper (353,000 t) and coal (8.1 Mt). It has paid dividends of $4.5 billion in the past year alone.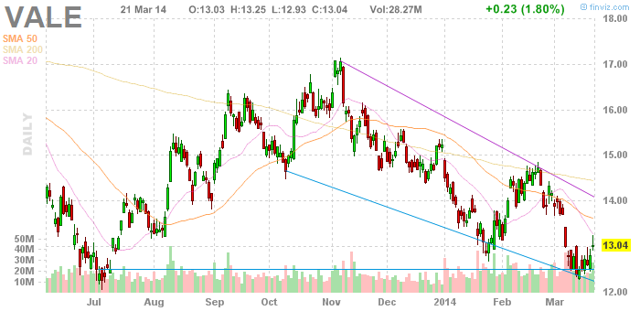 Click to enlarge
Amid all this, the stock is trading at a very low $13.04/share. Year to date, it has lost 14.49%. Its price-to-earnings ratio came down to $11.5. Vale is trading at a significant discount. I believe it is time to buy Vale because it is in a strong position to make big profits for investors. The company has positioned itself well for the coming challenges from Chinese markets. It has kept on its strategy to work out costs and dispose of non-core assets. It has also completed some attractive projects, and it continues to work on growth projects along with strategic partnerships.
Last year, it reduced the cost of products by $972 million, SG&A expenses by 40% and R&D by 45%, and the company plans to reduce more costs this year. It disposed non-core assets for around $6 billion. All these moves set the company to work more efficiently, making it financially strong. These initiatives allow it to produce increased earnings and massive cash flows, which further strengthen its footprints for future growth. Further, Vale anticipates returning at least $4.2 billion in dividends in 2014. I believe Vale will generate more cash in 2014 with cost savings and more reduced capital spending.
The company has completed projects like Conceição Itabiritos, Plant 2 and CLN 150, which required growing iron ore production in the years 2014 to 2016. Vale continues to work on other growth projects and strategic partnerships to keep capitalizing on demand. However, it has significantly reduced its capital spending since the past year and is very selective in funding new projects. Therefore, the company anticipates capital expenditure to reduce further in 2014. All development shows that the company is fully ready for any uncertainty, and the management is focused on growing the core business more efficiently.
Final Notes
At present, both companies are working on similar business plans. They both seek to reduce capital spending and plan to work on cost savings as much as they can. However, Cliffs Natural Resources remains slow in doing that. In my opinion, because Vale has been quick to act, it is in a better position to generate strong profits in 2014.
Disclosure: I have no positions in any stocks mentioned, and no plans to initiate any positions within the next 72 hours. I wrote this article myself, and it expresses my own opinions. I am not receiving compensation for it (other than from Seeking Alpha). I have no business relationship with any company whose stock is mentioned in this article.