It's been a couple of weeks now since I reported on chip giant Intel (NASDAQ:INTC), so I wanted to update investors where things stand. The company will report earnings in mid-April, so I'll touch on current estimates and potential guidance. Additionally, I'll discuss an interesting move from another tech giant that could put a dent into Intel's tablet plan. Intel shares are starting to move higher again, and investors will need to be cautious if this continues into earnings. Today, I'll update where Intel stands, and how investors should look at the stock.
Current Q1 and full-year estimates:
Intel will report Q1 results on April 15th, after the close. Well, at least we hope the company reports Q1. In the company's original press release, it was stated that fourth quarter and full year results would be reported on that date. While the company did correct this mistake later on, it is rather hilarious if you ask me. A company that in the same press release says that it is a "world leader" should at least be able to get this right, unless it has decided to change its fiscal year without telling everyone.
For Q1, analysts are looking for $12.81 billion in revenues from Intel, basically in-line with the company's guidance midpoint for $12.80 billion. Last year, Intel came in at $12.58 billion, so estimates call for a little less than 2% growth. In terms of EPS, analysts are looking for $0.37 per share, down three cents from the prior year period. My original model using Intel's guidance for Q1 came out with $0.36 for the quarter, so analysts are a penny ahead of that. For fiscal Q2, which Intel will give guidance for, analysts are looking for $12.95 billion in revenues and $0.43 in EPS. Those numbers are both up from prior year amounts of $12.81 billion and $0.39, respectively.
The one area where I think investors will be disappointed with what Intel details is the full year forecast. In the last couple of years, Intel has basically reiterated a large share of its yearly forecast at the Q1 report. Unless something changed dramatically in Q1 or Intel has a different view of the rest of 2014, I don't expect major changes to the full year forecast. In the past two years, Intel made significant changes to its full year forecast at the Q2 report in July.
Intel analysts are still looking for 0.8% revenue growth this year, which is slightly ahead of the company's forecast for "approximately flat" revenues. I would not be surprised if Intel reiterates this forecast, which may be seen as a disappointment. Any changes to guidance other than revenues will be key for determining EPS. Additionally, Intel did not provide restructuring expense guidance for the year at the Q4 report, only giving a Q1 number. Investors should see if any number is given for Q2. Finally, investors should look at the buyback in Q1 and the diluted share count to see if those items will help or hurt 2014 EPS. Analysts are looking for $1.85 this year, down four cents from last year's figure.
At the moment, expectations are not very high for Intel in Q1 or all of 2014. However, as I will show later on, investors need to watch this stock carefully into earnings. In recent months, Intel has rallied into large events, only to sell off afterwards. With Intel shares around $25 right now, some disappointment may be priced in. But if we see another pre-earnings rally to $27 in early to mid April, investors will need to be extremely cautious. Even if analyst estimates don't change, a rally in the stock will boost investor expectations, and a good report may not be enough for the stock.
Office for iPad - a dent to Intel's tablet plan?
One of the biggest hopes for Intel in 2014 is that the company plans to quadruple tablet chip shipments to 40 million. Bulls are hoping for even more than that. Intel has admitted that it fell behind in the mobile revolution, and the company is now trying to play catch up. Intel's strong push into tablets (and smartphones) will take place throughout 2014 and 2015. Unfortunately, the tablet campaign will ding gross margins a bit this year as Intel needs to be very price competitive to get its chips into tablets.
So one must wonder if the latest news will put a dent into Intel's plans. There are serious rumors that Microsoft (NASDAQ:MSFT) will launch an Office Suite for Apple's (NASDAQ:AAPL) iPad at a March 27th event. Most agree that this move will certainly help Microsoft's bottom line, but it should also help sales of the iPad as well.
The question here is did Microsoft just decide to kill its own Surface tablet with this move? One Microsoft blogger certainly thinks so, as evidenced by the following statements:
The biggest pull of the Surface Tablet range right now is the range's performance for productivity and corporate users - an iPad with a full-fat MS Office suite on the other hand might prove an even more appealing prospect.

Of course, some will argue that there's way more to the Surface Tablet than Office alone, but it's worth noting that in every single TV ad campaign for the devices so far, the fact that the run Office has been highlighted as a key selling point.

So in turn, bring this feature to iOS and you immediately wipe it out as a selling-point - potentially suicidal for a device that doesn't have a wealth of selling-points to play with.

From performance to versatility to availability of apps and right down to simple reputation, the Surface Tablet range has always trailed so far behind its iOS and Android rivals. The second round of slates may have performed far better than the first, but sales are still incredibly mediocre compared to those chalked up by its Microsoft's primary competition.
While Apple's share of the total pie dipped in 2013, Apple still had 36% of worldwide tablet sales last year, according to Gartner. Microsoft had just over 2% of the tablet market, although many were hoping that the Surface 2 and other Windows 8 tablets would increase that share in 2014. The worry here doesn't end with the Surface, however. There are a number of Windows powered tablets that Intel has chips in.
At this point, we can't measure the true impact on Intel. However, if Microsoft hands Apple a win for the iPad, Intel is obviously hurt by not being in the iPad currently. Intel bulls might have to adjust their expectations a bit if Windows (and Android to an extent) tablets suffer. This might have an impact on Intel's tablet plan, and I hope at least one analyst asks the question on the upcoming earnings conference call with management.
No dividend raise this time:
For those still holding out hope that Intel would raise its dividend, you'll have to wait at least a few more months. Last week, Intel declared its quarterly dividend of $0.225, which equals $0.90 on an annual basis. The dividend will be payable on June 1st, to shareholders as of May 7th. Based on Friday's closing price, this dividend has an annual dividend yield of 3.58%.
Most investors were probably not expecting a dividend raise, so this shouldn't be much of a surprise. I recently laid out the facts as to why Intel's dividend may not be raised this year unless the business improves dramatically. With no dividend raise this time around, it signals to me that business has not picked up enough so far in 2014 to warrant a raise, and that Intel will be looking to get closer to its 40% payout target. Investors will still be hoping for a dividend raise later this year, but I maintain my stance that a raise is not likely unless Intel decides to adjust its payout ratio.
Buy the rumor, sell the news:
Twice in the past six months, Intel has had a large rally into an important event, and then the stock flopped afterwards. You can see this in the chart below, and I've added two arrows to highlight when this happened.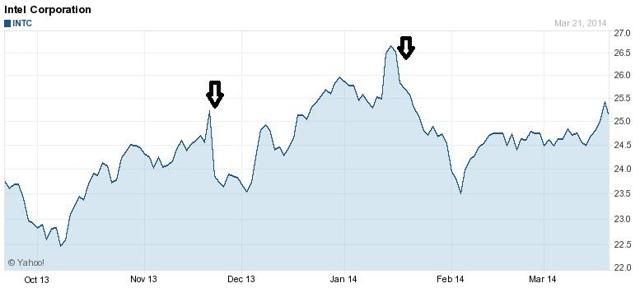 (Source: Yahoo! Finance)
The first run happened into Intel's Investor Day Presentation back in late November. This is when Intel first disappointed with 2014 guidance. Intel guided to flat revenue growth in 2014, while analysts were looking for 2.1% growth. At that time, analysts were also looking for an earnings rebound, with a 2014 EPS estimate average of $1.92. Shares rallied to 5-month highs going into the presentation, but fell afterwards as you saw above.
Investors shook off the bad news, however, hoping that Intel was being conservative with its guidance. Shares started to rally at the end of 2013 and into early 2014, as Intel headed for earnings, the actual Q4 report. I warned investors ahead of time, and Intel earnings turned out to be a complete dud. Intel beat on revenues but missed on EPS. Given the stock's large rally, the Q4 report was not impressive. Additionally, Intel basically reiterated a large part of its original guidance for 2014. Intel's forecast for flat revenues was still below the 1.2% growth analysts were looking for at that time. The forecast also led me to believe that EPS would decline again in 2014. Even though revenue and earnings estimates had come down since the November event, Intel's guidance was still light.
Last Friday, Intel shares hit an intra-day high of $25.68, the highest point for the stock in two months. The last time Intel saw this price was just after the earnings report, during Intel's fall which continued for another few weeks. While Intel shares did pull back late Friday with the rest of the market, shares have started to rally back a bit, as you can see above. Just like the last two events, I'd be worried about the Q1 report if Intel rallies towards $27 again into the report.
Final thoughts:
Intel is starting to move higher again, which could be a warning going into earnings. Intel is unlikely to update its full year forecast in a major way, which might lead to investor disappointment. The dividend was not raised again, and probably won't be for at least a few quarters. Additionally, Microsoft's Office move for the iPad could put a dent into Intel's tablet campaign.
Intel's push into tablets and smartphones is the one hope investors have right now with a declining PC business. However, Intel has been a name that has disappointed a lot in the past few years, so I'm not expecting much from the company in 2014. The recent range for the stock has basically been $23 to $27, and shares are near the middle of that currently. Until Intel does something meaningful that makes this stock a definite buy or short, the stock will most likely be range bound. For now, the only reason in my opinion to be invested in Intel is for its income potential, as the name has the highest dividend yield in large cap technology.
Disclosure: I have no positions in any stocks mentioned, and no plans to initiate any positions within the next 72 hours. I wrote this article myself, and it expresses my own opinions. I am not receiving compensation for it (other than from Seeking Alpha). I have no business relationship with any company whose stock is mentioned in this article.
Additional disclosure: Investors are always reminded that before making any investment, you should do your own proper due diligence on any name directly or indirectly mentioned in this article. Investors should also consider seeking advice from a broker or financial adviser before making any investment decisions. Any material in this article should be considered general information, and not relied on as a formal investment recommendation.