Freeport-McMoRan Copper & Gold Inc. (NYSE:FCX) has had a rough start to 2014, as the stock is down close to 15% YTD. Does that make the stock a buy, or does the recent weakness indicate a problem with the company's fundamentals?
Since it is very easy to be bearish on Freeport (slowing China demand, plummeting Copper prices, almost flat 2014 earnings, big expenses on the Oil and Gas front to name a few), this article presents a few positives for investors. Especially if one is in for the long term. So let us get into the details.
Yield: Freeport is currently yielding almost 3.9%, and the 4% yield mark of $31.30 is only 3% away. This is one of the safest and highest yielding stocks one can find in this industry. While Southern Copper Corp. (NYSE:SCCO) has yielded more than Freeport at times recently, it has a volatile dividend history, with the yield ranging between 1% and 12%. Freeport, on the other hand, has a fairly steady quarterly payout of about 31 cents per share. Investors tend to prefer companies that have a steadier payout, and that is where Freeport wins.
The company also has a history of announcing special dividends. Click here to read about the 2010 special dividend and here to read about the 2013 special dividend. With the payout ratio below 50%, investors should believe the dividends will at least be steady if not increase.
Insider Purchases: While Freeport does have insiders selling their shares, there are quite a few insider purchases as well. The table below lists the buying in the last 12 months. While this might seem like old news, except perhaps the buy in February 2014, the key points to be noted are:
A majority of these insiders who bought in 2013/2014 have not sold their shares yet.
The current market price is lower than what insiders have paid for their direct purchases since October 2013.
Looking at the number of insiders who bought at the $28 to $29 level, that is perhaps where the stock's short term bottom is. In other words, investors are looking at a 10% downside from the current price as the worst case scenario. The section below talks about the potential upside.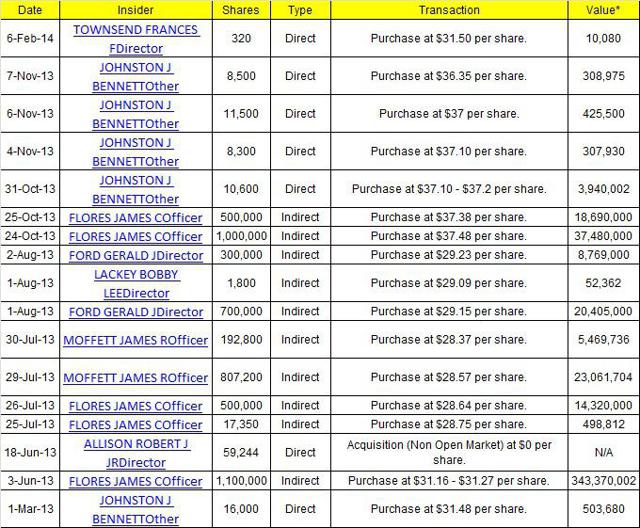 (Source: Yahoo Finance)
Price Target:
According to 15 analysts on Yahoo Finance, the average price target is almost $40, nearly 25% upside.
According to 21 analysts on Marketwatch.com, the average price target is again near $40.
Trefis.com has a price target lower than the current market price, but that seems to be the only place where the price target does not reflect an upside.
Freeport recently had a downgrade, but even the downgraded price target of $43 represents a hefty 34% upside.
Adding the near 4% yield doesn't hurt.
Growth Drivers and Forward Estimates:
Copper prices have been weak recently, but the company's CEO still predicts demand from China will keep growing. While Freeport's troubles in Indonesia are well-documented, the company has clearly moved away from being just a Copper play.
According to Trefis.com, the new Oil and Gas division contributes 42% of the share price, while Copper is still the most important division at 48%. The Oil and Gas division has already started playing a positive role in the company's earnings, but investors must also be ready for a wild ride.
On the backing of the Oil and Gas division and growing Copper demands, analysts are predicting that the earnings will go up by 27% per year for the next 5 years. That seems way too optimistic as of now. But as seen from the company's presentation at the February 2014 Credit Suisse Energy Summit, there are big plans in place for Oil and Gas exploration at profitable locations like Mississippi Canyon. So, the potential is there, but earnings might not be as rosy as predicted by the analysts.
Freeport is well known for its efficient operations, and that is critical in these cash consuming exploration activities.
Freeport's PEG of 0.42 suggests the stock is undervalued relative to the growth expectations.
Technical Indicator: Freeport's current Relative Strength Index [RSI] is in the mid 30s, which indicates an oversold condition is not far off. While stocks can remain oversold and undervalued for a long time, a RSI of 36 indicates selling exhaustion could be near. A few more consecutive down days, and we might be looking at the stock price as well as the RSI going below 30.

(Source: Yahoo Finance)
Conclusion: Let's all be clear about one thing; Freeport is not a stock for the weak-hearted. The stock is far from what most income investors love, given its volatile stock price (a beta of 2.27) and earnings. That said, this stock has plenty of positives to offer:
If you are looking for a company in transformation (companies in transformation typically have lower valuations)
If you are looking at a mining stock that offers both reliable income and tremendous potential for long term capital gains
If you are in for the very long term and are patient enough to ride through the short term troubles
Disclosure: I have no positions in any stocks mentioned, and no plans to initiate any positions within the next 72 hours. I wrote this article myself, and it expresses my own opinions. I am not receiving compensation for it (other than from Seeking Alpha). I have no business relationship with any company whose stock is mentioned in this article.