"What took us 30 years to do, new people are gonna be able to do in the next 4, 5, 6 years." He then asks the audience, "How many of you would like to make at least a million dollars a year? Every extra million dollars, I find, comes in handy. 2 million? 5 million?"

-John Tartol, Herbalife Board Member, suggesting to distributors in 2012 that they could earn millions in a few years. (source)
When you look at a statement like that in direct comparison to hard evidence like Herbalife's (NYSE:HLF) own Statement of Average Gross Compensation, it's almost impossible not to fall off your chair.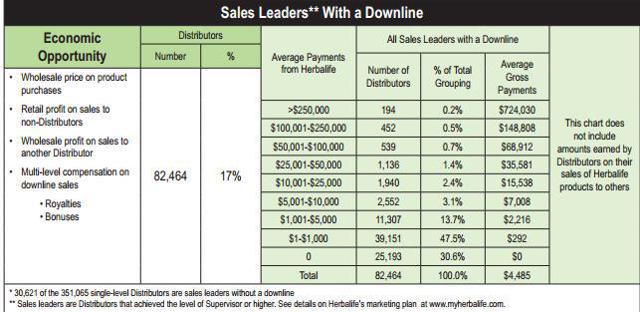 The facts are, you just can't be on the Board of Directors of a public company and blatantly mislead people like that. The disconnection between that statement, made at the 2012 President's Summit, and the fact that 96.4% of Herbalife distributors make less than a bottle and can collector is mind-boggling. For an officer or a director to make such lofty and blatantly false statements is highly questionable.
How about Tartol's "Success Connection" e-book, which he sold as part of a lead generation site, successconnection.com, which made claims like these: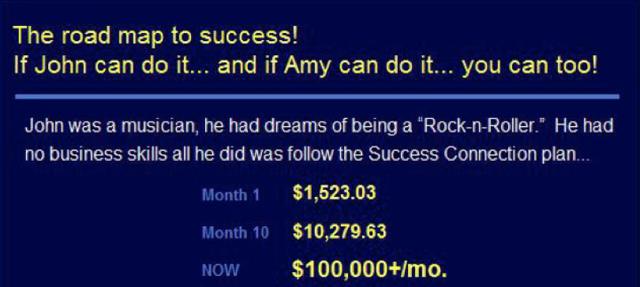 They're suggesting that by following his plan, you can make $10k a month in just ten months. However, 94.9% of people on Herbalife's own statement of gross compensation fail to even make $10,000 annually.
So, the question becomes, if the FTC finds out the truth about Herbalife, what is going to lay in store for people like Mr. Tartol, who have seemingly knowingly perpetuated these falsehoods? D&O insurance will "likely be of no value," claims Bill Ackman in his letter to Herbalife Board members:
(click to enlarge - Pershing's letter to Herbalife's Board of Directors)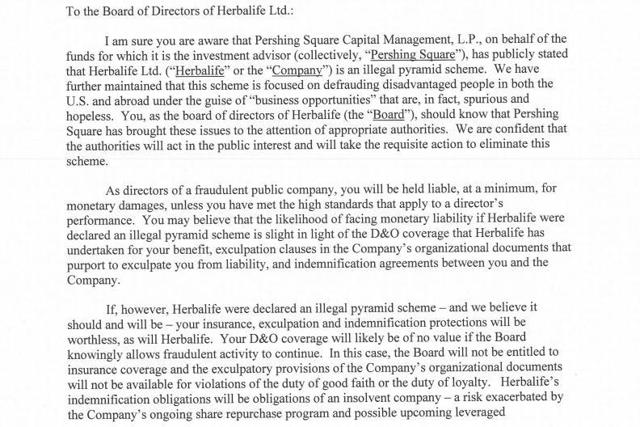 What in God's name would I do if I was John Tartol? This is the question I've been asking myself for the last couple days. In between trying to figure out what, exactly, is going on inside Carl Icahn's head, my focus has shifted to the Board of Directors.
First, Ackman brought it up on the Herbalife China call a few times. Then, Matt Stewart's article came out yesterday, as did Michelle Celarier's NY Post article with Pershing Square's letters to the Herbalife board informing them of the potential liability they face.
Herbalifepyramidscheme.com points out some disturbing quotes from Mr. Tartol, especially ones centered around recruiting in Vietnam:
"For example, Vietnam is opening. I tell [my downline], find out if a plane is coming in from Vietnam, go to baggage, and hand out fliers to everybody [inaudible], or at least talk to them and say, 'Are you from Vietnam?' I need help there, my business is opening there in two months.'"

...

"[w]e go to every nail salon in Los Angeles that's run by a Vietnamese. We are attacking them. We're going to every Vietnamese restaurant. We're advertising in the Vietnamese papers. . . . I'm saying we need to get business right here in Los Angeles now."
Rushing furiously to provide the global cure to obesity in Vietnam by posting up at the airport and handing out flyers to incoming flights. Got it.
And why would we need to do this - I thought these products were so good they practically sold themselves?
Which brings me to the position both Icahn and Tartol are seemingly in - a catch 22.
We all know the position Mr. Icahn is in. He can't get out, and it's been reported by the NY Post that he's definitely not continuing to buy:
While Icahn, who has a 17 percent stake in the distributor of weight-loss shakes, has not made up his mind yet on whether he will name an added board member, he has determined he will not buy more Herbalife shares as part of that deal, sources said.
Further, if Icahn starts to sell, the stock is going to tank as he whacks bids and then tank even more once the filings are made that he's out.
One can only think what Stiritz is going to do, as well.
But, as I said to Whitney Tilson in an e-mail yesterday, I knew Icahn didn't do his due diligence on Herbalife during his feud with Ackman on CNBC, where he called the ticker symbol "H-A-L-F" instead of "H-L-F."
I wish I had the luxury of pouring millions into an investment while not even having a grasp on what the ticker symbol is.
Tartol, like Icahn, is in a catch 22. What's done is done. Resigning from the Board now, which might be his next step to "let Icahn's guys on" is not going to separate him from the mountain of evidence against the company. Really, no matter what Tartol does, if the FTC finds the company to be illegal, there's a chance he could still be on the hook personally.
The fate of both Mr. Icahn's investment and Mr. Tartol hangs in the balance of what the FTC finds.
Herbalife, I continue to contend, is an appealing short with a potential downside target of $0.
Best of luck to all investors.
Disclosure: I am short HLF. I wrote this article myself, and it expresses my own opinions. I am not receiving compensation for it (other than from Seeking Alpha). I have no business relationship with any company whose stock is mentioned in this article.