Installed Building Products (NYSE:IBP) is one of the top names in insulation for the home market. As a large installer of insulation products for new residential construction, the company is poised to take advantage of the upcoming renaissance in building that is likely to occur after the mortgage crisis and Great Recession. See our prior article on IBP here.
Over recent years, IBP has made a concerted effort to expand its operations nationally, and this move has helped to position it favorably for the economic recovery.
We expect the company's upcoming earnings report on March 26th is expected to reflect this general optimism.
IBP's Market Niche
Installed Building Products' chief operation is selling and installing insulation products for the residential market, but it has also branched out into rain gutters, garage doors, and products for the interior of the home, such as shower doors, mirrors, shelving for closets. Like many homebuilder stocks that have trailed the broader market, IBP suffered significant losses in past years. Headquartered in Columbus, Ohio, Installed Building Products has expanded to 100 locations over 44 states since its founding in 1977. Its market capitalization is estimated at $432 million.
The IPO
In January of 2014, IBP announced its intention to issue an IPO of 9 million shares to raise an expected $135 million. Subsequently, it reduced the number of shares to 7.5 million and lowered the price range from its initial $14-16 range to $11 per share by the time of the IPO's opening. The stock dropped in the first few hours, but then rallied to $12.80 by the close of the first day.
The company's five consecutive quarters of profit are expected to keep the stock price on the rise. CEO Jeffrey Edwards saw the IPO as the next logical step in the company's leadership in providing building materials for the construction industry.
IBP's Outlook For Shareholders
Revenues for 2012 were up 26 percent over fiscal year 2011. Over the past nine months, revenues were up 49 percent, which indicates the company is taking part in the general recovery for construction occurring in the United States.
The company's widespread coverage of the market makes it a good candidate for increases in the stock price as home inventories left over from the mortgage crisis are exhausted and new construction increasingly begins to fill the growing demand for housing.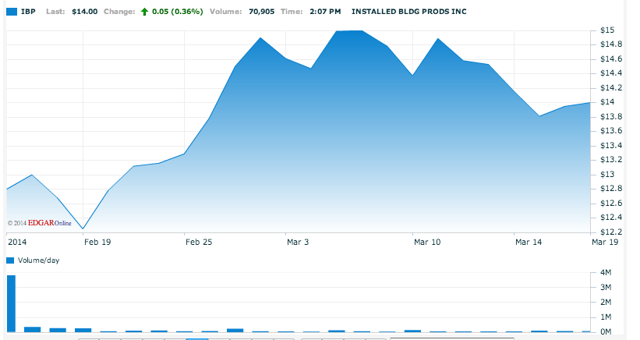 (Source: Nasdaq.com)
Disclosure: I am long IBP. I wrote this article myself, and it expresses my own opinions. I am not receiving compensation for it (other than from Seeking Alpha). I have no business relationship with any company whose stock is mentioned in this article.