In the earth's crust, there is only 1 gram of gold for every 250 tonnes (550,000 lbs) of earth. Gold's rarity means that finding economic deposits is extremely difficult. It also means that it becomes essential for precious metals investors to understand the underlying fundamentals behind gold supply.
In this article, I will give an overview of every aspect of the gold supply including: how gold deposits are created, the major types of gold deposits to know, how much gold is left in the ground, who owns it, all-in cash costs, and what the global gold supply picture looks like moving forward.
Gold Geology 101
Before anyone invests or speculates with gold miners, they should know the basics:
Gold mineralization typically occurs when it precipitates out of hot fluids and is deposited into host rock. Gold, initially dissolved in hot water deep in the crust and under immense pressure, is transported and deposited upwards as the water travels up cracks and fissures towards the surface.
Major Gold Deposit Types
"Gold is where you find it" - Famous Prospector Saying
Placer deposits are formed when erosion exposes veins of gold. The gold, because of its density, eventually is moved by earth's forces such as water and gravity. Gold nuggets found with gold panning are created in this manner.
Volcanogenic Massive Sulphide (VMS) deposits are formed at or near the sea floor by underwater volcanic activity. They can be a significant source of copper, zinc, lead, gold, and silver.
Epithermal deposits are created close to surface and are deposited by hot fluids. These occur typically in areas where magmas are able to move high in the Earth's crust. Gold, silver, copper, and other metals are found in epithermal deposits.
Porphyry deposits are the single most important source of copper and molybdenum today. Also sometimes containing gold, they form when a column of magna rises and cools in two stages, trapping rich localized zones of minerals.
Carlin-type deposits occur chiefly in Nevada, where the gold is "invisible" to the naked eye by being disseminated throughout the sedimentary rock. Almost always, these are hosted in carbonate rocks.
Orogenic deposits form during ("mountain forming") events when tectonic plates collide. The gold, along with other minerals, is often precipitated in quartz.
There are other types as well, but the above deposits are the most common sources of gold today.
How Much Gold Is Left?
According to our 2013 World Gold Deposit Rankings, a report which summarized all gold deposits in the world over 1 million ounces, the total amount of gold left in the ground is a total of 3.72 billion oz (115,700 tonnes).
Based on a best estimate provided by Natural Resource Holdings, the actual recoverable amount of this gold is much lower. For example, assuming only 70% become mines and a 70% metallurgical recovery rate, that leaves only 1.82 billion oz (56,600 tonnes).
For comparison's sake, in 2013 there were 3,019 tonnes were mined according to the World Gold Council. Over the entire history of mankind, it is estimated that around 174,100 tonnes have been mined.
If Grade Is King, Where's the Throne?
Here's a thought experiment: do a quick calculation on the above numbers, and you'll see that if gold is mined at the current rate of 3,000 tonnes per year and no new discoveries were to be found, we are out of gold in 19 years.
That is obviously not the case, but it raises the big question: how much gold is being discovered and at what grade? Is enough being discovered to replenish reserves?
This graphic from Metals Economics CIBC, although missing data for 2013, gives you an idea of the trendline for big discoveries: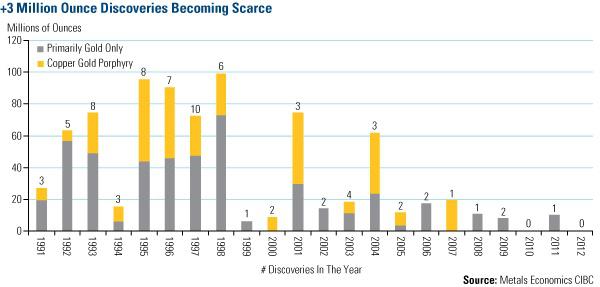 Perhaps the most worrisome part of this is that in 2012, the world's spending on exploration reached an all-time high of $6 billion.
Exploration spending has been growing consistently (besides a blip in 2009) for over 10 years.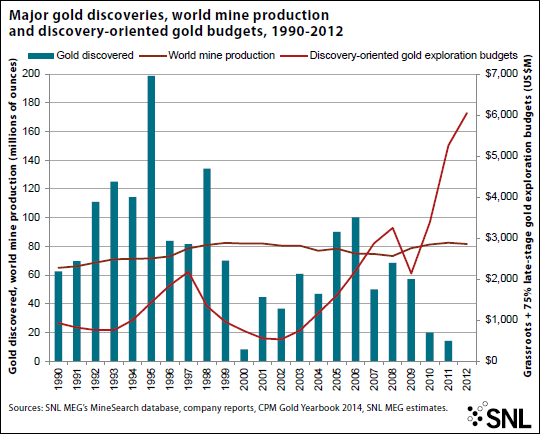 The median gold grade of the world's biggest gold operations has also been in a declining trend for some time. Though, I suspect this may have temporarily reversed in 2013 and 2014 with many companies high-grading their mines because of the lower gold price.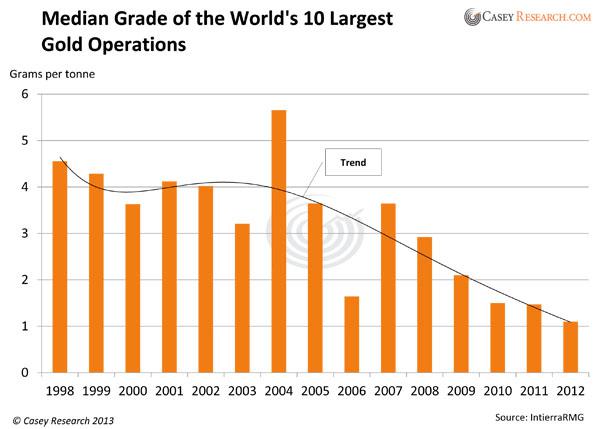 Going back to the more recent World Gold Deposit Rankings report, we have some more data that backs this grade trend up: the contrast between the average grade of current mines vs. undeveloped deposits. This helps give us an understanding of what current grade is being mined and also what is in the pipeline for the future.
Right now, producing mines are estimated to have an average grade of 1.18 g/t and undeveloped deposits have an average grade of 0.89 g/t. The average grade of producing mines is actually 33% higher than that of undeveloped deposits.
All-In Cash Costs
The most important metric from a producer standpoint is the all-in cash costs per ounce of gold. This is the total representative cost of mining an ounce of gold. It not only includes the direct operation costs, but everything in the background that allows that operation to happen such G&A, expenditures to develop or expand new mines, and more.
From a gold supply perspective, the trend of all-in costs is very important to watch. If you go back to Economics 101, you know that producers are ultimately not able to keep producing gold if their all-in cost is higher than the price they can sell it for.
In the most recent quarter, the majors mostly had all-in costs ranging from $1,000 to $1,300.
For example, Goldcorp (NYSE:GG) came in at $1,072/oz, Newmont (NYSE:NEM) had $1,258/oz, and Barrick (NYSE:ABX) was at $1,347/oz.
Using our data from Tickerscores, we looked at the average all-in cash cost of 32 smaller gold producers that we cover (under $2 billion market cap). It came in at $1,390/oz. Of the 32 producers, only 17 of them have a cost lower than the current gold price.
In the long-term, having all-in cash costs below the average gold price is unsustainable. Either the supply must contract, or the miners must improve efficiency of operations to get their costs
Gold Supply Over Last Five Years
The supply of gold, in the simplest terms, is composed of total mine supply (mine production + net producer hedging) and recycling. Here is a summary of both over the last five years:
2009

2010

2011

2012

2013

*Total Mine Supply

2332

2600.2

2850

2824

2969

Recycled Gold

1672

1640.7

1649

1591

1371

**Total Supply

4004

4240.9

4499

4415

4340

*Total mine supply = Mine production + net producer hedging

** Sum of mine production and recycling. Does not include net sector sales
There are also some factors that can vary year-to-year, either adding to excess supply or demand. For example, the official sector (central banks) throughout the 2000's was selling their gold, creating extra supply. However, in 2010, this trend reversed as the official sector became net buyers, led by countries in Asia and the Middle East. In 2013, central banks bought 369 tonnes of gold to their reserves.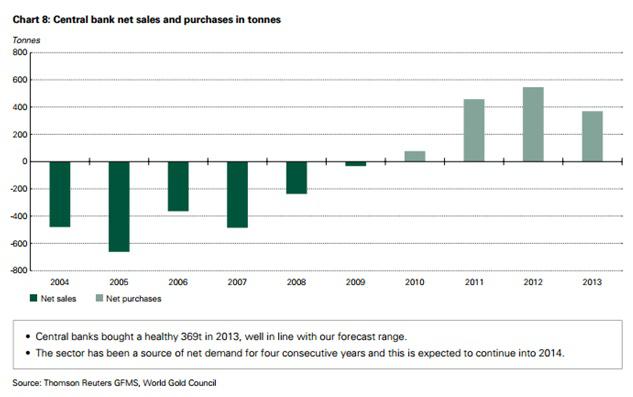 Another one of these factors is ETFs. Buying for (NYSEARCA:GLD), (NYSEARCA:IAU), (NYSEARCA:SGOL), (NYSEARCA:PHYS), and others were sources of demand for many years as the gold price increased. However, in 2013 this reversed, and for the first time in years the ETFs saw net outflows of 880.8 tonnes.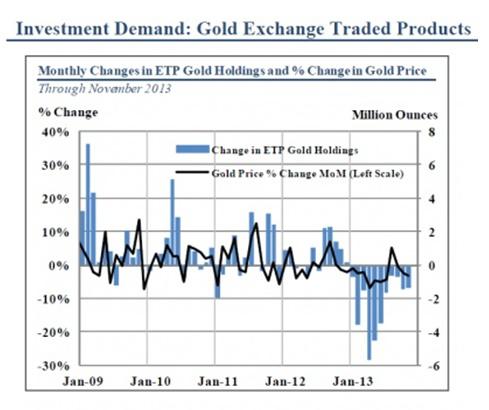 The Paper Market
Before we get into which countries hold the most reserves and the companies that have the most gold in their pipeline, it's worth noting something on the paper market.
The above charts and figures are on the physical supply - however, the vast majority of gold today is actually traded in the paper market. This is an important distinction: in these transactions, physical gold is never actually delivered.
The paper gold market is so big that there is actually more traded in it per day (on average) than the amount of physical gold mined per year. While it is big and liquid, it is also where most of the levered buying is.
Who Holds The Gold?
In terms of production, here are the world's biggest producers. Note that the top 10 producers only produce 28% of global gold supply in a given year. A big reason for this is that China consumes all the gold it supplies, and it is the #1 producer each year with around 15% of global production.
| | | |
| --- | --- | --- |
| | Production (Fiscal 2013) | % World Total (2013) |
| Barrick | 203.2 | 6.8% |
| Newmont | 143.6 | 4.8% |
| AngloGold Ashanti (NYSE:AU) | 116.4 | 3.9% |
| Goldcorp | 75.6 | 2.5% |
| Kinross Gold (NYSE:KGC) | 74.6 | 2.5% |
| Newcrest Mining (OTCPK:NCMGF) | 59.8 | 2.0% |
| Gold Fields (NYSE:GFI) | 57.3 | 1.9% |
| Polyus Gold (OTC:PGILF) | 47.6 | 1.6% |
| Yamana Gold (NYSE:AUY) | 32.4 | 1.1% |
| Eldorado Gold (NYSE:EGO) | 20.5 | 0.7% |
| | 830.8 tonnes | 28.0% |
And here is gold resources in production vs. in pipeline for all companies with more than 30 million oz gold and at least one mine in production. We discuss this topic in more depth here.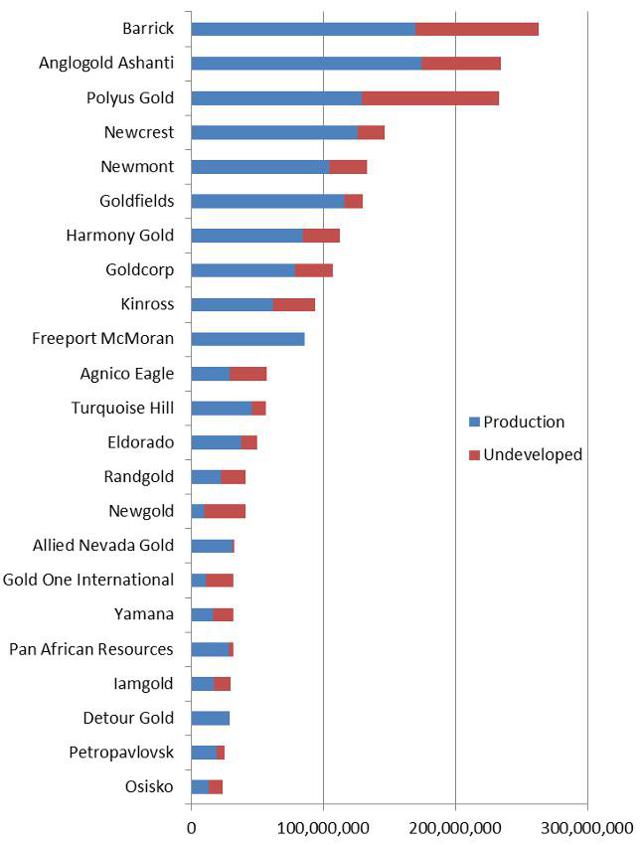 And lastly, here is production of gold by country, as well as their reserves.
| | |
| --- | --- |
| Country | Tonnes Production (2013E) |
| China | 437.3 |
| Australia | 259.4 |
| Russia | 237.8 |
| United States | 226.9 |
| Peru | 182.2 |
| South Africa | 168.8 |
| Canada | 128.3 |
| Mexico | 101.2 |
| Ghana | 97.8 |
| Indonesia | 94.8 |
| | |
| --- | --- |
| | Gold Reserves (Tonnes) |
| United States | 8,133.5 |
| Germany | 3387.1 |
| Italy | 2451.8 |
| France | 2435.4 |
| China | 1054.1 |
| Switzerland | 1040.1 |
| Russia | 1035.2 |
| Japan | 765.2 |
| Netherlands | 612.5 |
| India | 557.7 |
| Global Total | 31,890.70 |
Moral of the Story
If I were to sum up my thoughts on gold supply, I think the moral of the story would be this:
There are several factors that point toward increased pressure on gold supply in the future. Decreasing grades, high all-in cash costs, and a lack of new discoveries.
Lastly, I'd also like to mention that the narrative of gold supply can be easily disrupted. There are many possible events that could catch the "status quo" off guard and would change the supply situation in a blink of an eye. A few examples of potential events: China announcing updated gold reserves, geopolitical black swans, the ongoing investigation of gold price manipulation, and any revelations from the German gold repatriation.
For all the above reasons, we believe that gold staying between $1,300-$1,400 is unsustainable in the long-term. The price might drop down temporarily, but the economics don't lie. Miners have to turn a profit in producing gold, and they can't do it at the current price if gold grades continue to decline and new discoveries aren't found and put in the pipeline.
Hot Topics in Gold Supply
Here are some contested topics on gold supply that people have been talking about for the last six months. I have not properly discussed any of these in the article, so I thought I'd link right to the sources directly.
Disclosure: I have no positions in any stocks mentioned, and no plans to initiate any positions within the next 72 hours.
Business relationship disclosure: Tickerscores.com is a team of analysts and researchers. This article was written by Jeff Desjardins, the company's President. We did not receive compensation for this article (other than from Seeking Alpha), and we have no business relationship with any company whose stock is mentioned in this article.