The 25-day SEC-enforced quiet period on underwriter research on Coupons.com Inc (NASDAQ:COUP), which began with the firm's March 6 IPO, will come to a close on March 31, allowing the IPO underwriters to release positive research reports on the digital promotional coupon firm, and likely leading to a brief rise in the price of COUP shares.
COUP's initial pricing of $16 per share blew away the expected $12-$14 price range, and put on a stellar first day with an 87.5% return. The stock has since performed inconsistently, bouncing between $25.75 and $33; COUP closed at $27.42 per share on March 20.
COUP's underwriters, including Allen & Company LLC, Goldman Sachs & Co, BofA Merrill Lynch, and RBC Capital Markets LLC, will attempt to push the stock to greater heights by publishing positive reports on firm with the end of the quiet period.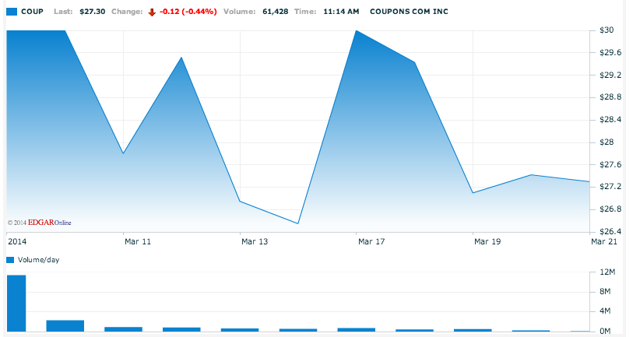 (Nasdaq.com)
Both the past two years of our research and the results of recent academic studies have revealed empirical evidence of a correlation between the number and visibility of a firm's IPO underwriters and an increase in the price of shares at the expiration of the quiet period.
Prices generally will begin their rise a few days before the quiet period expires as investors make early purchases in the hopes of benefiting from the upcoming positive reports. These early buys create an atmosphere of rising demand and lead to increasing prices before the actual expiration.
Business
Coupons.com is a popular digital promotion website that offers visitors free printable coupons and coupon codes. The site also provides display advertising for retailers. COUP's platform is used by more than 700 consumer packaged goods companies along with grocery and mass merchandise sellers to attract consumers.
The firm charges a fee for each time a consumer selects a digital coupon, regardless of whether or not the selection actually leads to a purchase. In the case of coupon codes, a transaction must occur in order for COUP to charge a fee. See our previous article, previewing COUP's IPO, for a more detailed summary of business.
COUP competes with other sources of digital coupons, including some with much greater financial resources than COUP, including Amazon (NASDAQ:AMZN), Yahoo (NASDAQ:YHOO), Google (NASDAQ:GOOG), and Facebook (NASDAQ:FB).
Management
Steven R. Boal founded COUP and has served as the firm's President and CEO since 1998. He previously worked for Integral Development Corporation as Vice President of Business Development. He received a B.A. from the State University of New York at Albany. CFO and COO Mir Aamir has served in his current positions since October 2013. He previously worked as President of Customer Loyalty and Digital Technologies at Safeway, Inc. He received a B.B.A. and an M.B.A. from the Institute of Business Administration, University of Karachi and an M.B.A. from the University of Chicago Booth School of Business.
Conclusion
COUP's initial success was likely driven both by its apparent approach to profitability and strong name recognition. Its lack of progress and stability since its impressive first day speak to a boom, fueled more by investor excitement than by anything else.
The release of the many underwriter reports may fuel a similar name recognition-oriented price jump over the next six days.
Disclosure: I am long COUP. I wrote this article myself, and it expresses my own opinions. I am not receiving compensation for it (other than from Seeking Alpha). I have no business relationship with any company whose stock is mentioned in this article.