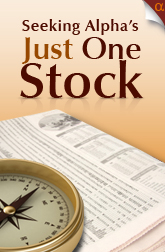 Several times a week, Seeking Alpha's Jason Aycock asks money managers about their single highest-conviction position - what they would own (or short) if they could choose just one stock or ETF.
---
Ken Hasner runs The Portfolio Navigator newsletter, pursuing the construction of solid diversified core portfolios and then looking beyond that for opportunistic investments based on money flows into and out of asset classes.
If you could only hold one stock position in your portfolio, what would it be?
The one stock I would own would be General Mills (NYSE:GIS). In the current environment, I favor large capitalization firms with a global presence and a stable or growing dividend.
Tell us more about the company behind the stock.
General Mills is a global provider of branded food products. Many of its brands are names we here in America grew up with such as Cheerios, Bisquick, Pillsbury, Chex, Green Giant, Progresso, etc. GIS recorded $14.7 billion in sales for the year ended May 31, 2009. We are still waiting on current results for the period ended May 31, 2010 but I expect some steady progress in the face of a tough global environment. For the five years ended May 31, 2009, compound growth to shareholders was 4.9%. This compares very favorably to the -1.9% for the S&P 500 Index.
An interesting breakdown of sales growth tells us that growth internationally is accelerating in Asia and Latin America, two continents hosting emerging economies that are fast becoming principal drivers of global growth. General Mills understands that the future growth opportunities are to be found in these key areas and accordingly is focusing marketing and other efforts to capitalize on it.
How does your choice of General Mills reflect your investment approach?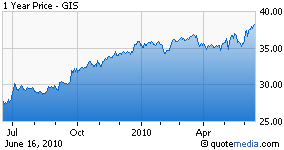 I really take a blended approach of value and growth. In the current confused and volatile environment we want core holdings that represent stability, have the ability to provide us some income via a dividend and also have an appropriate strategy for growing the company and enhancing shareholder value. The U.S. domestic market is, in my opinion, moving toward greater economic polarization with more middle-class consumers being pushed down the economic scale vs. moving up.
That fundamental view leaves us with two viable strategies should we choose to invest in consumer firms that primarily serve the domestic economy: luxury goods or discount stores. While investing in these is certainly a viable strategy, since the premise of this piece was to pick a stock that we would consider as a sole portfolio holding, I prefer something with more of a global presence. We want something that has both the potential and the plan to capture the growing middle class in the emerging market economies, instead of fighting for a shrinking middle class here in the U.S.
While I believe the U.S. and the rest of the developed world will eventually recover and begin to grow again, it will take a few years of further de-leveraging, and a further contraction of both business and consumer credit. The emerging markets - as exemplified by Brazil and China - have a population base struggling hard to become "middle class." Their respective governments, to their credit, are actively encouraging them and we want to invest in those firms that can take advantage of the new global "middle class." This strategy should provide the best bang for the buck in uncertain times and help us cast a wide net for future growth.
Recently in Just One Stock we featured Nestle (OTCPK:NSRGY), which Bob Bingham favored for similar reasons: a consumer-product entry point into a growing emerging-market middle class. Though it's smaller, to what extent does General Mills share advantages with Nestle? Low volatility, defensive business characteristics?
Since the premise is "if I could hold only one stock," I wanted something that would emulate the low volatility of a balanced portfolio, so low volatility is definitely a shared advantage. I wouldn't say that GIS was selected for defensive purposes; I like the fact that emerging middle-class consumers are going to be growth drivers for consumer processed foods and I think General Mills, being smaller, may have an easier time turning that into growth than Nestle.
Can you talk about the sector? How much is your choice based on the company's industry, as opposed to a pure bottom-up pick?
If history tells us anything it's that once an emerging economy brings newfound wealth and its attendant spending power to its population, processed foods (for better or worse) become consumed in increasing amounts. The "processed food" sector will benefit from this dynamic.
To more succinctly answer the question, I like the sector as a play on emerging economies and General Mills would be my choice within that sector. So it's maybe 70% sector and 30% bottom-up selection. There are other, more specialized companies that will continue to profit from this growth, but I want a diversified product offering as regional tastes are sometimes a challenge and you need a large portfolio to satisfy everyone. There are also plenty of regional players that are doing extremely well, but for a single stock idea I want to go big and I want to go global.

Describe the company's competitive environment. How is General Mills positioned with regard to competitors?
I also like some industry competitors, both larger and smaller. General Mills has a couple of large direct competitors, namely Kraft Foods (KFT) and Kellogg (NYSE:K), but I like General Mills better than both. Kellogg in contrast does not have the same brand penetration in emerging markets, and Kraft - while a behemoth in the processed foods segment - recently spent a large sum on the Cadbury (CBY) acquisition, and I believe we need to wait and see how that shakes out before committing funds.
So while I believe there is some room for the entire segment to profit, I like General Mills, as they have taken the initiative to grow internationally very seriously. As an example, they are involved in a 50-50 partnership with global food player Nestle called Cereal Partners Worldwide, which utilizes Nestle's global presence and expertise in local markets. Similarly they market Haagen-Dazs ice cream in Japan via several joint partnerships that take advantage of local marketing expertise and positioning. I think the approach of working with local entities to first penetrate markets and later gain market share is a great strategy.
How does General Mills' valuation compare to its competitors?
Valuation is an interesting topic to me in that while traditional fundamental methods of valuing a firm all have some merit, ultimately money flows, momentum and trend may have a bigger influence on stock price. While fundamental valuation relies on financial information from the firm itself coupled with in-depth analysis of supplier and consumer channels; many exogenous events can alter these estimates.
This is why we see many solid companies perform so poorly as investments. It's just too hard to "stress test" fundamental assumptions and therefore there is a high probability something will be missed. I tend to use a blended approach, which takes fundamental valuation and couples it with technical analysis. No matter what the projections say, if the chart does not look good, it's not an option for our portfolios.
Looking at the charts, General Mills is breaking to new all-time highs with good money flows in, a great sign. Kellogg has not yet moved to new highs and some resistance will have to be overcome before it does, likely impeding the stock's advance. Kraft is still technically in a long-term downtrend that began in mid 2007. So on a blended (fundamental and technical) valuation comparison; General Mills gets my vote.
But speaking to the cash flows, they have been growing operating cash 40% Y/Y and have used that for capex and stock repurchases; is there a differentiation from competitors there that would be an advantage?
I think in the period where we didn't know whether the global economy was going to survive intact, management correctly used free cash to strengthen the shareholder's lot. Now that there is at least a glimmer of hope for a sustained recovery, they will be focusing more of that free cash flow into marketing to gain market share. They also are investing more in product development with the goal of producing more products that directly appeal to young children (clearly they know who really fills the grocery cart).
So I believe the investment and buybacks were done because it was simply a better use of the cash given the considerations in global economic dynamics. Over the next few years the growth rate for cash flow should be increasing, providing GIS with ample flexibility to spend on marketing and innovation, while still increasing EPS and shareholder dividend payouts. By the way, cash flows, earnings, and dividend growth rates are all projected to increase over the next three to five years.
Does your view differ from the consensus sentiment on GIS?
Current sentiment is bullish, principally because the stock so far in 2010 has outperformed the market and is trading at all-time highs. While I am often a contrarian, at least for General Mills my view and current sentiment are in agreement. On June 8 a total of 1,012 put and 5,489 call contracts were traded. The put/call ratio is 0.18 with 5.42 calls traded for each put contract. This demonstrates a very bullish outlook. Let's hope it's justified in the long term.
Does the company's management play a role in your selection?
Company management does not generally play a role for me in investment selection. Exceptions are where management has repeatedly made miscues that affect earnings or prospects or when there is an excessive compensation issue such as we see in the financial sector currently. Good management will ultimately be reflected in good results and a good chart. I don't need to know much else about them.
What catalysts, near-term or long-term, could move the stock significantly?
Near-term catalysts are an upcoming earnings report for the year ending May 31. [General Mills reports earnings on June 29.] I expect a 12% to 15% earnings per share improvement year-over-year. This may move the shares higher, although we have seen a recent move that probably discounts some of this.
Longer term, the re-establishment of growth in the domestic economy could continue to propel the stock, which is up in contrast to the S&P 500 so far in 2010.
A bit of a hiccup in its trading yesterday as GIS had to fight a hoax press release that said President Obama was investigating its supply chain. The company has said it needs to maximize supply-chain productivity; do you think the need for efficiency in that area makes them any kind of takeover target for someone with a cash hoard like Nestle?
I'm not sure the need for efficiency specifically makes them a takeover target, however, Nestle looking longer term might indeed be interested and is probably one of only two firms (Unilever (NYSE:UN) being the other) that could swallow an acquisition of that size.
General Mills is an attractive target from a profitability standpoint and depending on how any hypothetical deal were structured would most likely be accretive to earnings right from the start. But of course... I don't want to start any rumors here...
What could go wrong with your pick?
Being a global food company, input prices for commodities and energy either falling or rising in an unexpected manner could affect the prospects for results, up or down. While hedging programs are in place, unexpected moves can still disproportionately affect results.
With the current state of developed world economies, any further weakness may lead to retailer price cuts, which have the potential to cut earnings if commensurate internal cost cuts can't be found to offset the impact. Also, continued volatility with relative currency valuations could make existing hedges less effective.
Thanks, Ken, for sharing your choice with us.
Disclosure: No position in GIS.
Read more Just One Stock articles »
If you are a fund manager and interested in doing an interview with us on just one stock or ETF position you'd hold, please email Rebecca Barnett.