The S&P 500 stayed above its 200-day exponential moving average for a second consecutive day. Chart enthusiasts (a.k.a., technical analysts) find this trend rather bullish for the popular large-cap indicator.
Benchmarks for small- and mid-cap U.S. equities have also advanced the bullish cause. Both the iShares Russell 2000 Fund (NYSEARCA:IWM) and the SPDR MidCap 400 Fund (NYSEARCA:MDY) bounced off respective trendlines during the lows of June.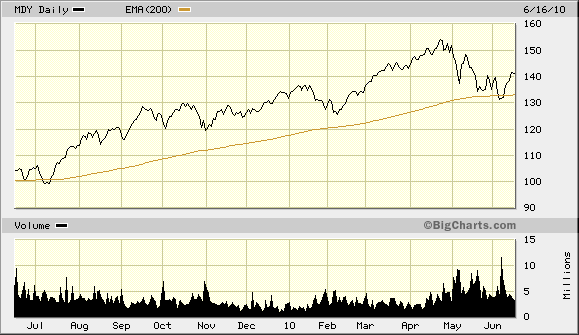 The bulk of international ETFs as well as emerging market ETFs have not been as fortunate in 2010. Many are still clawing their way back towards a 200-Day EMA.
Similar struggles can be found in a variety of individual economic sectors, including materials, energy and health care. These sector ETFs are pushing up against trendline resistance, though they may ultimately prevail.
There are other ETFs, however, where the price movement provides little evidence for excitement. Bargain seekers, falling knife catchers and some fundamental value hunters might like these ETFs, but chartists would advise turning away.
ETFs That Are Furthest Below Respective 200-Day EMAs
200 Day EMA %
iShares MSCI Spain (NYSEARCA:EWP)
-25.5%
Claymore Global Solar Energy (NYSEARCA:TAN)
-22.7%
PowerShares Global Clean Energy (NYSEARCA:PBD)
-16.9%
iShares MSCI Austria (NYSEARCA:EWO)
-16.5%
Oil Services HOLDRs (NYSEARCA:OIH)
-16.3%
The themes behind what has NOT worked are fairly straightforward… and they fall into 3 camps. First, owning a debt-laden European country during the euro-dollar crisis has been a double whammy on investment loss, including country risk AND currency risk. Second, 26% exposure to Transocean and Haliburton via Oil Service Holders (OIH) has been a nightmare vis-a-vis the Gulf Oil spill.
The third camp, alt energy, is one that simply hasn't gained traction with oil below $85 per barrel. The rising U.S. dollar coupled with widespread risk aversion pushed crude down to $70, only making alt energy investing more undesirable in the short-term.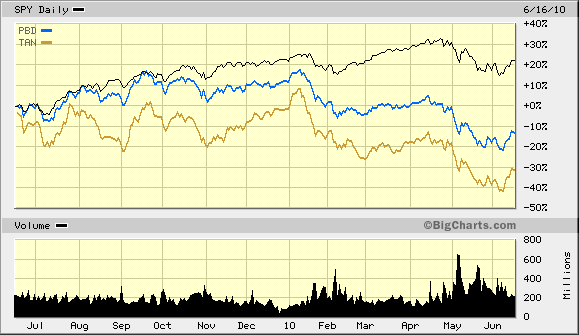 On the flip side, there are a number of stock ETFs that have continued to shine. I admit to being startled by 2 of them.
ETFs That Are Furthest Above Respective 200-Day EMAs
200 Day EMA %
iShares Cohen and Steers Realty Majors (NYSEARCA:ICF)
13.0%
iShares Thailand (NYSEARCA:THD)
10.2%
Market Vectors Indonesia (NYSEARCA:IDX)
10.0%
iShares MSCI Chile (NYSEARCA:ECH)
9.8%
Market Vectors Gold Miners (NYSEARCA:GDX)
9.2%
Success with the Gold Miners Fund (GDX) doesn't take an enormous amount of imagination. Spot gold is less than a few percentage points off of all-time highs in virtually every currency. And at $1230+ an ounce, the companies involved in finding the stuff are going to be sitting pretty.
Successful investing in Thailand (THD) and Indonesia (IDX) has not startled me either… and I have written about both of them extensively. (It may be surprising to others, but not to me personally… having lived and worked in Southeast Asia.)
Investors have been seeking safer haven stock exposure from creditor countries without the extreme exposure to materials. The largest sector for both Thailand (THD) and Indonesia (IDX) is the financial segment.
So what does surprise me? Real estate investment trust ETFs continue to defy my personal logic on total return vehicles. It follows that I am not a believer in iShares Cohen and Steers Realty (ICF) at this time.
I'm also perplexed by the success that Chile (ECH) has had during the global stock downturn. Its heavy exposure to the copper trade hasn't had as large of an effect as I would have surmised. Here's a 1-year chart up against the iShares Copper ETN (NYSEARCA:JJC).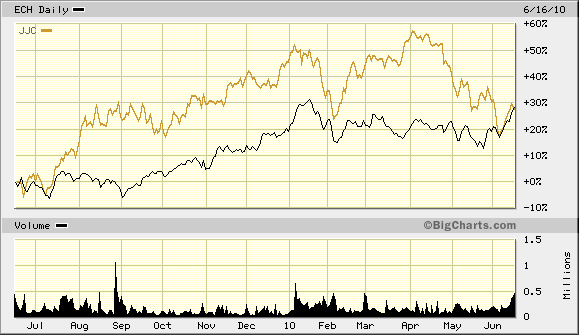 Disclosure Statement: Gary Gordon, MS, CFP is the president of Pacific Park Financial, Inc., a Registered Investment Adviser with the SEC. The company and/or its clients may hold positions in the ETFs, mutual funds and/or index funds mentioned above.The company receives advertising compensation at the ETF Expert web site from Invesco PowerShares Capital Management, LLC and Geary Advisors, LLC. The commentary does not constitute individualized investment advice. The opinions offered herein are not personalized recommendations to buy, sell or hold securities.