ETF Spotlight on PowerShares DB Gold (NYSEARCA:DGL), part of a weekly series.
Assets: $155.1 million
Objective: Seeks to track the price and yield performance of the Deutsche Bank Liquid Commodity Index – Optimum Yield Gold Excess Return Index.
Holdings: DGL holds gold futures contracts
What You Should Know
Funds that trade futures contracts can be negatively impacted by contango, when the spot price is lower than the future price. Since DGL follows the Optimum Yield version of the index, it replaces expiring futures with new contracts in the month that will generate the highest "implied roll yield," which ultimately helps mitigate this effect.

This is the only ETF that holds futures contracts on gold – the others hold gold miner stocks or physical bullion.

DGL has a 0.75% expense ratio, making it one of the more expensive gold-focused ETFs.
The Latest News
Gold has been making headlines lately, thanks to a widening fiscal crisis in Europe and market volatility in the United States.
Futures contracts today are trading around $1,233.40, close to all-time records for gold.
Gold is also benefiting from a wide range of appeal: it has industrial uses, safe-haven appeal and it's viewed as an effective hedge in inflationary periods.
click to enlarge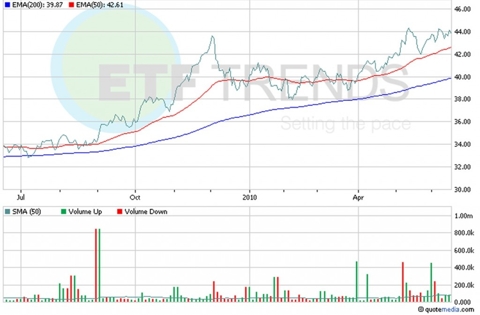 Disclosure: None