Friday was a disappointing day for the markets in that we were trading at all-time highs during the session before selling off into the close. That type of price action is not what investors want to see, as it generally denotes a weak market because investors are not confident enough to let gains ride into the weekend. While we do not want to make too much of the situation, we also do not want to simply dismiss it either. With volumes relatively weak and rallies running into resistance, our attention is now on the technicals of this market, as it seems that we might very well be in the midst of another short-term downturn. Any correction we would once again view as a buying opportunity, so right now, we are keeping our gunpowder dry.
Chart of the Day:
For anyone questioning the downturn in China, look no further than Australia to see how much the impact is being felt globally. With demand down for the materials to build their economy at the same pace as in years past, the Australian market is still quite a bit off of its old all-time highs.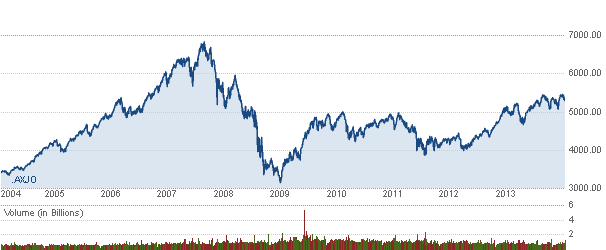 Source: CNBC
We have economic news today, but will have a healthy dose of housing and consumer data tomorrow.
Asian markets finished up today:
All Ordinaries -- up 0.17%
Shanghai Composite -- up 0.91%
Nikkei 225 -- up 1.76%
NZSE 50 -- down 0.12%
Seoul Composite -- up 0.55%
In Europe, markets are trading lower this morning:
CAC 40 -- down 0.31%
DAX -- down 0.32%
FTSE 100 -- down 0.09%
OSE -- down 0.35%
China Relief
Investors in multi-level marketing, or direct sales firms are breathing a sigh of relief this morning, after the Chinese government handed down a fine to Nu Skin (NYSE:NUS) that was much smaller than many had expected. The fine amounts to $540,000, which was below what many had penciled in, and is nowhere near the death penalty for the firm that some thought that China would pass down for the company's business practices. Shares are up nearly 30% in early trading and also dragging shares of Herbalife (NYSE:HLF) higher as well.
China caused a large drop in the value of Nu Skin shares, with today's news, it appears that the company's stock can now start working at gaining back lost ground.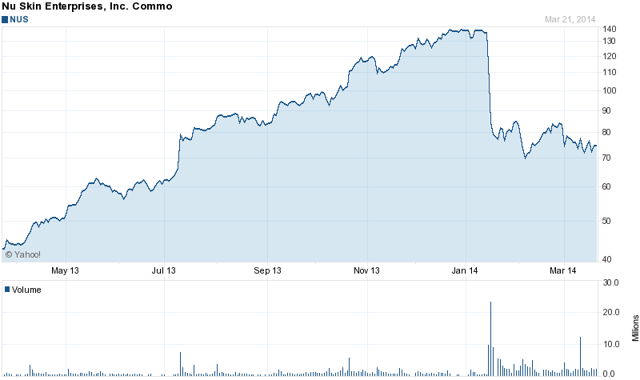 Click to enlarge
Source: Yahoo Finance
Although Herbalife's issues are US-based, the company also has a strong business in China, and the fact that the regulatory environment will not be changing in that market is obviously good news. The fact remains that the stock will have an albatross around its neck until the current investigation into the company ends with a favorable ruling. Until then, Herbalife's gains will be capped and most likely make it an underperformer versus others in the industry, such as Nu Skin.
Apple TV Finally Here?
When Comcast (NASDAQ:CMCSA) announced that it would be purchasing Time Warner Cable (TWC), many worried that the deal would effectively end the work that Apple (NASDAQ:AAPL) had done to work its way into the homes of Time Warner Cable customers. There were rumors that this was a big blow to the latest Apple TV efforts, and the stock felt some short-term pressure on that speculation.
This morning, it appears that the two companies are now going to be working together to keep any streaming content from Apple from facing web congestion on Comcast's cable systems. The deal right now is only rumored to include an Apple set-top box, but this might be the sort of deal which paves the way for Apple to either offer a standard streaming service, or their own TV service over others' pipes later on down the road.
Apple shares have recently run into resistance and been stuck in a trading range. A new product like the Apple TV or an improved box could be enough to push shares higher.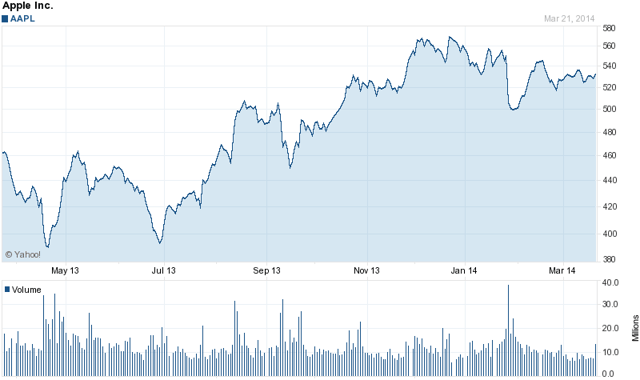 Click to enlarge
Source: Yahoo Finance
There is still a lot of work to be done here, but this is exciting news for Apple shareholders, as it seems to highlight that the company is, in fact, continuing to innovate and working to introduce new products to the market. For Comcast and Time Warner Cable shareholders, the deal is good in that it might be further evidence that the combined entity will not use its scale to stifle innovation and keep competitors out of its customers' homes.
Disclosure: I have no positions in any stocks mentioned, and no plans to initiate any positions within the next 72 hours. I wrote this article myself, and it expresses my own opinions. I am not receiving compensation for it (other than from Seeking Alpha). I have no business relationship with any company whose stock is mentioned in this article.
Additional disclosure: AAPL is a previous recommendation.