Pall Corporation (NYSE:PLL) announced the pricing of its public offering of $375 million aggregate principal amount of 5.00% Senior Notes due June 15, 2020. The offering is expected to close on or about June18, 2010.
Pall plans to use the net proceeds from this offering to redeem the $280 million aggregate principal amount of its outstanding 6% Senior Notes due 2012. Any remaining net proceeds from the offering will be used for general corporate purposes.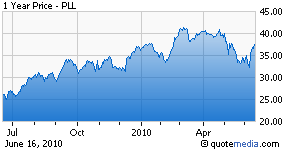 Pall enjoys above-average financial returns and reasonable growth prospects, attributable to a highly-engineered technology, reliable global distribution, a high share in niche markets, long and close working histories with customers, a few competitors and solid product quality supplemented by technical service.
The company is considered to be the largest player in the filtration/separations industry based on its revenues and approximately 7% market share. Management's efforts of reducing overall square footage by 20% and head count by 10% are expected to deliver $40 million in annualized savings and drive expansion in margins.
In the long run, Pall will likely benefit from several secular trends, such as global infrastructure growth, increasing demand for water filtration systems and continued steady growth in medical and pharmaceutical markets.
Changes in product mix and product pricing may affect the company's operating results, particularly with the expansion of the systems business, in which the company experiences significantly longer sales cycles with less predictable revenues and no certainty of future revenue streams from related consumable product offerings and services.
The company may not be able to achieve the savings anticipated from its cost reduction and margin improvement initiatives, including the timing of the completion of its facilities' rationalization initiative.
Pall Corporation manufactures and markets filtration, purification and separation products and integrated systems solutions worldwide. The company's Life Sciences segment offers technologies that facilitate the process of drug discovery, development, and production used in laboratories, pharmaceutical and biotechnology industries, blood centers and hospitals at the point of patient care.
We currently have a Neutral recommendation on Pall Corporation.