Positioning within the hybrid and electric markets is crucial for the large auto manufacturers - Ford (F) , General Motors (GM) and Toyota (TM) among them. The "green" market will account for an increasing portion of global demand. Improvement in the technology and lower price points will help drive adoption. Capturing market share and adopting the right technologies now will position firms for the future. While Toyota has dominated the hybrid market, and Tesla (TSLA) and Nissan (OTCPK:NSANF) the electric market, we see Ford making key gains on these established players. .
Hybrid & Electric Vehicles Percentage of US Auto Sales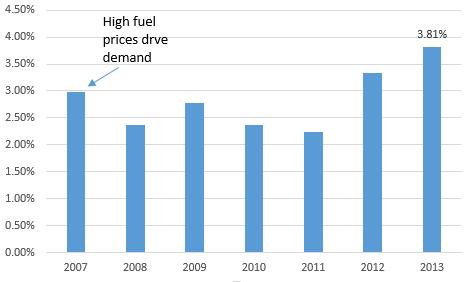 Source: Electricdrive.org
Plug-in Hybrid Market - Ford Gaining Share
Ford in particular has done well over the past year gaining position in the plug-in hybrid vehicle portion of the market. The Ford Fusion Energi and C-Max Energi grew by 555% and 65% year-over-year, respectively according to the February 2014 auto data. Ford had a 36% share of this market in February compared to a 0% market share just 16 months ago.
Global Electric Vehicle Production Forecast - Battery Electric and Plug-in Hybrid Electric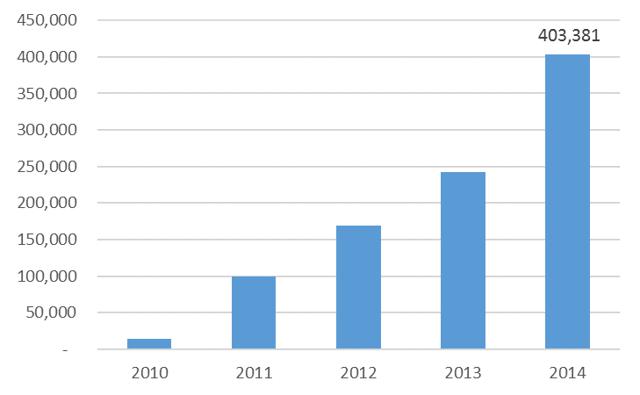 Source: IHS Automotive
The plug-in hybrid market brings drivers the best of both worlds and has grown to sales of almost 49,008 vehicles, up 27% from 2012 and almost non-existent levels in 2011. The global forecast is for an increase of 67% in 2014 according to IHS Automotive with EMEA accounting of the largest portion of growth. With pure electrics, the current battery technology in most vehicles only supports about 70-90 miles per charge. Tesla is an exception to this and states its Model S can go 300 highway miles on one charge.
Charge time is also a near-term headwind for electrics only vehicles. It can take 20 hours at 120V or 4 hours at 240V which requires a special charging station. Plug-in hybrids can cut emissions and fuel purchases while still allowing for long-distance travel. Owners can make this their primary daily driver.
Ford is well positioned in the plug-in electric vehicle market with its product offering and current market share trends noted above. In addition, it is introducing the C-Max Solar Energi Concept, a car that would have a solar panel in the roof to help charge the car.
Ford is not a major player in the all-electric vehicle market, with just 3.9% of sales, where Nissan and Tesla dominate, each with a market share of 42% based on the data from hybridcars.com.
Hybrid Market - Toyota has the Dominant Market Share
Ford sold 17.4% of hybrid vehicles in February of this year. That is up from December and almost entirely accounted for by market share taken from Toyota who lost almost ~800bps of market share.
Market Share of Hybrid Vehicle Sales in US February 2014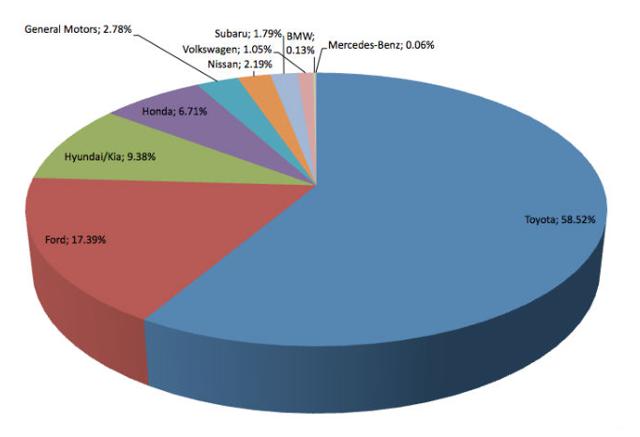 We expect Ford can sustain a strong position in this market as well and its product offering should help improve its performance in China over the next five years (discussed below).
Chinese Market is a Huge Opportunity
The Chinese market is a significant opportunity for growth in the hybrid and electric markets based on the size of the auto market in China. Anti-pollution trends are pushing the government to more rapidly see adoption of electric cars. Historically, the government has steered investment towards select industries, steel and, most recently, solar are good examples. Battery technology and the hybrid market could be the next beneficiaries, along with manufacturers of the vehicles.
Along these lines, Beijing has plans to increase the number of new energy vehicles (NYSE:NEV), electric and plug-in hybrid electric vehicles, from 2014 to 2017. It wants to see 170,000 NEVs added during the time frame with a target of 20,000 in 2014. This is to help curb pollution levels and replace the sale of gas powered cars.
Tesla is in the midst of launching its Model S and Model X in China. Initially, Tesla is marketing to a targeted segment of environmentally conscience wealthy families in the polluted cities of Shanghai and Beijing. Infrastructure for charging is a challenge there in the near-term but the company expects to sell a total of 5,000 cars in Asia in 2014. Management at Tesla has also noted that China is a critical market and CEO Elon Musk stated, "Long-term there s no question we'll have a factory in China. The price for its vehicles in China is much higher than the US. The Model S priced at $146,000 - $200,000 versus $71,000 in the US due to import taxes.
In addition to Tesla, Ford management stated in January that it planned to double the number of hybrid offerings to the China market by 2020. In China, total vehicle sales increased by 49% for Ford in 2013 according to the company. It sells more vehicles than both Toyota and Honda (HMC) in this market but is behind Volkswagen (OTCPK:VLKAF) and GM. Its positioning within emissions friendly cars could help in gain share from these more entrenched rivals.
Conclusion
The shares of Ford appear cheap at just over 7x NTM earnings. We view their position within the more rapidly growing hybrid and electric market favorably. In addition, their business in Europe has improved and that market is showing signs of a sustained recovery in auto sales. All that said, the stock has sold off and there is not a near-term catalyst for a turnaround in momentum.
Along these lines, SmartStops indicates Ford remains in a period of elevated risk, so while we like the shares long-term, it is not time to buy yet. The value investors have been arguing for Ford on this site for some time, but based on the SmartStops indications and the lack of near-term catalysts, it is not time to make the move yet as there could be more downside.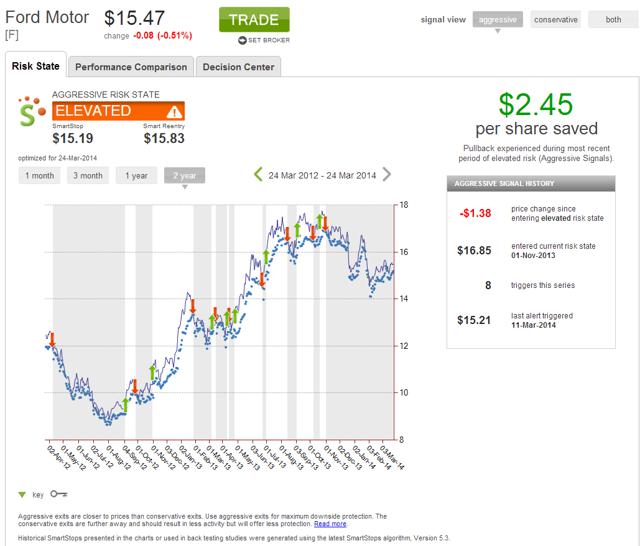 Source: SmartStops.net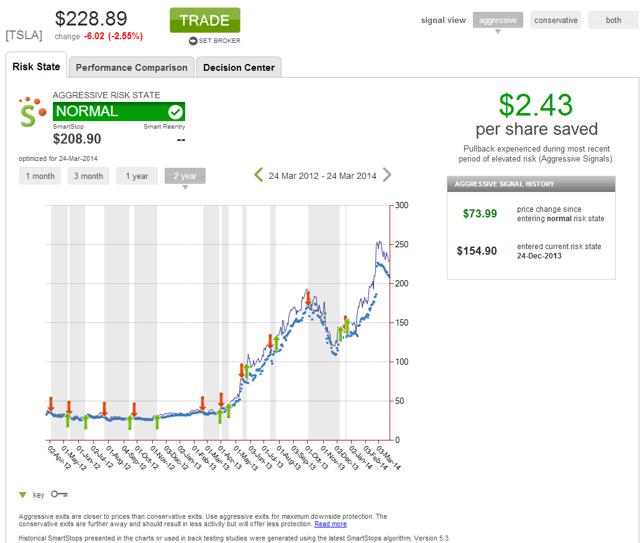 Source: SmartStops.net
On the other hand, Tesla Motors is not in a period of elevated risks based on SmartStops and is also a playoff of positive trends in hybrid and electric vehicles. However, investing in Tesla given the current valuation requires more work and understanding of its production capacity rollouts, pricing and margin structure.
General Motors is one stock to avoid in the sector. It had an early push into the electric market with the Chevy Volt, is facing challenges. Its Volt is losing share and GM is not viewed favorably by consumers. The company needs to make jumps in technology, design and quality and it is also in a period of elevated risks based SmartStops assessment.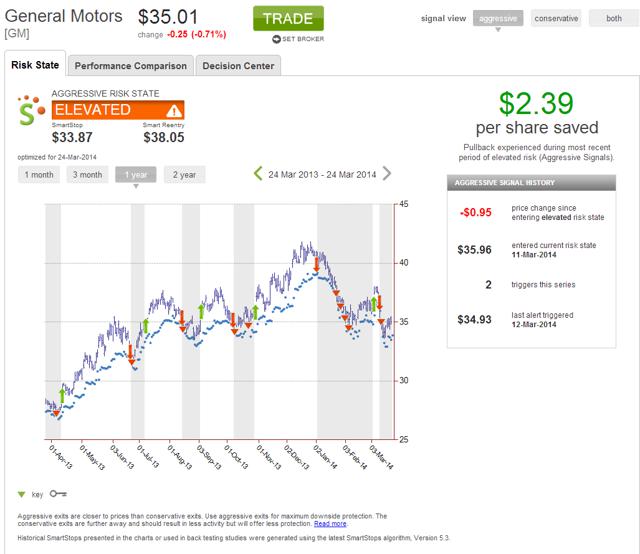 Source: SmartStops.net
Disclosure: I have no positions in any stocks mentioned, and no plans to initiate any positions within the next 72 hours. I wrote this article myself, and it expresses my own opinions. I am not receiving compensation for it (other than from Seeking Alpha). I have no business relationship with any company whose stock is mentioned in this article.