I regularly look for companies that scream "mistake". I do not care about the sector, I do not care about macroeconomic data (for instance, GDP growth, specific unemployment figures, interest rates or currency values). I also do not approach investments from the perspective of modern portfolio theory, that suggests an investment is more risky when its stock price has fallen.
I want to buy companies that go through re-organizations, recapitalizations, business model changes etc. The good thing about the stock market is, that there is never a shortage of such opportunities. The market has a strange way of delivering a constant stream of bargain priced investment opportunities that give investors a reasonable chance to make multiples of their invested capital.
All of the three equity investments discussed below are extremely contrarian and not for short-term speculators and for investors with weak nerves when confronted with volatility. I believe the equity investments described below offer outsized return potential and a defensible amount of risk.
J.C. Penney
Clearly, J.C. Penney (NYSE:JCP) is the number one turnaround play in 2014. The struggling department store faced a difficult 2013, not only on the sales front. Bill Ackman, hedge fund manager of Pershing Square Capital Management, brought the retail company into the spotlight as it faced strong sequential sales declines. After some heavily publicized disagreement among board members about the future strategic direction of the company, Bill Ackman threw in the towel and sold his stake at a loss close to $500 million. This came after his not so successful retail involvement with Target (NYSE:TGT). In my first article about J.C. Penney I have asserted that Ackman sold out for a variety of reasons, but probably not because he saw a bankruptcy case down the line.
Fast forward six month and J.C. Penney already conducted a successful $800 million secondary equity offering, achieved a much awaited positive comparable store sales growth figure of 2% and gave a strong sales-, margin- and liquidity guidance.
Despite good results in the holiday quarter, J.C. Penney shares fell more than 10% on the day sales figures were released, because analysts were not satisfied with the pace of J.C. Penney's recovery. Not to mention that analysts were waiting impatiently for a positive comp for more than a year - suddenly it was not important at all.
Given J.C. Penney's strong liquidity guidance and margin outlook, the retailer is a strong recovery candidate for 2014. I think, J.C. Penney has the potential to double this year, although investors need to be prepared to deal with setbacks and high short-term volatility, especially around results release dates.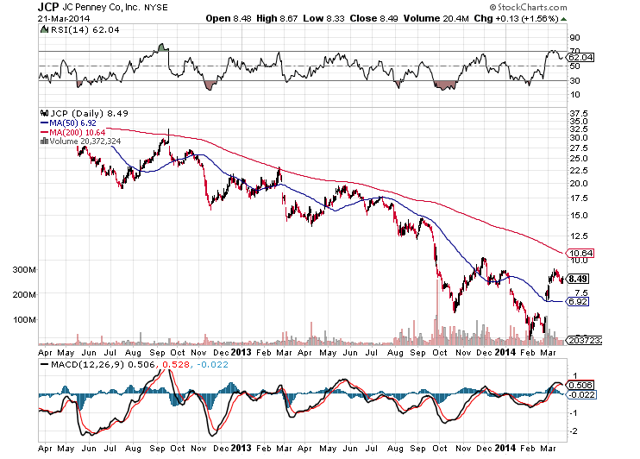 Click to enlarge
(Source: StockCharts.com)
BlackBerry
BlackBerry (NASDAQ:BBRY), the struggling smartphone maker, led by turnaround-experienced John Chen, is another top candidate for contrarian investors in 2014. After multiple CEOs took the helm at BlackBerry, Chen now appears to be the right guy for the job.
BlackBerry has been struggling with an ailing hardware unit and phones that weren't exactly causing customers to go wild. Contrary to companies such as Apple (NASDAQ:AAPL) or Samsung (OTC:SSNLF), BlackBerry was widely perceived to have lost its edge as a smartphone maker.
As a consequence, BlackBerry needed to find a solution for its hardware business. Ultimately, the company announced a Foxconn (OTC:FXCOF) partnership that will help in controlling production costs and making the company leaner and more focused. Whether it is BlackBerry's long-term intention to sell its hardware division remains in question. I personally would welcome if the company sold its hardware division and concentrated on becoming a concentrated enterprise company with a dominant market position in government-based secure technology services.
BlackBerry is busy trying to reinvent and transform itself. The company has a solid cash position, an experienced leadership under direction of John Chen and strong execution skills.
I have seen a few "BlackBerry" investment situations during my investing career. Almost all companies emerged stronger, leaner and more valuable and I personally have little doubt, that BlackBerry will stage a recovery similar to Nokia (NYSE:NOK) or Alcatel-Lucent (ALU).
I still believe that BlackBerry has an intrinsic value of approximately $17 per share (if not more) driven by its cash/investment value of around $5 per share and the Service Business/patents worth approximately $12 per share.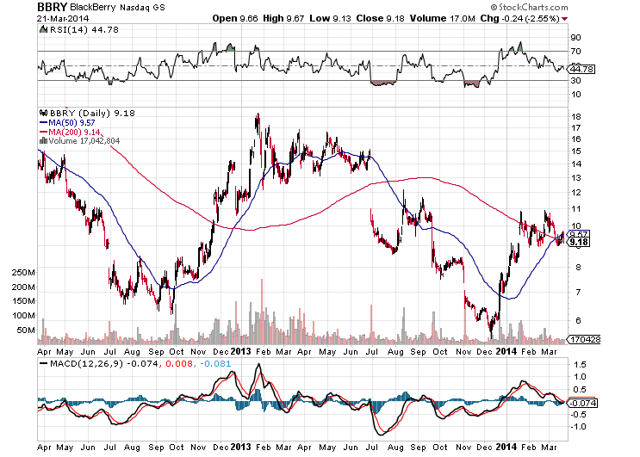 Click to enlarge
(Source: StockCharts.com)
Fannie Mae
The government-sponsored enterprise tasked with providing liquidity and credit to the mortgage market, has fallen on extraordinary hard times as the company was placed into conservatorship during the financial crisis. This proved to be a particular problem for investors in the common stock who came close to being wiped out.
The so called "net sweep agreement" ultimately "swept" all Fannie Mae profits over to the government. Many investors in Fannie Mae's preferred and common stock now challenge the net sweep agreement in court. Notable preferred and common stock investors include Bruce Berkowitz of Fairholme Funds, Bill Ackman of Pershing Square and Richard Perry of Perry Capital.
As Fannie Mae was placed into conservatorship, it was becoming increasingly clear, that the company was going to be profitable. Despite assurances from various officials that the company was adequately capitalized, the government ultimately decided to take 100% of Fannie Mae's profits - without compensating shareholders.
The investment thesis here is depends on a binary event (court ruling) and will largely determine the value of Fannie Mae's common stock: If courts side with shareholders, substantial gains lure. Otherwise, common stockholders need to be prepared to write their investment off.
According to bank analyst Dick Bove, Fannie Mae could be worth $18 per share if the company is returned to shareholders. I personally believe that courts will side with shareholders, which, of course, would be a defining catalyst for the stock of Fannie Mae.
I also believe that reform attempts by congress to reorganize the housing market will be fruitless. There is no valid alternative to Fannie Mae and Freddie Mac (OTCQB:FMCC) and restructuring the mortgage industry in Washington's current political climate is not a realistic option.
With good odds that shareholders will prevail in court, a lack of structural and economic alternatives to the GSEs as well as political unwillingness, Fannie Mae could prove to be a highly lucrative investment in 2014. On the downside, investors might lose their entire investment if the net sweep is indeed upheld in court.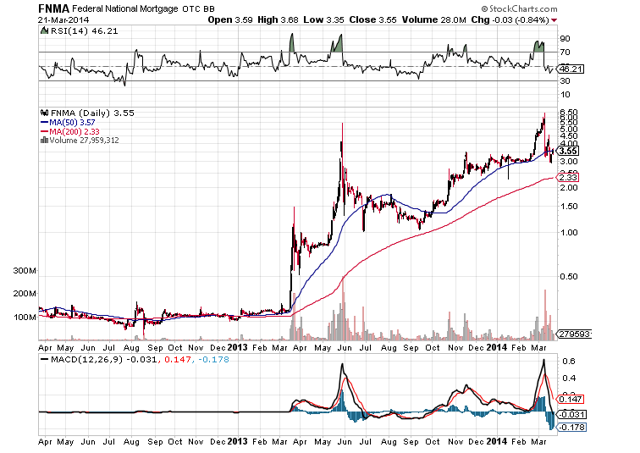 Click to enlarge
(Source: StockCharts.com)
Conclusion
All three investment, J.C. Penney, BlackBerry and Fannie Mae, are pretty much hated by investors. Analysts are also mainly pessimistic, which sort of makes those investments so much more interesting.
I think restructuring/turnaround situations and situations in which companies face an extraordinary amount of uncertainty (this would be the case for Fannie Mae), can lead to substantial capital gains.
All companies mentioned above are exposed to higher than normal short-term volatility as any news release is likely to have an outsized effect on the stock price -- thanks to short-term traders. However, long-term investors who aren't getting nervous about a quarter or two and are capable of demonstrating patience, could be looking at substantial recovery gains in 2014 and beyond.
Disclosure: I am long BBRY, JCP, FNMA, ALU, NOK. I wrote this article myself, and it expresses my own opinions. I am not receiving compensation for it (other than from Seeking Alpha). I have no business relationship with any company whose stock is mentioned in this article.