Amid weak financial results and difficult economic conditions, Monsanto Company (NYSE:MON) in order to boost shareholder value and enhance investor sentiments, recently authorized a share repurchase program of up to $1 billion for three years starting July 1, 2010.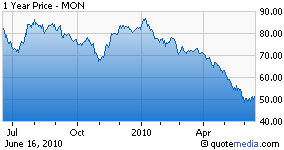 Monsanto also announced a third quarter fiscal 2010 dividend of 26.5 cents per share payable on July 30 with the record date of July 9.
The above announcement was made on the basis of the guidance provided for fiscal 2010, where management believes free cash flow will be in the range of $900 million to $1 billion. Net cash provided by operating activities and investing activities is expected in the range of $1.9 to $2.1 billion and $1 to 1.1 billion, respectively.
Monsanto delivered shaky results in the first half of fiscal 2010. During the first quarter, the net loss was 4 cents per share and the revenues almost halved to $1,697 million from $2,649 million in the year-ago quarter.
During the second quarter, although EPS was up from a loss of 4 cents to $1.60, it was down from $1.96 in the second quarter of fiscal 2009. Revenues decreased 3.6% to $3,890 million from $4,035 million during the same period of previous year. The decrease was due to the fall in prices of glyphosate-based herbicides produced by the company.
An intense competitive environment and Monsanto's huge dependence on a few large customers are a risk to its topline. We believe that the robust pipeline of new products and the continuous growth in the seeds and genomics segment along with strict cost control will help the company grow in future. Thus, we maintain our Neutral recommendation.