While the technical analysis indicates a solid up-trend, the fundamentals indicate that Intel (NASDAQ:INTC) may be slightly over valued, at least until Intel actually launches its mobile products in 2015. Others feel that Intel merits a much higher valuation, but I think analysts have already modeled the growth from mobile adequately into Intel, meaning that a higher price target above consensus is unlikely to be accurate.
From the looks of it, Intel sounds like an appropriate investment for those who are a little conservative and want exposure to technology. This doesn't seem like an investment ready to grow gangbusters. On the bright side, mobile application processors and modems will return Intel from being a value trap into a reasonable growth stock.
First the technical analysis
Now if you follow me on Seeking Alpha, you'll usually find that I don't cover technical charts that often.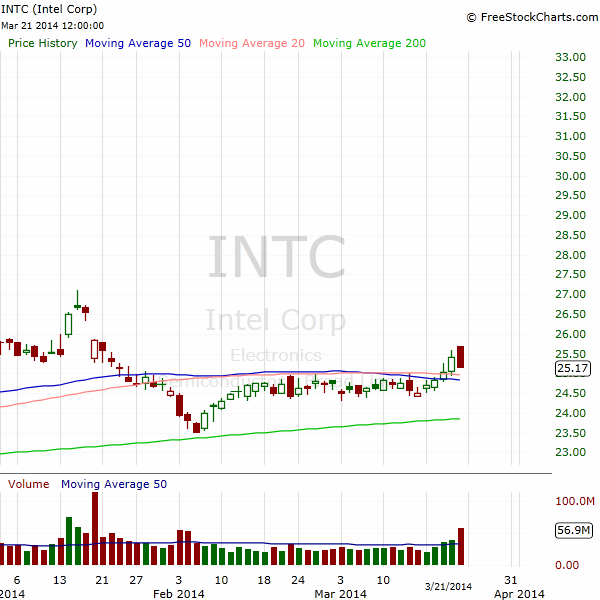 Source: FreeStockCharts
Currently, Intel trades above the 20-, 50-, and 200-day moving average. This is definitely an indication of an up-trend. But given the valuation I'm about to give the company, I'd wait for the pullback in the equity to play out, and buy in at lower levels.
In an earlier article, I mentioned that Intel's position in mobile could improve considerably considering the market dynamics of an oligopoly. At worst, Intel will price itself until it earns zero profit at the low-end. The best case is that Intel wins Apple (NASDAQ:AAPL) and Samsung (OTC:SSNLF), and is able to operate at Nash Equilibrium. Considering Intel's built-in advantage at 14nm manufacturing technology, and the company's commitment to research and development, it's likely that Intel's mobile solutions will eventually be on par with Qualcomm (NASDAQ:QCOM). In that case, Qualcomm may become marginalized, making Qualcomm a risky investment over the long-term. It's also highly unlikely that Qualcomm will design chips for x86, meaning Qualcomm's growth will primarily come from tablet, mobile and wearable computing. In that case, Qualcomm may respond to Intel with lower pricing, making the overall competitive dynamics unfavorable to Qualcomm if we were to adhere to game theory.
Price guidance
I anticipate moderate declines in earnings for fiscal year 2014, which is based on guidance, meaning that it's likely to be accurate. Fiscal year 2015 earnings growth is 7.77% (near consensus), and following that I anticipate 8.64% long-term growth considering the slow growth of desktop and above average growth of mobile.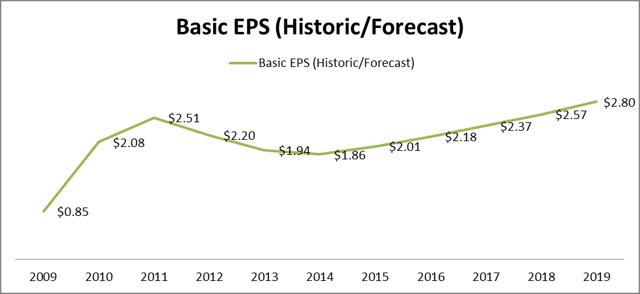 Source: Alex Cho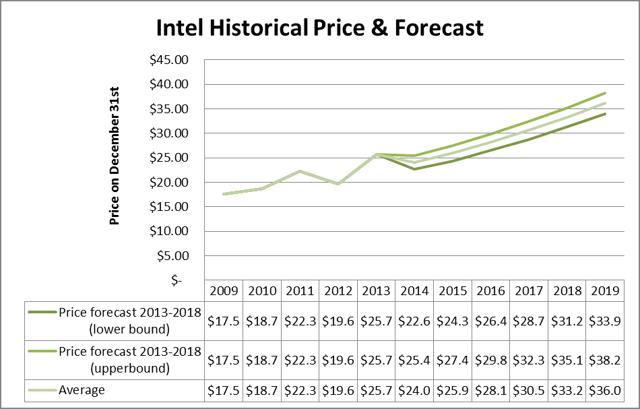 Source: Alex Cho
I expect Intel's stock to trade at approximately $24.04, for 2014. This indicates that Intel is fairly priced at $25.17, and trades just below my upper-bound estimate for 2014. I anticipate Intel to trade at approximately $36.09 by 2019; this gives investors 43% upside over a five-year period. The 3.58% dividend yield goes along for the ride, and is likely to grow given the historical pattern of dividend pay-outs.
Conclusion
To me, Intel sounds like a growth investment with a high probability for success. This definitely belongs in the portfolio of those who want technology exposure, but aren't willing to risk capital on higher-momentum names.
I would look to accumulate a position in the $24 range. Until Intel gains mobile share, investors are unlikely to price the stock any higher. I'm going to stick with the current modeled growth rates. The growth trajectory of Intel is a little hazy, and anyone who has followed the name for quite a while knows for a fact that Intel underperforms analyst expectations more often than not. Hence, I'm setting my bar low, and I'm hoping that Intel climbs over it, resulting in a 43% return on principal and a 60% return assuming dividend reinvestment.
Disclosure: I have no positions in any stocks mentioned, and no plans to initiate any positions within the next 72 hours. I wrote this article myself, and it expresses my own opinions. I am not receiving compensation for it (other than from Seeking Alpha). I have no business relationship with any company whose stock is mentioned in this article.