Call me naive, but for awhile I thought ExxonMobil (NYSE:XOM) was going to make a big move into shale oil in 2014. After all, Exxon acquired substantial operating equity in about 34,000 acres in the Wolfcamp formation. This deal, reached early last month, was for deeper shale oil only: Another partner will continue drilling for shallow oil.
In listening to Exxon's 2014 analyst day, however, it became apparent that Exxon's move into shale liquids would continue to be gradual. While Exxon is moving into shale liquids, it is doing so only as a part of the company's overall capex picture, a picture which also includes deepwater, Canadian oil sands and the Russian Arctic.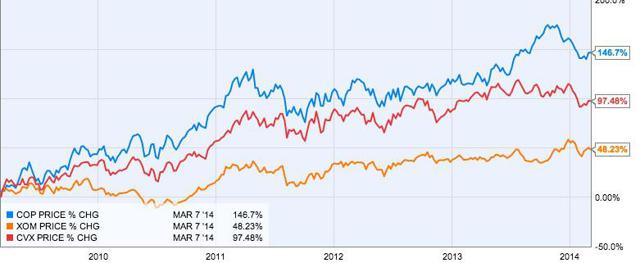 YCharts
Looking at the above chart, we can see that for the last five years the returns of Exxon have trailed far behind that of its peers. Even more remarkable is that over this time period, Exxon's stock buyback has substantially exceeded that of Chevron (NYSE:CVX) or Conoco (NYSE:COP). I believe the reason for this underperformance is that Exxon has been relatively slow to move into the shale, and therefore Exxon's liquids production growth has lagged behind that of its peers.
This article will look at Exxon's capital expenditure plans and put the company's priorities into context with the its overall philosophy. While Exxon's focus on a variety of themes has caused it to miss out on the "shale revolution," Exxon remains a consistent low-risk integrated oil and gas play.
(click to enlarge)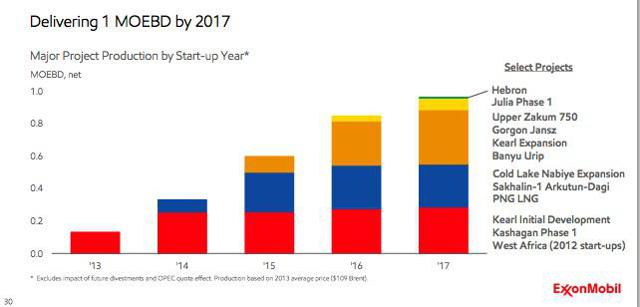 Courtesy of Investor Relations
This chart shows us some of Exxon's select projects through 2017. It includes some OECD-based projects like oil sands expansion in Canada and the Gorgon LNG project in Australia. However, most of these select projects are outside OECD countries, in countries where politics are much shakier. This includes West Africa, Kashagan (a geography which Conoco exited two years ago), Banyu Urip off the coast of Indonesia, and Sakhalin in the Russian Arctic.
"International" geographies, such as those listed, often carry political uncertainties and operations there are often more opaque than in OECD countries. Other big US companies have disposed of operations in these countries in favor of oil sands and shale assets in North America, but Exxon has stayed the course. While OECD geographies, all things being equal, are preferable to non-OECD geographies, Exxon often enjoys long-standing relationships with partners, which serves as a major competitive advantage. In addition, Exxon's size and deep pockets are ideally suited for these larger, international oil and gas projects, for which Exxon faces only limited competition.
However, in focusing on these broad, often far-flung geographies, Exxon has, to a degree, missed out on higher-growth projects in the US and Canada, both of which have relatively friendly business climates.
North American Liquids
That's not to say Exxon is totally neglecting North American opportunities. Think of Exxon's plans in North America as a piece of a larger puzzle, and that this piece might not be the central one.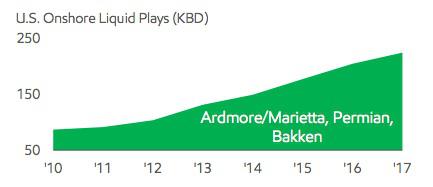 This chart shows some impressive liquids production growth from Exxon. We can expect this growth to persist through at least 2017. Ardmore/Marietta, a shale play between Oklahoma and Arkansas, will produce LNG. The Permian and Bakken will drive higher-margin oil production.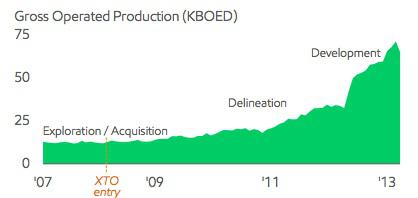 Overall, the Bakken is Exxon's shale oil growth engine in North America. Exxon has almost a billion barrels of reserves in the Bakken, with the potential for more through bolt-on acquisitions.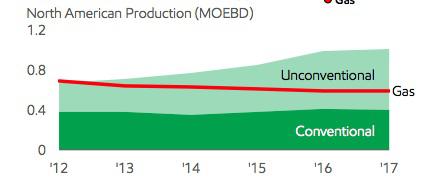 In 2014, unconventional shale production will overtake conventional production in North America. But Exxon is and remains a global oil company with exposure to multiple geographies.
Capital Disciplinarians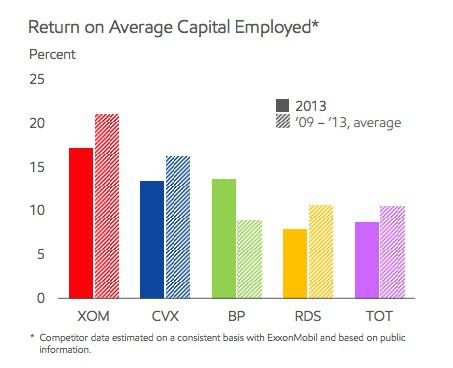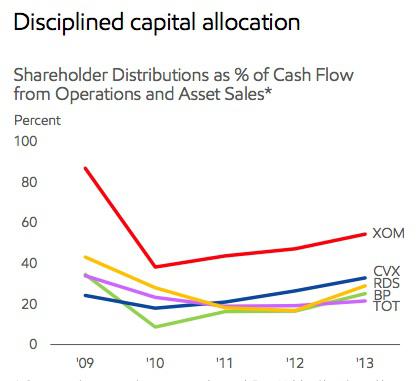 Exxon's long-held strategy is to keep a tight hand on the purse-strings and invest only in the safest, highest-return projects. This strict discipline has lead to Exxon returning far more cash to shareholders than its peers have. For example, last year Exxon earned almost $45 billion in operating cash flow. Of that, management spent $33.6 billion on capital expenditure. Meanwhile, Chevron spent virtually all of its operating cash flow on capex last year, as did ConocoPhillips. So while, over the last couple years, Chevron has plowed capital into Australia and the Gulf, and Conoco into North American shale oil, Exxon has returned a good bit of cash to shareholders, much of that has cash has gone to buybacks.
That being said, overall production is expected to grow by between 2% and 3% from 2015 and 2017, and an increasing portion of production will be liquids. In other words, Exxon has somewhat adjusted to the paradigm of increasing supply and production. But overall Exxon remains an integrated, global energy company with eggs in many baskets. Management follows this strategy intentionally, and does so with the intent of making Exxon a low-risk play.
CEO Rex Tillerson said just that much on analyst day, and added that there was "no one thing we (Exxon) live and die by." If something adverse were to happen in the shale, for example, Exxon would still have many other options. If Russia were to close itself off completely, Exxon would still not be incapacitated. This is something which the more focused oil companies cannot say.
As an energy company, Exxon is a superior low-risk investment which will provide only modest production growth over the next few years. In the current market paradigm, oil production growth is what gets rewarded. This, I believe, explains Exxon's subpar returns over the last few years. Because Exxon hasn't really changed its strategy, I believe that returns will continue to be modest. Furthermore, I believe that several other names, while more risky, will provide better returns over the coming years than will ExxonMobil.
Disclosure: I am long COP. I wrote this article myself, and it expresses my own opinions. I am not receiving compensation for it (other than from Seeking Alpha). I have no business relationship with any company whose stock is mentioned in this article.