Following the announcement of $500 million settlement on two Alaska retirement plans by Marsh & McLennan Companies (NYSE:MMC), Standard & Poor's Ratings Services (S&P) has affirmed its BBB- rating on the company. However, the company's outlook has been revised to "negative" from "stable."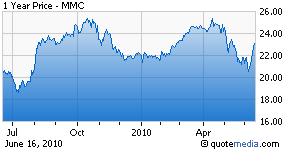 In addition, S&P currently has an "A-3" short-term counterparty credit rating on Marsh & McLennan. A lowered outlook does not necessarily imply a further downgrade from the "BBB-" rating, especially considering there has been no "credit watch negative" designation on MMC.
S&P lowered the outlook as the company's damage claims surpassed estimates. The rating agency remains concerned about the unfavorable impact on Mercer, the specialty consulting wing of Marsh & McLennan, repute and competitive position following the settlement announcement.
On June 11, Mercer agreed to pay $500 million to the Alaska Retirement Management Board against a claim of at least $2.8 billion plus triple the damages for intense professional negligence, miscalculation of public pension benefits, misrepresentation and fraudulent trade practices related to actuarial services provided in connection with two State pension and benefit plans.
S&P also believes the restructuring of operating units, goodwill write-downs of $855 million in its Kroll business and other divestitures or strategic changes have added little to operating performance and even affected the earnings quality of Marsh & McLennan. According to the rating agency, these along with legacy issues could weigh on Marsh & McLennan's ability to sustain its earnings improvement.
With the settlement behind it, Marsh & McLennan can now focus on its ongoing restructuring that includes rightsizing its business by vending off its redundant operations and accelerating its operating leverage for long-term core growth.
Marsh & McLennan continues to experience a decent growth expansion as a result of its well-executed restructuring initiatives, including the recent divestment of Kroll. Going forward, results should somewhat benefit from improved pricing, which will be largely offset by the volatility of the U.S. dollar and the tepid revenue growth from the consulting business due to the ongoing sluggish economic recovery.