I wouldn't be in any hurry to dump 3D Systems (NYSE:DDD). Sure, the stock is volatile, but this is to be expected from a high momentum name. We all knew the risk of volatility going into this. While many try to pin an exact reason, for why 3D Systems is being sold-off, I for one think it's being sold because of fear.
The long-term picture remains largely intact, and unless I see a material change to guidance, or a missed quarter, I feel that the investment offers compelling upside despite trading at lower levels.
The technical set-up looks awful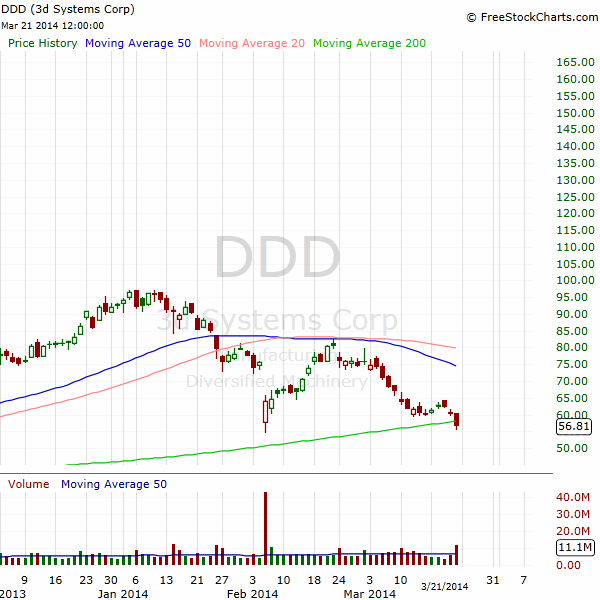 Source: FreeStockCharts
The technical analysis is definitely indicative of a down-trend. This makes it very difficult to convince anyone to buy into the equity. However, buying when others are fearful in high momentum names has proven to be an effective strategy for generating market beating returns assuming the growth trajectory offered by other analyst or by internal management is accurate.
Is China the problem?
Maybe, and it's just a theory here, the real reason for selling is the weakening Chinese PMI indicator. I have no idea how investors thought that China's manufacturing sector would be indicative of outward growth for 3D printing. China tends to focus on low-end manufacturing, which can be more labor intensive than capital intensive.
If anything, China unto itself isn't really indicative of where 3D Systems is likely to be, as 3D Systems reported that 19% of its sales went to the Asia Pacific. While 19% of sales coming from Asia economies doesn't sound like a whole lot, to a high-flier like 3D Systems, just a moderate miss on sales or earnings due to worsening PMI may send jitters down the backs of investors.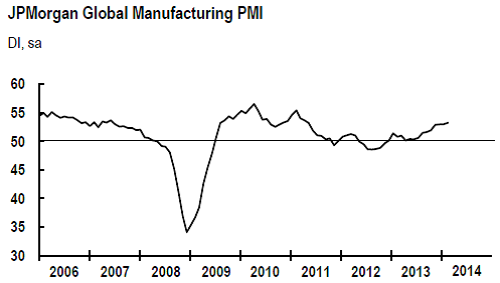 Source: JPMorgan Chase
With global PMI above 50, manufacturing is expanding on a broader scale, and is slowly accelerating. 81% of 3D Systems earnings come from North America, and Europe, so I'm pretty skeptical of China's macro crimping on the share price, despite being a potential risk factor.
Analyst sentiment lowering valuation?
However, a notable dowgrade from Bank of America/Merill Lynch came in a couple weeks ago, sending the stock even lower:
We are downgrading shares of 3D Systems to Underperform with a PO of $65 for the following reasons (1) Organic growth rate peaking in 2014 and incremental topline growth will come at the expense of margins, (2) We view the increased investments as a catchup in spend necessary to stay competitive rather than driving incremental growth, (3) A lot of the M&A while additive to near term growth, in our opinion, will result in diluting LT organic growth and adds integration and execution risk in the interim, (4) A lot of high profile partnerships sound exciting (Motorola Mobility, Hasbro, Hershey's etc.) but success will be predicated on widespread adoption and margin performance driven by such ventures will likely be challenged.
I sat back, and thought about the validity of Bank of America's arguments for further downside. The biggest argument by Bank of America was decelerating growth, but looking over case history, many high growth names report slowing growth and still trade at higher valuations.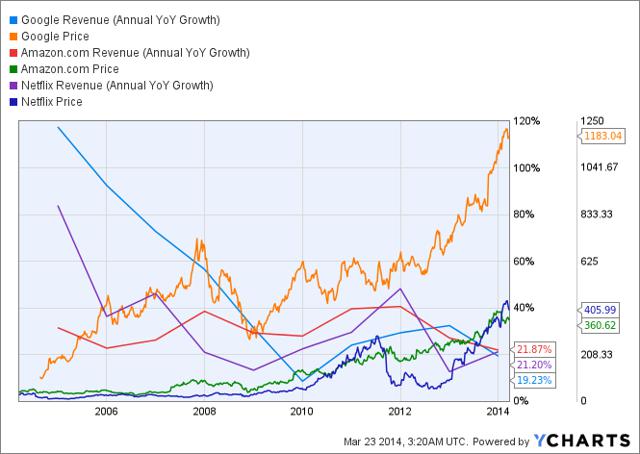 Source: YCharts
Looking over the historical data, you will notice that Google (NASDAQ:GOOG), Netflix (NASDAQ:NFLX), and Amazon (NASDAQ:AMZN) have reported declining growth rates over the ten year period. Think of this mathematically, is it possible for a company to sustain higher rates of growth as the business grows bigger, the answer is no. No matter how great of a product, sometimes the value in dollars rather than percentile becomes so humongous it becomes difficult to sustain the historical pattern.
However, offering a lower price target doesn't really make a whole lot of sense as the business can return to its previous highs even at lower growth rates. Meaning, that investors quick to dump the stock because of peaking growth rates may miss out on the next stock price rally.
Bank of America mentions that rising R&D spending is bad in this specific instance, because it isn't going to result in revenue growth expansion. However, even at 30-40% growth rates, I find that 3D Systems seems a little undervalued. I'm throwing around figures here for illustrative purposes, so we can understand the difference between exponential and linear growth. Let's assume revenue growth slows, and we're stuck with a 30% annual growth rate for the next five years, where would that leave us? It would approximate to $2.6 billion in revenue. Assuming the stock trades at 5x sales, that would leave us at a $13 billion market capitalization, which is higher than the current $5.9 billion market capitalization.
Manufacturing is a multi-trillion dollar industry, and assuming 3D Systems' R&D initiatives are successful, it can unlock really huge chunks of the global manufacturing market. In the grander scheme of things, 3D Systems is well-positioned to sell an all-purpose manufacturing product. This is why 30% growth feels like a very conservative figure, because it assumes that 3D Systems will only earn $2.6 billion in sales from a multi-trillion dollar industry by 2019. Sure a 3D printer can't do everything, and in many instances it makes sense to assemble rather than 3D print. But if we were to assume efficiency gains, the install base of 3D printers could expand above consensus expectation, resulting in higher revenue growth.
Conclusion
Because none of the factors mentioned by Bank of America indicate the business will destroy shareholder capital, I'm remaining bullish. Furthermore, I think the selling is temporary, and is largely fear driven. While growth rates may slow, it's unlikely that will happen in the immediate future based on management's guidance. Organic growth could be resurgent if efficiency gains unlock further manufacturing applications. Overall the risk-to-reward favors the upside.
The volatility of the investment will make it difficult for more conservative investors to hold onto their positions during periods of portfolio draw down. To address volatility, investors should cost-average into 3D Systems. It will take a lot of conviction to hold onto 3D System through market volatility, be prepared.
Disclosure: I have no positions in any stocks mentioned, and no plans to initiate any positions within the next 72 hours. I wrote this article myself, and it expresses my own opinions. I am not receiving compensation for it (other than from Seeking Alpha). I have no business relationship with any company whose stock is mentioned in this article.