As primarily a dividend growth investor, I take the safety of my dividend income very seriously. As a relatively young dividend growth investor of 1 year and then some, I still continue to learn on the topic.
Low Payout Ratio Does Not Imply There's Plenty of Room for Dividend Growth
I used to think that a company with a low payout ratio has plenty of room to grow the dividend. After all, the payout ratio as Investopedia defines it is "the amount of earnings paid out in dividends to shareholders." However, as I learned from a Morningstar video on Where to Find Margin of Safety, the payout ratio is just one metric to look at to help determine if a dividend is safe and whether it has potential to grow. Stating the main idea from Josh Peters from the video, a company could have a low payout ratio if its business has higher earnings variability. The payout ratio simply tells us "if there's a cushion for the dividend in periods when the company's profitability is challenged."
I thought of a good way to tell if a company is meant to have a low payout ratio or not. Simply, compare a company's payout ratio to its peers' payout ratio. Since they're in the same industry, they would want to have a similar amount of cushion for their dividends as Mr. Peters puts it. For instance, Ross Stores (NASDAQ:ROST) and TJX Companies (NYSE:TJX) are both in the Apparel Stores industry. Ross has a payout ratio of 16.5, while TJX's is 13.7. If both companies decide to keep the payout ratio in the teens, then the only way they can grow the dividend is to rely on earnings growth. So, estimating the earnings growth of a company becomes a good exercise to help determine the safety of a company's dividend and its growth.
Mr. Peters goes on to say that for companies in stable industries, such as consumer staples, tobacco and utilities, it is alright to have relatively higher payout ratios of 60-70%. Companies such as Coca-cola (NYSE:KO), Philip Morris (NYSE:PM) and Wisconsin Energy Corporation (NYSE:WEC) come to my mind. Their payout ratios are 58.8, 67.7 and 57.6, respectively.
No matter if a company is in a stable business (having a relatively high payout ratio), or in a highly competitive business where earnings variability is higher and thus has a relatively low payout ratio, if these companies choose to keep their payout ratio similar to what they're now, it still follows the safety of the dividend is determined by the companies' earnings power, and the growth of the dividend is determined by their earnings growth.
Of course, a company can choose to grow its dividend at a faster rate than its earnings growth. In this respect, other than with the "help" of earnings growth, the company must raise its payout ratio. An example that I noticed is Qualcomm (NASDAQ:QCOM). It recently grew its dividend by 20% from an annual payout of $1.40 to $1.68, while this year its earnings growth estimation is around 15%. Its 2013 payout ratio is 30.7, while its TTM ratio is 35.5.
Companies With Wide Economic Moats are Likely to Continue to Grow Dividends
Mr. Peters goes on to say that companies with economic moats have one or more competitive advantages over peers, and that a wider economic moat protects dividends over long periods of time. Coincidentally, from today's Morningstar Individual Investor Conference, Matthew Coffina talks about Building a Moat in your Portfolio (pdf link to his slides). He lists the 5 sources of a moat:
Network Effect - the value of a company's service increases as more people use it

Intangible Assets - patents, brands or regulatory licenses which protect excess returns

Cost Advantage - economies of scale, access to a unique asset

Switching Costs - it's too expensive for customers to stop using a product

Efficient Scale - a niche market is effectively served by one or a small handful of firms
A company with a wide moat has multiple competitive advantages over its competitors. For example, I think that Coca-Cola's moat comes from having intangible assets, cost advantage, and possibly efficient scale, as Coca-Cola is a world-renowned brand, and selling its products in more than 200 countries through its distribution system, and the only other big player is Pepsi (NYSE:PEP).
As Mr. Coffina shows in his slide, wide moats matter because wide moat firms are "growing earnings faster" and have "higher free cash flow." Further, wide moat businesses are able to "sustain excess returns longer than firms without moats." As a result, I'd like to add that wide moat companies' dividends are safer and have a higher chance of continuing to grow.
Businesses With Strong Balance Sheet Strength Are More Likely to Grow Dividends
Mr. Peters from the video says that a company that you're expecting a safe dividend from "should not (be) excessively burdened with debt," and should have "low levels of leverage." My way of checking if a company is in excessive debt, again, is to compare it to its peers. For instance, in my Whistler Income and Growth Portfolio, I hold all 3 Canadian telecoms, BCE (NYSE:BCE), Telus (NYSE:TU) and Rogers Communications (NYSE:RCI). They have debt/cap of 46%, 47% and 65%. As a result, I feel least comfortable holding Rogers right now, although an investor looking to initiate a position in that sector may find that currently, it is the most undervalued of the 3.
Mr. Peters also said to "look for companies with an investment grade Morningstar credit rating of AA or AAA." Now, I think companies with those kinds of ratings are very safe, and I would sleep very well at night if I had that kind of portfolio.
Out of curiosity, I looked up the Morningstar credit ratings of some of the companies mentioned in this article:
| Ticker | Morningstar Credit Rating |
| --- | --- |
| KO | AA- |
| PEP | AA- |
| PM | A- |
| WEC | A- |
Here's a high level on what the credit ratings mean: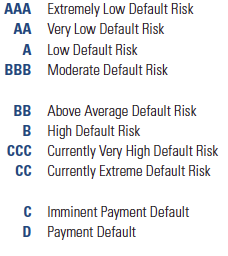 Learn more about Morningstar's Corporate Credit Rating system.
What This Means for Me
I did look at payout ratios, know about moats and credit ratings from before, but watching the video and listening in on the Building a Moat in your Portfolio session in the Individual Investor Conference had made those concepts clearer. As a dividend growth investor who will eventually rely on dividends to pay my everyday expenses, I believe a review of all these areas: payout ratio, economic moat and debt levels and credit rating on all my holdings and potential buying candidates will help me build a portfolio, which generates a safer and growing dividend as a whole.
Disclosure: I am long BCE, KO, PEP, QCOM, RCI, ROST, TU. I wrote this article myself, and it expresses my own opinions. I am not receiving compensation for it (other than from Seeking Alpha). I have no business relationship with any company whose stock is mentioned in this article.
Additional disclosure: I'm holding the Canadian telecoms (BCE, T, and RCI.B) on the Toronto Stock Exchange.