YY (NASDAQ:YY) has been slowly moving to capture the strong demand in online education in China. The company recently announced that it will invest RMB1 billion (approximately $160 million) in online education, which management believes is an important new vertical for YY to grow into. This poses a serious threat to New Oriental Education (NYSE:EDU), Xueda Education (NYSE:XUE) and China Distance Education (NYSE:DL), which are making efforts to boost their online education segments.
Overview of China's online education market
New Oriental's online segment has generated approximately $30 million in revenue in the last 12 months, and management expects the online pricing to be 50% below the offline offerings. The company might take advantage of cross-selling opportunities, which might increase offline enrollments and revenues. This is the advantage that New Oriental will have over YY, as it has both offline and online offerings, and can offer better and more effective products. New Oriental might also use the strength of its brand and reputation to build a strong online offering.
Xueda operates www.eduu.com, "a leading online education platform in China." The company's focus is to continue to provide "the best possible service" to parents and students, as they navigate the K-12 process, rather than seeking to monetize the Eduu platform. The company also runs xueersi.com, which has online courses, and revenue from the platform accounted for 3% of total revenue while the enrollment contribution in the latest quarter was 17%. This translates into approximately $2.2 million in revenue in fiscal Q3 2014, and still presents a small amount compared to New Oriental.
China Distance Education is "a leading provider of online education in China focusing on professional education." The company's Q1 net revenue increased 43.7% to $18.7 million. Net revenue from online education services contributed to 84.2% of total net revenue in Q1. The company saw strong contribution from accounting, healthcare and E&C verticals.
YY's announcement
In its Q4 report, YY announced that it will invest RMB1 billion in online education. The company launched a dedicated education platform called 100 Education. Through its portal 100.com, YY will provide millions of aspiring students in China the opportunity to complete test credits and other courses in a real-time and active environment. In Q4 2013, there were more than 30,000 online education institutes and teachers providing lectures and online tutoring on YY's platform. The number of paying users in December 2013 increased 340% Y/Y. This move will enable the company to capitalize its broad user base and expand into the rapidly growing online education market.
How is this going to impact competition in China's online education market?
YY's move is not good for New Oriental Education, Xueda Education and China Distance Education, as YY will be a strong competitor in the field of online education. Although New Oriental and Xueda have a strong presence in the offline segment, they are working on building their online platform as well. I was thinking that a partnership between New Oriental and YY was a more likely and better solution for both companies, but this is probably not going to happen. YY could use New Oriental's strong brand to promote its education platform, while New Oriental might leverage YY's broad user base and a powerful online platform. As this is probably not happening, I believe that New Oriental, Xueda and China Distance Education will be the losers here, since YY has almost nothing to lose, since it has just entered the education segment and can build its platform, while the others will probably lose a good chunk of their potential online clients.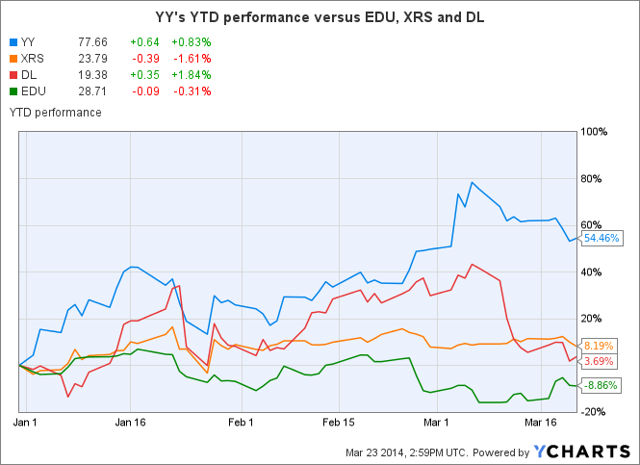 Source: ycharts.com
Rumors about New Oriental's response
Shares of New Oriental advanced last week on rumors that it may form a joint venture with Tencent (OTCPK:TCEHY), a large Chinese media and technology conglomerate. While this is not confirmed, the joint venture might help New Oriental to fight off YY, as the company could leverage Tencent's massive platform. The joint venture, together with New Oriental's strong brand and reputation and with a combined offline and online offering, could put New Oriental in a more favorable position over YY and other competitors in China.
Conclusion
YY is certainly going to disrupt online education in China. The RMB1 billion investment shows the seriousness of the company's intent. YY is certainly going to leverage its online platform and broad user base to compete with other companies in China's online education market. New Oriental might be better positioned than YY if it forms a joint venture with Tencent. I'm maintaining my $126 price target for YY and $32 for New Oriental. If the Tencent and New Oriental joint venture is not confirmed, New Oriental could be more vulnerable to a pullback.
Disclosure: I am long YY. I wrote this article myself, and it expresses my own opinions. I am not receiving compensation for it (other than from Seeking Alpha). I have no business relationship with any company whose stock is mentioned in this article.