The overhaul in the US health-care market has undoubtedly built uncertainty into the operating environment for Humana (NYSE:HUM). Greater transparency and competition will pressure pricing and profits for Managed Care Organizations and Medicare Advantage rates continue to decline, which is putting increasing pressure on one of Humana's largest sources of revenue.
However, the Humana bulls suggest that the aging demographics in the US are a long-term trend that will last for many decades and assist the likes of Humana. The group has also proven itself to be adept at building lower-profit plans, which could prove to be a considerable advantage in a rising cost environment.
Rather than siding with the bulls or the bears based on their "opinions" my approach is to evaluate companies on their current fundamentals and use this as an indicator of potential investments. I then research the price action to determine the direction of the trend, the momentum behind this trend and the condition of the trend.
I call this approach, Value in Trends (VIT) and based on this approach, I find Humana to be an attractive investment at current levels. The rest of this piece delves into the "Value" and "Trends" research I conduct across any potential investment.
Overview
Humana is a managed health care company with its headquarters in Louisville, Kentucky. The company offers coordinated health care through maintenance organizations, preferred provider organizations, point-of-service plans, and administrative service products. Humana offers its products to employer groups, government-sponsored plans, and individuals. Government accounts for 76% of its revenue, compared with 18% commercial and 5% from services.
Earnings & Outlook
Humana reported an EPS GAAP loss of $0.19 for Q4FY13. However, this was predominantly driven by $0.99 per share expenses for reserve strengthening on their non-strategic closed block of long-term care insurance policies. Therefore, the adjusted EPS figure was $0.80, although this was still some way short of the consensus estimate of $0.92.
Meanwhile turnover of $10.187 billion was marginally lower than the $10.270 billion expectation but an increase on the $9.560 billion figure in 4QFY12, with total premium and services revenue up 7% compared to the prior year's quarter.
The group noted that:
"The year-over-year increase in premiums and services revenue was primarily driven by higher Retail and Employer Group segment revenues resulting from higher average individual and group Medicare membership, partially offset by the impact of sequestration."
On the full year 2013, consolidated revenues rose $2.19 billion (+6%), to $41.31 billion from $39.13 billion in FY12, helped by 6% increase in total premiums and services revenue to $40.94 billion from $38.74 billion.
In their press release, Humana revealed that, "these revenue increases were driven primarily by higher average individual and group Medicare membership, partially offset by the impact of sequestration and a change in TRICARE contract accounting, which beginning on April 1, 2012 is accounted for as self-funded versus fully-insured for the previous contract".
With regards to the outlook, management reiterated their guidance of $7.25-7.75 per share while revenue guidance was increased to $46-48 billion from $43.5-46.5 billion. The group also raised the retail Medicare Advantage membership enrollment growth outlook by approx. 105,000. Investment and startup expenses of $0.50-0.90 were also reiterated.
However, CEO and President Bruce Broussard also warned that headwinds are still present.
"Although we continue to have confidence in our 2014 earnings projections, given the strength of our integrated care delivery model and better than expected Medicare membership growth, continued growth in 2015 and beyond will be driven by the degree of headwinds presented, our public policy surrounding government programs.

...the breadth of that range is designed to incorporate flexibility, given the tumultuous environment in which we are operating this year. While we are comfortable with how many variables are beginning to play out, we are only 36 days into the year, far too early to refine our guidance."
Analysts have been busy downgrading their Q1FY14 EPS forecasts since August 2013, when EPS was expected to come in at $2.35. Now, the expectation is for $1.98 (Fig.1). However, it has not put a dampener on the share price, which has risen 31% over the same period.
Fig.1 - Q1FY14 EPS Consensus Outlook for Humana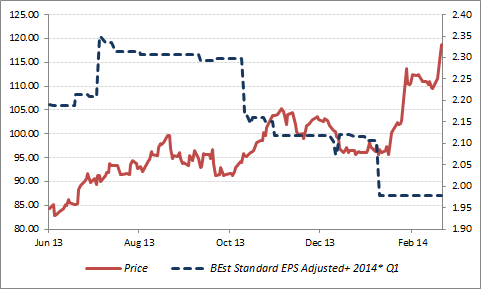 Source: Bloomberg
Competitors
Here is a brief overview of Humana's competitors as per Bloomberg comps. Note that in terms of yield and gearing, Humana appears more favorable but lags in terms of revenue growth, earnings growth and profit margins.
Fig.2 - Humana and Competitors as per Bloomberg Comps

Source: Bloomberg
Fundamental Analysis
From a fundamental perspective, I break it down into two studies; Value and Quality.
Value
Relative to its nine competitors as per the table above, Humana rates favorably based on valuation. This is particularly true in terms of Ev/Ebitda and Price/Free Cash Flow measures. The following table illustrates this (note that green = undervalued relative to competitor and red = overvalued relative to competitor)
Fig.3 - Humana Value vs. Competitors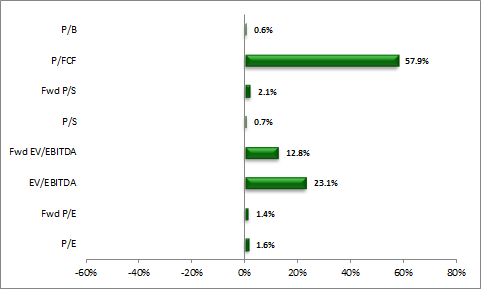 Source: Bloomberg
Across most valuation indicators, this value becomes even more apparent relative to Humana's largest four rivals, namely; UnitedHealth (NYSE:UNH), Well Point (WLP), Aetna (NYSE:AET) and Cigna (NYSE:CI). However, Humana does trade on a more expensive current and forward P/E (again note that green = undervalued and red = overvalued relative to competitors).
Fig.4 - Humana Value vs. Largest four competitors by market cap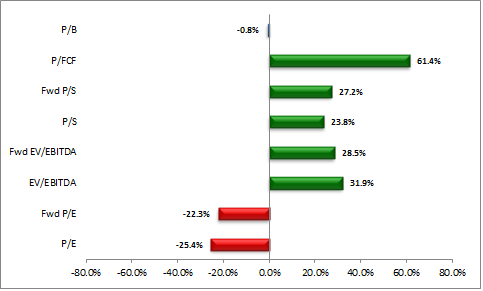 Source: Bloomberg
To determine value on a standalone basis, I use the same conventional approach of analyzing price multiples. I rank these into deciles with one being the cheapest 10% and 10 indicating the most expensive 10% of companies based on that specific multiple.
Then, I backtest the performance of each of these deciles going back over the past 14 years (end February 2000 to end February 2014) to determine whether the company is attractively positioned based on the historical returns. I conducted my tests across the Russell 3,000 index and rebalanced annually.
Fig.5 - Humana (lower rank = more attractive valuation)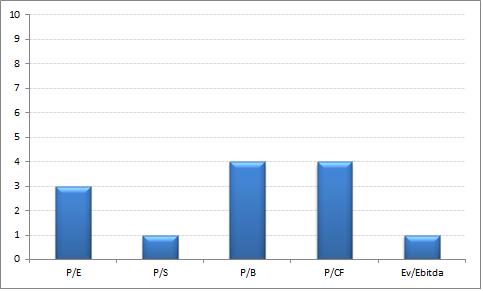 Source: Bloomberg
Price/Earnings
As of the end of February, Humana traded on a P/E of 14.9x, which ranked it in the third decile. Companies in this decile have produced a historical CAGR of 10.0%, the third best performing decile.
Price/Sales
Humana is ranked in the top decile with a P/S multiple of only 0.42x. This decile was the best performing over the period I tested, producing a CAGR of 18.2%.
Price/Book
With a P/B of 1.8x, the company falls in the fourth decile, which is also the fourth best performing, producing a CAGR of 8.7%.
Price/Cash Flow
Humana trades on a P/CF of 10.2x, putting it in the fourth decile. This is only the sixth best performing decile based on my back tests. Companies in this category have produced a CAGR of 8.4%.
Ev/Ebitda
Humanas Ev/Ebitda of 4.4x ranks it amongst the cheapest 10% of companies in the Russell 3,000. This decile has produced a CAGR of 16.2% over the past 14 years. Not surprisingly, this has been the best performing decile.
Quality
Fig.6 - Humana Quality analysis vs. competitors as per Bloomberg comps

Source: Bloomberg
For quality purposes, I analyze profitability through Return on Equity. Investors typically look to invest in companies with a healthy and consistent ROE as evidence of competitive advantages and an economic moat. However, based on my back tests, there is little evidence that the companies with the highest ROEs materially outperform those with average ROEs. The reason being that there are multiple components to ROE.
Therefore, I break down the ROE calculation to get a better understanding of the ROE drivers and their relevance based on historical returns across the Russell 3,000 over the past 14 years (February 2000-2014). I rebalance annually and rank the components into deciles from one to 10.
Fig.7 - Humana Quality Analysis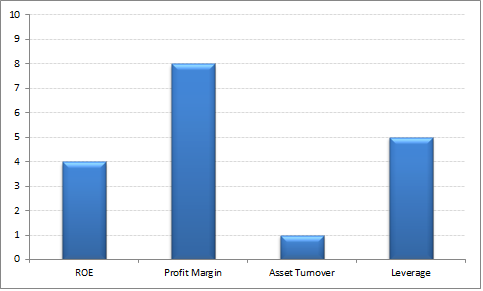 Source: Bloomberg
Return on Equity
As can be seen from their fellow competitors, ROE levels in the sector are quite low. Humana's ROE of 13.6% puts it in the fourth decile, which has produced a CAGR of 6.4%. That's the seventh best performing decile.
Profit Margin
Profit Margins are -0.3%. At face value, this acts as a deterrent to investors. Then, when you compare it to competitors, only Molina Healthcare has a lower figure. However, before discarding Humana on the basis of its profit margins, consider this. Humana ranks in the eight decile. That is, at least 70% of companies have higher margins than Humana. However, companies in the eight decile have actually produced a CAGR of 12.5% over the past 14 years. In fact, this decile has been the best performing.
Asset Turnover
Asset Turnover is the first thing I look for when breaking down ROE. Humana has an Asset Turnover of 2.0x, which ranks it amongst the best 10% of companies in the Russell 3,000. This decile has been the best performing, producing a CAGR of 11.9%.
Leverage
With a leverage reading of 2.2x, Humana is ranked in the fifth decile. This has been the fourth best performing, producing a CAGR of 9%.
Technical Analysis
The purpose of my technical analysis is all to do with trends. I examine the direction of the trend by simply analyzing price, the momentum of the trend through moving average convergence divergence (MACD) and the condition of the trend through the 14-day RSI.
Trend Direction
The uptrend is evident since early August 2012, with the share price having doubled since then. Indeed, it has surged almost 32% since the closing price on the seventh of February this year, reinforcing this trend. With the share price now 29% above the 50-week moving average, some might argue the recent move is too fast and due a correction. For longer-term traders/investors, any correction toward the 50-week moving average at $93.13 can be treated as a buying opportunity.
Fig.8 - Humana Weekly Price Trend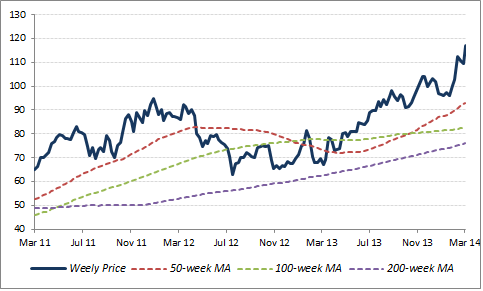 Source: Bloomberg
Trend Momentum
Following on from the establishment of a 52-week high on the week ending 13th September 2013, the share price continued to move higher. However, up to as recently as the week ending 28th February of this year, the rising share price coincided with declining momentum. This divergence was a potential red flag that a correction could ensue. In recent weeks, though, momentum has picked up once more and the immediate risk of a correction has seemingly subsided.
Fig.9 - Humana Weekly Price Momentum using MACD (12,26)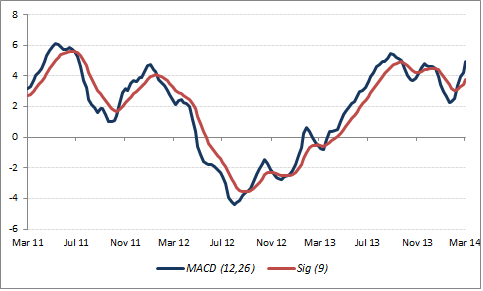 Source: Bloomberg
Trend Condition
The key levels to look out for on the RSI chart are 70 and above, which equates to an overbought condition. Meanwhile, a reading of 30 or below reflects an oversold condition. The RSI on the weekly chart for Humana is 73.4, suggesting the stock is overbought.
Fig.10 - Humana Weekly Price Condition using RSI (14)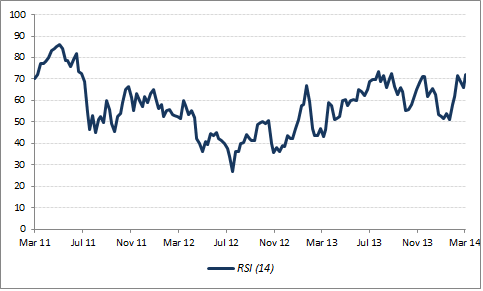 Source: Bloomberg
Looking at the three factors (direction, momentum, condition) on the weekly chart, the signs are on balance still favorable. There is a strong uptrend in place and it is backed by a revival in momentum. While it is true the stock is overbought, stocks can stay in such a condition for a prolonged period of time, provided momentum can be maintained. Therefore, until such time as momentum on the daily and weekly charts begins to peak once more, I don't envisage any immediate correction.
Conclusion
Despite the obvious uncertainties and challenges facing companies operating in the managed healthcare space, Humana appeals due to its attractive valuations. Profit margins might be a worry but I believe current forecasts reflect this and as such, am hopeful that margins can surprise to the upside. Therefore, the company ticks the first of two boxes for me: Value.
Needless to say, margins might not recover and the share price could turn down once more. However, for now, this trend is up and it is backed by momentum. I am somewhat concerned that the share price is overvalued. I expect at some point this year we will see a correction to the magnitude of 10-20% but I don't think this is imminent. Therefore, the company ticks the second of my two boxes; that of the Trend.
Overall, Humana qualifies as value in trends stock and my recommendation is to be long the stock at the current price. However, I would also recommend a stop loss in place around $93 as this marks an important area of trend support.
Disclosure: I am/we are long HUM.
I wrote this article myself, and it expresses my own opinions. I am not receiving compensation for it (other than from Seeking Alpha). I have no business relationship with any company whose stock is mentioned in this article.