For most movies, it was a rough weekend at the box office.
The operative word there is "most". After surveying the landscape, our analysts at Poised To Triple determined that most every one of the top films flopped. All except the one everyone expected to: Lions Gate's (LGF) Divergent.
To be clear, the dire expectations for Divergent came with good reason (or so it seemed). The movie received horrid critical reviews. By Thursday, Divergent's opening weekend estimates had broadly fallen into the $50 million range. The stock followed suit, suffering a one-week decline of 10%.
Thursday night's box office performance reinforced investors' fears. Divergent checked in with $4.9 million, which paled to Twilight's $7 million start (back in 2008). Twilight's opening weekend concluded with $69.6 million, suggesting that Divergent would complete its debut with less than $49 million.
Unsurprisingly, the shares were battered relentlessly on Friday. Options expiration worsened the damage, ultimately leading to an 8% bloodbath.
By 3PM, I had seen enough. The fear and selling had reached a fever pitch (which often leads to a reversal). More importantly, my research suggested that investors were overreacting. For starters, $50 million represents just one-sixtieth (1.7%) of the $2.97 billion LGF is expected to generate in the coming year.
More importantly, I led a team of PTT Research analysts on a field trip to see the movie on Thursday night. The data we gathered was far less bearish than critics (largely middle-aged males) and investors (also dominated by middle-aged males) feared.
This led me to publish "A Divergent Look At Lions Gate" before the market closed for the weekend. As we entered Friday evening, hitting $50 million was little more than a pipe dream.
The critics clearly had a negative effect on Friday night. The movie's Rotten Tomatoes score (an abysmal 33%) contributed to a tepid draw. The bad news bore down on Divergent like a real-life villain - it entered Saturday with a disappointing $22.8 million total. Some media outlets dropped their expectations to as low as $40 million. After all, Twilight had done $36M on Thursday/Friday, but dropped 41% the next day. It appeared that Divergent was on course for a $13.5 million Saturday.
However, the young ladies of American arose on Saturday with the free will of Tris Prior (Divergent's heroine) herself. Defying mainstream critics, moviegoers gave the film a Rotten Tomatoes score of 81%. As if by magic, critics also grew more positive - their Rotten Tomatoes score leapt 8 points to 41% (which was all the more impressive, since most critics' reviews had already been submitted by Friday).


Source: Rotten Tomatoes, Saturday March 22
The rising tide inspired a Rocky-like comeback for the movie. Saturday's box office numbers blew past $13.5 million and nearly topped $20 million. It was a heroic showing for a movie that was expected to be "front-loaded" and left for dead just 24 hours earlier.
Suddenly, $50 million appeared feasible. Divergent had taken back something the critics had stolen: momentum.
Divergent was Dauntless. By Sunday afternoon, as I wrote this piece, it was official: Divergent was going to top $50 million for the week. In fact, Forbes has already proclaimed "'Divergent' Scores Terrific $56M Debut". The article went on to state that "its $56 million debut is being mostly heralded as an unqualified win."
A win indeed. Not only had Divergent confounded the critics, it had navigated a weekend box office wasteland. Weather, winter colds, and Spring Break kept consumers out of the theaters, leading six of the top seven movies to post terrible results. In fact, it was a bloodbath…for all except Divergent:
Rank

This Weekend

vs Last Week

1

Divergent

$56,000,000

New

2

Muppets Most Wanted

$16,500,000

New

3

Mr. Peabody & Sherman

$11,750,000

-46%

4

300: Rise of an Empire

$8,750,000

-55%

5

Need For Speed

$7,750,000

-56%

6

Non-Stop

$6,250,000

-41%

7

The LEGO Movie

$4,000,000

-48%

Source: PTT Research
The latest Muppets installment was expected to debut with $25 million in receipts. Its $16.5 million showing was a massive 34% miss. Mr. Peabody & Sherman experienced an equally-terrible second week dropping 46% versus last week to finish with less than $12 million. As bad as that was, 300: Rise of an Empire and Need for Speed plummeted 55% and 56% respectively. Even the highly-lauded LEGO movie fell off the rails with a 48% drop-off.
The press quickly flip-flopped and turned broadly positive on Divergent: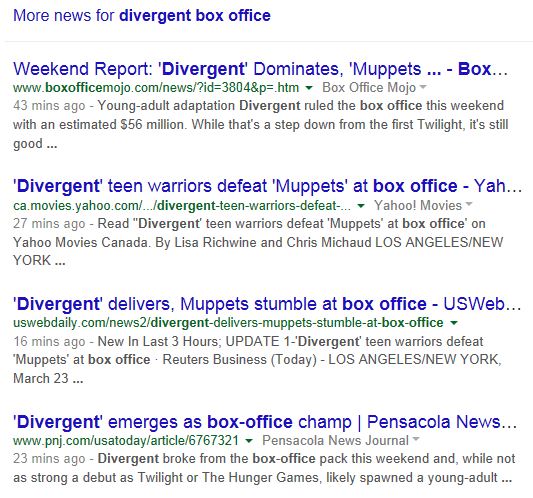 Source: Google
Running the math, Divergent delivered more than the next six movies combined. Its $56 million was the eighth largest debut ever for a March release and the second largest debut of 2014.
This prompted LGF's CEO to officially green-light Divergent's sequel, Insurgent (which is slated for March 20, 2015). Its weekend resilience will surely renew optimism for the franchise. Back in 2012, The Hunger Games had a ratio of Friday-to-weekend ratio for 2.27:1. For Twilight, the ratio was 1.94 to 1. Divergent beat both films, coming in at 2.48:1.
This is known as being "back-loaded" and is a good sign that the franchise will perform better than investors feared last week. Its stellar CinemaScore rating (A) also bodes well.
As I stated last week, LGF shouldn't be judged based on what critics thought of Divergent. What mattered was how millions of teenage girls would respond. This is why our team sat amid dozens of them on Thursday evening. This is the sort of methodology I used to select LGF for my Poised To Triple portfolio, months before most moviegoers had even heard of The Hunger Games. Incidentally, LGF skyrocketed from $12 to $36 in less than 18 months, becoming yet another 200% winner for our readers.
Not a bad reward for going to the movies.
As we enter the week, the shares are outperforming the general market, reversing some of last week's options-expiration panic selling. Clearly, investors are a bit more comfortable with LGF's future than they were on Friday.
In a market that has been rewarding growth, LGF continues to offer it in spades. Earnings are expected to rise a robust 46% over the coming year. The resultant EPS of $1.62 translates into a forward PE ratio of 17 and a PEG ratio of 0.37 (well below the 1.00 that CNBC Jim Cramer routinely espouses), providing solid justification for investors to take a divergent view of last week's bearish action.
Disclosure: I am long LGF. I wrote this article myself, and it expresses my own opinions. I am not receiving compensation for it. I have no business relationship with any company whose stock is mentioned in this article.