On June 15, 2010, Ball Corporation (NYSE:BLL) announced three different developments: the sale of its underperforming Plastic Packaging, Americas business, the acquisition of the remaining stake in a Chinese beverage can plant and a new share repurchase authorization.

Sale of Plastic Packaging, Americas Business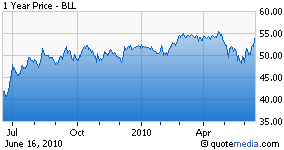 Ball Corporation has entered into an agreement to sell its long under-performing Plastic Packaging, Americas business to Amcor Limited for approximately $280 million. The purchase price, which is subject to customary closing adjustments, consists of $265 million in cash at closing and $15 million of contingent consideration.

The Plastic Packaging business manufactures polyethylene terephthalate (PET) and polypropylene plastic container products used mainly in beverage and food packaging, as well as high density polyethylene and polypropylene containers for industrial and household product applications.

The sale includes five U.S. plants located in Ames, Iowa; Batavia, Illinois; Bellevue, Ohio; Chino, California; and Delran, New Jersey; as well as associated customer contracts and other related assets.

Pursuant to regulatory approval, the transaction is expected to close in the third quarter of fiscal 2010. Ball Corporation expects to take an approximate after-tax charge of $80 million in 2010 mainly related to impairment of goodwill associated with the business.

Australia-based Amcor Limited is a multinational packaging company supplying a broad range of plastic (rigid & flexible), fiber, metal and glass packaging products. In February 2010, Amcor completed the acquisition of some of Alcan Packaging business from Rio Tinto (RTP) -- Alcan Packaging Global Pharmaceutical, Alcan Packaging Food Europe, Alcan Packaging Food Asia and Alcan Packaging Global Tobacco for a total consideration of $1.95 billion.

For Ball Corporation, the Plastic Packaging, Americas business has been long underperforming. Over the last three years (2007–2009) the Plastic Packaging, Americas business has suffered declines in bottle sales volume. The volume losses included decreases in carbonated soft drink and water bottle sales due, partly to lower convenience store sale by Ball Corporation's customers. Reduced preform sales also contributed to the sales decrease over the three years, due partially to the bankruptcy filing of a preform customer in the second quarter of 2008.

The business' woes continued in the first quarter of fiscal 2010 as well. In addition to the long-standing issue of a decline in volumes, manufacturing disruptions at a PET plant due to a customer qualification issue, delay in the startup of a new PET preform contract and reduction in sales prices due to lower resin cost, resulted in revenues plunging 29% to $114 million and a loss of $3.2 million.

Demand for containers made of PET and polypropylene has slowed in the beverage and food markets due to current economic conditions. Competition in the PET plastic container industry is intense and includes several national and regional suppliers and manufacturers. Further, given the lackluster performance at Plastic Packaging, America, its weak volume outlook and the segment contributing a meager 9% to Ball Corporation's total revenue, we believe divesting this business is a commendable move.

Acquisition of Remaining Stake in Chinese Plant

Ball Corporation completed the acquisition of Guangdong Jianlibao Group Co. Ltd.'s 65% interest in a joint venture metal beverage can and end plant in Sanshui, for $90 million. The Chinese government has accorded the necessary approvals and clearances.

Ball Corporation owned 35% of the joint venture plant since 1992. The company had announced its intention to acquire the remaining 65% on November 9, 2009.

As part of the transaction, Ball Corporation has also entered into a long-term supply agreement with Jianlibao and its affiliate, Foshan Sanshui Jianlibao Trading Co., Ltd.

Transaction costs expensed in 2009 amounted to $700,000 ($400,000 after tax). Ball expects an after-tax gain of approximately $25 million in the second quarter of 2010 on its previous ownership interest in the joint venture, subject to the appraisal of the business. The acquisition is expected to add 7–9 cents to earnings per share in 2010.

While the beverage can markets in North America are more mature, overseas markets offer more attractive growth opportunities. We believe Ball Corporation is well positioned to capture this growth, given its existing footprint in Europe and Asia. In China, both the overall market as well as Ball Corporation saw double-digit volume growth rates in metal beverage packaging in the first quarter of fiscal 2010, primarily due to herbal teas and beer demand. The demand outlook for beverage cans is expected to remain strong in China.

Further, given Ball Corporation's association with the plant, it is familiar with its operations and its customers. The investment in the joint venture allows the company greater flexibility to cater to the growing Chinese market at a significantly lower cost rather than building a new facility or adding capacity.

Announcement of New Share Repurchase Authorization

Ball Corporations' board of directors authorized the repurchase by the company of up to a total of 12 million shares of its common stock. This repurchase authorization replaces all previous authorizations.

The company had repurchased shares, net of issuances, valued at $5.1 million in 2009, $299.6 million in 2008 and $211.3 million in 2007. As of March 28, 2010, Ball Corporation had 94.4 million shares outstanding.

In the first quarter of 2010, Ball Corporation entered into an accelerated share repurchase agreement to buy $125 million of its common shares, of which $120 million was repurchased at quarter end.

Ball Corporation had cash and cash equivalents of $391.4 million as of March 28, 2010, compared with $53.1 million as of March 29, 2009. Total debt-to-capitalization ratio was 67.9% as of March 28, 2010, compared with 70.5% as of March 29, 2009. We believe Ball Corporation's strong cash position provides the company significant flexibility for share repurchases, acquisitions and debt payback. We appreciate Ball Corporation's efforts to enhance shareholder value through share repurchases and dividend payments.