Starbucks Corporation (NASDAQ:SBUX) has a history of expansion and the company has opened an average of two stores daily since 1987. In fiscal year 2013 Starbucks opened 1,701 new stores around the world. Now the company has a strong customer base in 63 countries. Recently Starbucks opened its first stores in India, Vietnam, and Monaco and announced plans to enter Colombia in 2014. From Starbucks' first-ever store on a train to the Community stores that share proceeds with local nonprofit organizations, to drive thru locations made with reclaimed shipping containers; Starbucks is delivering a unique experience wherever it goes.
Starbucks has been attractive to investors and this is a direct result of its good financial performance. Over the years the company has been successful in flourishing its earnings growth. Fiscal year 2013 was the best year for the company and now it is heading towards another impressive year with the start of record earnings for the first quarter of 2014.
Financial Highlights
The holiday sales and improved store traffic helped the company to generate $4.2 billion in revenues with an increase of 12% compared to the same quarter of the previous year. The loyalty of Starbuck's customers resulted in 5% growth in the comparable store sales and 4% increase in store traffic.
The operating income of $813.5 million improved by 29% compared to $630.6 million for the same quarter of the previous year and the operating margins increased 260 basis points to 19.2%. The healthy increase in the operating margins is backed by the lower coffee costs and loyal customers willing to pay for premium quality coffee as well as the shift towards franchised restaurants. The company operated-stores revenues increased by 11.8% whereas licensed stores revenues increased by 14.7% and these licensed store can have three to four times margins compared to company operated-stores margins.

Source: earnings release
The earnings per share also received quite an impressive increase of 25% and reached a record $0.71 per share compared to $0.57 per share earnings of the same quarter a year ago. The strong financial results allowed Starbucks to maintain its commitment to its shareholders. Over the years the company has been able to steadily increase its quarterly dividends. For the first quarter Starbucks paid a dividend of $0.26 per share and an annual dividend of $1.04 per share with a dividend yield of 1.38%. Starbucks is not amongst higher yielding stocks but it is quite stable and has a satisfactory return. Another aspect of Starbucks to discuss here is that the company repurchased 0.6 million shares in the first quarter and approximately 26 million shares are still in the basket to repurchase under the previous authorization.
Coffee Market May Face Supply Shortage
The global coffee market will face a shortage for the first time in three years. Although Brazil is the largest producer of coffee beans on the planet it is still expected to produce about 5 million bags less than the global demand between 2014 and 2015. Brazil has the potential output of 60 million bags however the country will produce 51 million bags in their next crop which is less than the 57.2 million bags it produced in 2013-2014 and less than the 56.8 million bags it produced in 2012.
While prices probably won't go up that much just yet pressure is growing on the $80 billion U.S. coffee industry as the cost of Arabica beans used in high-end brews skyrockets. In New York stock prices soared to more than $2.0595 per pound of coffee and are expected to reach $3 per pound. However to tackle with the shortfall Starbucks' chief financial officer, Scott Maw, said the company already has secured more than a year's supply of physical inventory and contracts reducing the need to raise prices for customers. Coffee accounts for 15 to 20 percent of the cost of goods sold and 10 percent of the store's operating expenses. If Starbucks maintains or even slightly increases its prices during the shortage period the company might succeed in having an advantage over its competitors.
Starbucks' Aggressive Expansion Plans
The Americas segment of Starbucks accounts for 74% of the total revenue mix and it is a key market for Starbucks to maintain its future earnings. However, for the sake of its rapid growth Starbucks is aggressively expanding its operations around the world and its primary focus is on the emerging markets where the demand for coffee drinks and disposable income of populations are improving.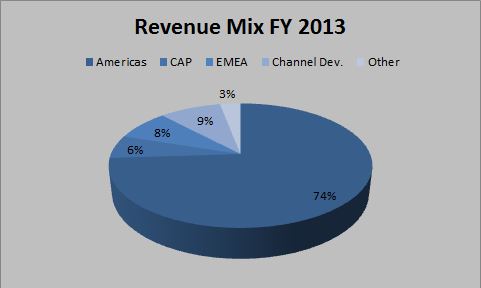 Source: Annual Report 2013
During the first quarter Starbucks opened 417 new stores including the 4,000th location in the China and Asian Pacific region and the 2,000th location in the Europe, Middle East, and Africa region. Starbucks surpassed the milestone of 20,000 locations and now operates 20,184 worldwide.
The future expansion plans seems to be more aggressive because Starbucks is opening 1500 new stores during fiscal year 2014. Out of these 1500 new stores Starbucks will add 750 stores in the high potential markets of the China/Asia Pacific region and 150 new stores in the EMEA region. By 2015, China will surpass Canada and become the second largest market for Starbucks after the U.S. Another 600 stores will be added in the Americas. These new stores will boost the earnings growth by more than 10% and earnings per share will grow by around 18% to 22% for the current fiscal year. Starbucks estimates that it will incur an expenditure of $1.2 billion by adding this many stores. The explosive high return growth in China, consistent profitable growth in the U.S. and solid accelerating growth in the emerging markets will result in a long-term EPS growth of 15% to 20%. The expansion will also improve the number of daily customers per store. This will ultimately result in higher coffee bean, food, and merchandise spent per customer visit.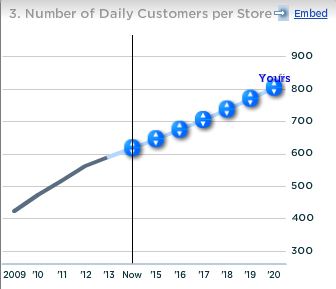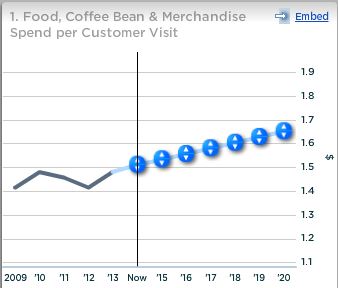 Source: trefis
Tea is the second most-consumed beverage in the world and represents a sizeable opportunity for Starbucks as the company continues to grow around the world. With more than 350 stores in the U.S. and Canada including the recent successful opening of Teavana Fine Teas and Tea Bar locations in New York and Seattle Teavana is positively positioned to capture market share within the rapidly-growing $90 billion global hot and iced tea market.
Colombian Coffee Market and Starbucks
Colombia is recognized for growing some of the highest quality coffee in the world, particularly in regards to its Arabica crop, which is the type of bean most often used in fresh coffee products. In 2013 Colombia was the world's third largest producer of coffee trailing only Brazil and Vietnam in terms of total exports. Colombia is rapidly evolving into one of Latin America's highest-potential consumer markets. In 2014 the per capita food consumption is expected to increase 7.9% year over year and expected to grow at a CAGR of 7.4% from 2014 to 2017. From retail to soft drinks, foreign companies are paying more attention to opportunities in Colombia.
Starbucks began purchasing coffee from Colombia in 1971 and today purchases coffee from eight coffee-producing regions throughout the country. Today, Starbucks purchases more high-quality Arabica coffee from Colombia than any other company in the world. Starbucks is well aware of the local coffee market quality and taste. The Colombian market seems to be a very attractive opportunity and Starbucks will open its first store in Bogota in 2014. The Bogota store will open in the first half of 2014 and be operated through a joint venture between the company's Latin American franchisee, Alsea, and the food company Grupo Nutresa. The heavy coffee consumption in Colombia and constantly growing level of coffee consumption out of the home will lead to success for Starbucks.
Conclusion
The operating expenses for fiscal year 2013 include a litigation charge of $2.8 billion. This litigation charge adversely impacted the earnings and ultimately the stock is trading at an abnormal trailing P/E of 478.95X. However, based on the normalized expected earnings for fiscal year 2014 the stock is trading at a forward P/E of 23.3X and a 5 year expected growth of 14.7%. The P/E of Starbucks is lower than its nearest competitor Dunkin' Brands' (NASDAQ:DNKN) forward P/E of 24.56X. The average analyst's target price for the stock is $88.75 and the stock is trading at $74.27 with an upside potential. Starbucks' earnings per share are estimated to reach $2.66 and $3.18 for fiscal years 2014 and 2015. Starbucks is still very attractive and I offer a buy rating for this stock.
Disclosure: I have no positions in any stocks mentioned, and no plans to initiate any positions within the next 72 hours.
Business relationship disclosure: The article has been written by a Gemstone Equity Research research analyst. Gemstone Equity Research is not receiving compensation for it (other than from Seeking Alpha). Gemstone Equity Research has no business relationship with any company whose stock is mentioned in this article.