It's 2000 all over again. And that is not just because people are debating if we are going to see another crash. Microsoft Corporation (NASDAQ:MSFT) is trading above $40, a level it last saw in July 2000. The new CEO Satya Nadella has certainly brought some good fortune with him for investors. But are things really that rosy or is the stock getting ahead of itself? Let us find out.
Increasing Price, Falling Yield:
As with any stock price increase, Microsoft's dividend yield has gone in the opposite direction. Sure, it feels nice to breach the $40 mark but what next? It is very hard to imagine Microsoft as a holding from a growth perspective and the falling yield is certainly a big reason to look away from the stock. As the stock's PE goes above the five-year average of 13.18, the yield is quickly approaching the five-year average. Even though Microsoft's dividend growth so far has been impressive, other old tech names like Intel Corporation (NASDAQ:INTC) and Cisco Systems (NASDAQ:CSCO) yield a lot more right now.

Click to enlarge
(Source: YCharts.Com)
Same Old, Same Old: This article was written back in 2012 arguing that Microsoft was a boring returns killer. As mentioned in that article, very old product categories and cash (some created in the 1980s and some in the 1990s) made up 95% of the company's stock price. Basically, none of the new products were making any dent in the world.
Fast forward two years and it's 2014. Almost nothing has changed. Of course this blame cannot be put on the new management but the fact is as far as products go, things stand exactly where they were. The chart below shows the entire group of newer products (search, phone and games) still contribute only a measly 7% to the stock price. The new products too have tough competition and Microsoft has no option than cutting down the prices in such cases.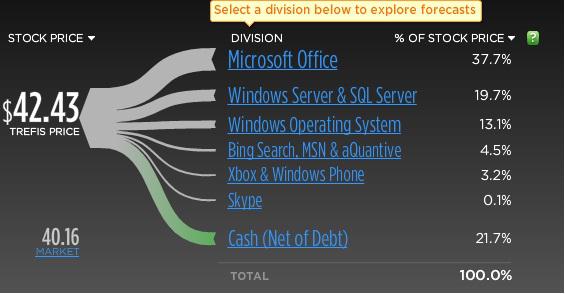 (Source: Trefis.Com)
Bludgeoning Expenses: This was another point covered in the 2012 article linked above. In 2011, Microsoft spent $9.4 billion on R&D, which was hands down the highest among big tech companies. Things changed just a little bit in 2013, with Samsung overtaking Microsoft. But Microsoft is still comfortably outpacing other companies like Apple (NASDAQ:AAPL) and Google (NASDAQ:GOOG).
Investors are right to think even a $10 billion R&D effort is not going to make a dent in Microsoft's cash pile. But the point is that R&D expenses have been increasing promptly each year with very little to show for in the end. Perhaps investors might wish this money is well spent on increasing dividends further, as the payout ratio is still at a very comfortable 40%.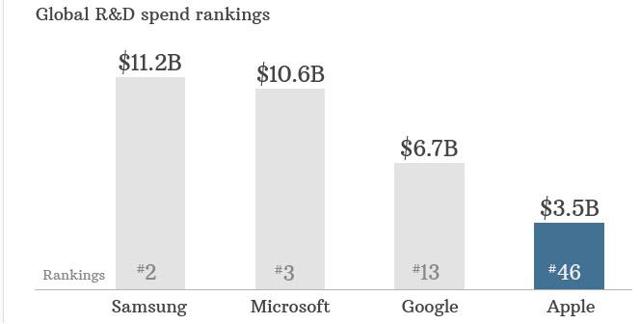 Click to enlarge
(Source: CNN Money).
Price Targets: To support the claim that the stock is looking way ahead of itself:
25 analysts on Yahoo Finance have an average price target of $38.84, 4% below the current share price.
38 analysts on Marketwatch.com have an average price target of $39.4, 2% below the current share price.
Only Trefis.com has a price target above the market price and that too represents just a 5% upside.
An expected earnings growth rate of 7% per year over the next five years gives the stock a PEG of 2, which is way over what value investors look for.
Insiders: Granted, insiders sell for a variety of reasons. But take a look at the table below and also the source at Yahoo Finance.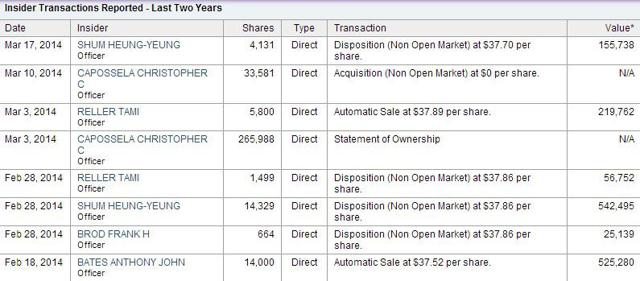 Click to enlarge
(Source: Yahoo Finance)
Microsoft is still dishing out hefty "stock awards" to employees.
This should make investors evaluate the effectiveness of the stock buyback programs. As the chart below shows, Microsoft's share count has only been reduced by 6% in the last 5 years. Perhaps the buyback money is being spent on reducing the impact of dilution. As a comparison, IBM (NYSE:IBM), a stock many consider the most investor friendly in the tech space, has reduced its share count by 21% in the last 5 years.
(Shares Count: click to enlarge)

Click to enlarge
(Source: YCharts.Com)
We have to go all the way back to June 2012 to find the last insider buy. That was when the stock was breaking out of its long-term resistance in the late 20s.
Conclusion: Microsoft is still a great dividend growth stock for investors looking to diversify into technology. And a new CEO does bring in hopes of a refreshed company. But the general market euphoria, optimism about the change of guard at Microsoft and rumors about Office on iPad have combined to push the stock to a "not to attractive" level. If you are a sports fan, you have probably heard this quote before: "A captain is only as good as his team."
Disclosure: I have no positions in any stocks mentioned, and no plans to initiate any positions within the next 72 hours. I wrote this article myself, and it expresses my own opinions. I am not receiving compensation for it (other than from Seeking Alpha). I have no business relationship with any company whose stock is mentioned in this article.