Back in October 23rd, 2013, I wrote an article titled "Why GT Technologies (GTAT) Could Triple By 2015". In that article, I predicted that the smartphone industry would gradually move into sapphire cover screens. Shortly after, Apple (NASDAQ:AAPL) announced its well-covered agreement with GT, which involved the building of the Mesa, AZ sapphire plant, moving GT into the material supply market. Rumors about solar cells embedded onto the iPhone and great work done by Matt Margolis, got GT to be the talk of the day on the street and off it. If you bought GT on my call back in October, you almost doubled your money, which is my ultimate goal by sharing my articles, helping you invest better. I would like to bring to you again, an update of all of GT markets, and why I think that GT's stock price could reach even higher levels than I expected in my last article. So, enough talking, let's go down with the analysis. The GT puzzle has many parts to it. Only by understanding the business itself and the markets it operates in, an investor could truly see the great potential in GT in the next few years. The sapphire business, awesome as it is, is only one (big) piece of the puzzle that forms a great company.
The Sapphire Business
After Apple announced its entering into a sapphire supply agreement with GT, my thesis of using sapphire as a cover screen (among other mobile devices) was validated. What does it mean for GT?
Tom Gutierrez - President and CEO

We expect that our revenue and profitability will be very back end loaded this year given that our sapphire materials business will be in ramp up mode. As we indicated on our last call, we expect revenues in 2014 to range from $600 million to $800 million, with approximately 15% of the total revenues occurring in the first half of the year. We expect our sapphire segment to account for more than 80% of total revenue in 2014. The sapphire segment includes the company's ASF equipment and materials businesses in the LED, industrial and consumer electronics markets.
Source: GT Q4-2013 earnings call
According to Gutierrez, 15% of revenues will be in the first half of 2014, meaning 85% will come in the second half. GT's current guidance is $600M-$800 in revenues for 2014. Additionally, 80% of those revenues are expected to be from the sapphire segment, including sales of sapphire material, as well as sales of sapphire ASF furnaces to other customers. Taking the mid-point of guidance gets us to $700M in revenues for 2014. $595M of that is expected in the second half of the year. 80% of 2014 revenues, or $560M are expected to be sapphire-related. GT said multiple times that shipments of ASF furnaces are postponed because the company focuses in setting up the Mesa, AZ sapphire plant, which is expected to be up and running very soon. Given that, I assume that all of the $560M sapphire-related revenues will be in the second half of this year. I suspect most of that (90%) is related to Apple, which is $504M. Apple is expected to grow smartphone shipments at a 10.2% CAGR in 2014-2018.

I expect other small-screen Apple devices to utilize sapphire as their cover glass (iPod, iWatch). Morgan Stanley recently projected very high iWatch sales growth, as you can see in the following chart: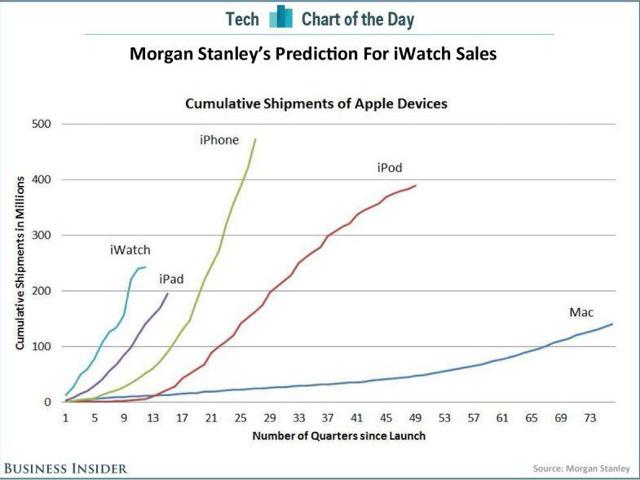 Accounting for the iWatch growth, I expect Apple-related revenues will grow at 15%/year for the next few years. I expect that non-Apple sapphire revenues will grow even faster, at 20%, mostly for the LED industry, which is forecasted to enjoy rapid growth in the next few years.
The Polysilicon Business
Just a week ago, GT announced that it signed a $336M agreement with Cosmos Chemicals Berhard to supply equipment and technology for a 25,000 metric ton per annum Polysilicon production facility in Malaysia. This deal comes on top of the OCI phase 4 deal, which is valued at $260M and is expected to be shipped in 2015. This is highly positive for GT, as it de-risks the dependence of the Polysilicon backlog on OCI. More than that, it teaches us that rising Polysilicon prices is already making producers reach investment decisions in respect of new facilities. I believe that Polysilicon revenues in 2015 will be in the range of $650M. In my opinion, it is still too early determine 2016 revenues, as this business is driven by large unpredictable contract wins. That said, in the recent technology presentation GT held on Friday, interesting information was presented by the company. For those of you familiar with the Polysilicon market, you know that current production capacity is substantially bigger than current global demand. Demand, driven by the exploding solar industry, is on the path to cause Polysilicon shortage beginning in 2016-2017. This will cause Polysilicon producers to expand their capacity, and the new 25,000 MTA facility in Malaysia is just the beginning.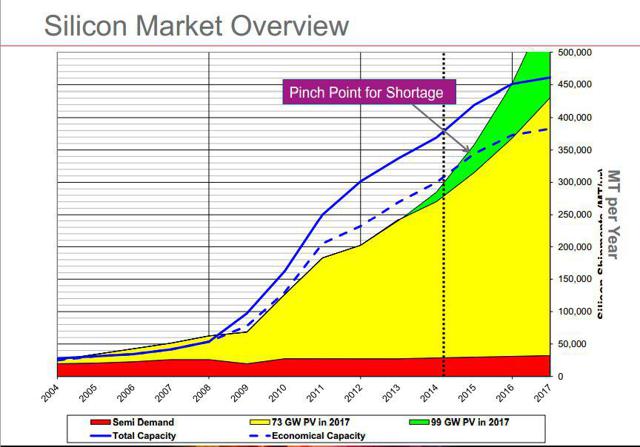 Source: GT Presentation, March 14th, 2014.
Thinking of GT opportunity as a dollar amount per 1 MTA capacity, we can think ahead about the Polysilicon business in the coming years. GT announced the Malaysian contract is worth $336M. $336M divided by 25,000 MTA is $13,440. GT will supply some know-how for the Malaysian plant, so I think it's safe to assume each MTA worth of capacity is a $12,000 opportunity for GT. Looking at the chart above, in 2015, there will be a short supply of about 10,000 MTA, in 2016, it will be about 80,000 MTA, and in 2017, it will be more than 130,000 MTA.
| | |
| --- | --- |
| Year | Polysilicon TAM |
| 2015 | $120M |
| 2016 | $960M |
| 2017 | $1.56B |
Based on $12,000/MTA.
GT is not the only player in this market, but GT is the market leader. In 2012, GT estimated its share in this market at 70%. Even if we cut GT share to 50% just to be careful, we get the following:
2015 Polysilicon Orders: $60M
2016 Polysilicon Orders: $480M
2017 Polysilicon Orders: $753M
This forecast takes into account that the PV market will continue to grow (which I firmly believe) and Polysilicon manufacturers will be able (financially) to build new capacity.
The PV Business
I would separate the PV business in two. The first part will be Merlin, the new technology announced by GT just a week ago. The second part will be the ingot growing business. GT is active in the very upstream part of the solar manufacturing facility, the silicon ingot growing. Looking ahead, based on GT's conference, there are two main products that'll be in play in the next few years, the DSS Gen 8, and the HiCz system. The DSS equipment family is targeting a different approach in growing silicon by growing large, brick-like ingots. The HiCz uses the more known Czochralski process to produce mono-crystalline ingots, which enables higher efficiencies.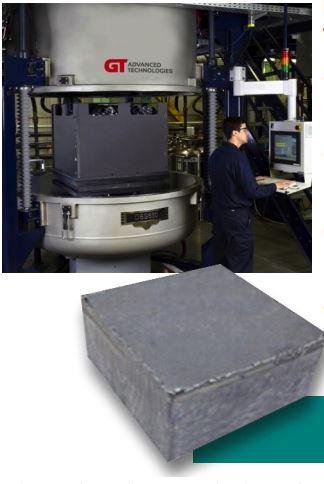 A DSS Furnace and brick-like ingot. Source: GT 2012 Overview.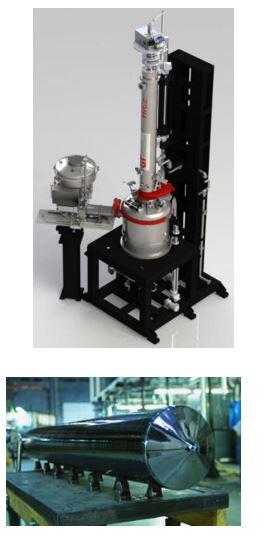 HiCz tool and a conventional, round ingot. Source: GT conference.
Last week, GT announced the Merlin technology.
The Merlin is a true game-changer by changing the way of connecting solar cells and building a solar module. Instead of connecting the cells in strings using tabs, GT invented a way of connecting the cells directly one to another, thus reducing silver paste consumption by about 80%.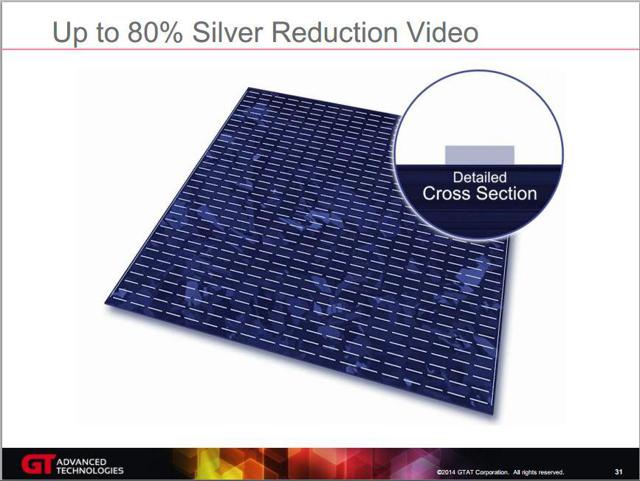 A typical solar cell contains about 0.10 grams of silver for each watt of capacity, according to Bloomberg. At the time of writing this article, the price of silver is $21.37 per ounce. Each ounce is 28.34 grams, so 0.10 grams is worth about 7.5 cents. Today's solar cost leader, JinkoSolar (NYSE:JKS) has a manufacturing cost of $0.48/watt. A 6 cent-reduction (80%) in cost can cause a 12.5% decrease in cost/watt for solar module manufacturer. Don't be mistaken, in the solar industry, this kind of cost-reduction opportunity is something I expect no manufacturer to pass on, as it can drive gross margin to new highs, following a long period in 2011-2012, when modules were selling with negative gross margins. From GT's point of view, this is a highly lucrative business, as the company plans to sell consumables (grids to connect cells into modules) and the tool for attaching the grids. Although initially GT plans to work with a partner to mass-manufacture grids, I expect GT to realize higher-than-corporate-average margins with this recurring revenues model. Here is GT's expectations of Merlin's market opportunity.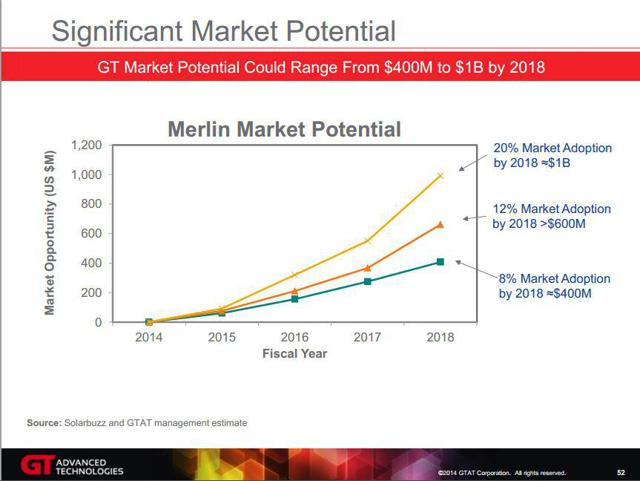 I expect market adoption to be high given the appealing cost-reduction Merlin offers. Thus, I see the case for 20% market adoption as the most likely. But I think taking a margin of safety here will be the smartest thing to do until we actually see Merlin sales, so I assume $800M of Merlin revenues in 2018.
As for the other PV product offering, I believe GT's TAM expectations are reasonable: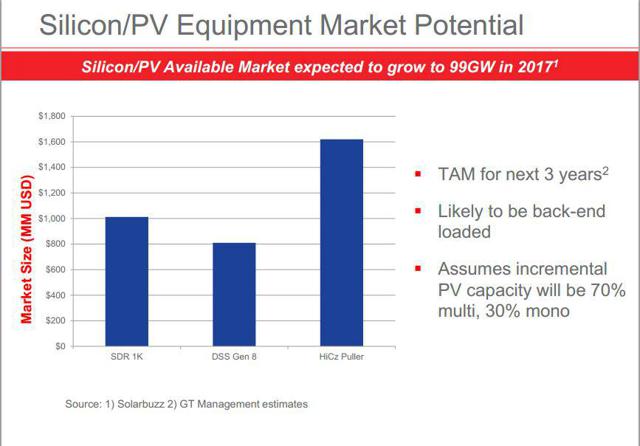 The TAM for the two ingot growing products is $2.4B. As you can see, the SDR-1K (the Polysilicon manufacturing tool) TAM is very close to my early estimation of $1.08B in 2015+2016 (assuming negligible revenues in 2014). I assume that the above TAM breakdown by years is: 10% in 2014, 30% in 2015, and 60% in 2016. I further assume GT will enjoy a share of about 50% from that TAM in each year, as GT is the market leader in PV & Polysilicon.
Let's sum up the PV business revenue expectation until 2018.
Merlin revenues (working backwards) will be $800M in 2018. $400M in 2017, $240M in 2016, and about $100M in 2015.
DSS revenues will be $40M in 2014, $120M in 2015, and $240M in 2016.
HiCz revenues will be $80M in 2014, $240M in 2015 and $480M in 2016.
Total PV segment sales will be $120M in 2014, $460M 2015, and $960M in 2016.
I'll stop at 2016, because in my opinion, it is too early to see the solar CapEx environment past that point in time. That said, if Merlin actually delivers its cost-reduction potential, I see PV segment sales staying in the $800M-$1B range after 2016.
The LED Business
The LED business is a fantastic place to be in if you are an equipment supplier. The LED market is characterized by plunging prices, so any LED manufacturer must act aggressively in cost-cutting if it wants to survive this decade. LED adoption rates are high, especially for general lighting. If you want to learn more on the ongoing adoption of LED, this McKenzie report is a great place to start. GT continues to display awesome innovation in this market as well. GT is serving the LED market with various products. More than 90% of LEDs are made on a sapphire substrate. The massive adoption of LEDs to general lighting will cause an increase in demand for GT ASF (sapphire) furnaces. More than that, GT will re-think the MOCVD process.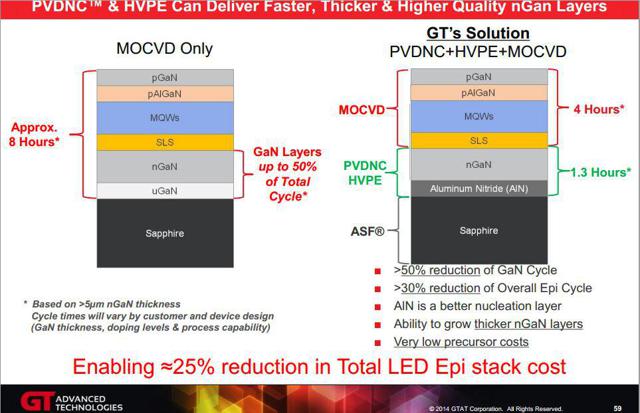 The MOCVD process is the current process of building LEDs as a stack of a few different materials to create a p-n junction. I won't go into the technological details for now, but GT's solution involves replacing one of the layers (the nucleation layer) and growing it on top of the sapphire substrate. Then, the HVPE tool and the PVDNC tool are used to grow the AIN layer and the nGaN layer. GT claims using its HVPE+PVDNC tools will reduce the total LED stack cost by 25%. In the LED market cut-throat price environment, a 25% reduction in costs is not something you pass on. Another benefit is presented to LED manufacturers.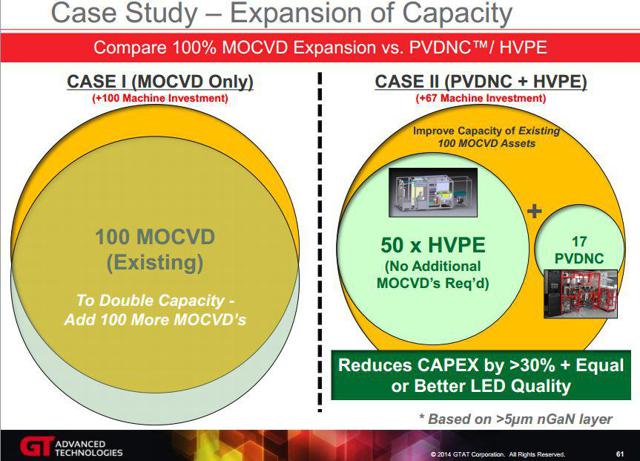 To increase production capacity, a strategy that will characterize this decade, a LED maker that has 100 MOCVD machines needs to double up its capacity will face purchasing another 100 MOCVD machines. If that maker chooses GT's solution, they will need to purchase about 50 HVPE machines and 17 PVDNC machines. This will represent a 30% decrease in CapEx. There are multiple go-to-market options on the table that involve LED manufacturers, as well as sapphire wafer manufacturers. The company is aiming to start shipping HVPE+PVDNC orders in the first half of 2015. Management expects to reach ~50% market adoption by 2019, and estimates that 50% adoption will equal $160M in annual revenues.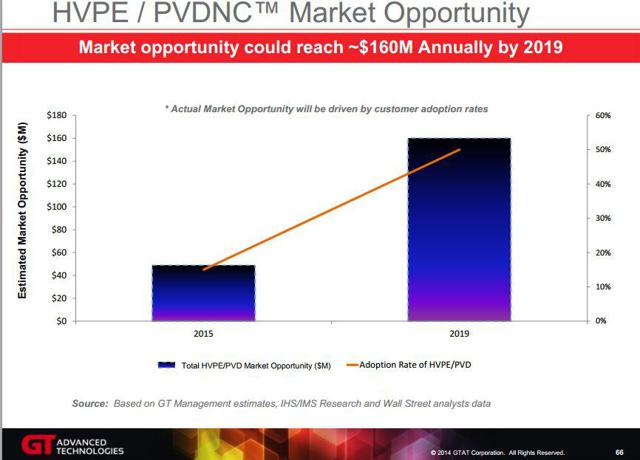 In 2015, management expects HVPE+PVDNC to contribute about $50M to revenues. I expect that number to reach $85M in 2016 as market adoption rises and to reflect a full year of this operation.
Hyperion
The purpose of Hyperion can be explained in this following 4-minute video:


In short, the Hyperion tool is used to create very thin layers of materials. It's used by implementing hydrogen ions into a wafer, controlling the depth the ions travel in the material. Then, the ions create hydrogen pockets in the desired depth and the wafer is heated. The top layer, separated from the main wafer, is exfoliated, and the process repeats itself until there is no more material to exfoliate.
Who would need the Hyperion?
Solar module manufacturers: As soon as they can tune up their manufacturing process to handle ultra-thin silicon wafers, the Hyperion can enable almost a 75%-80% reduction in Polysilicon content per watt. Today, silicon wafers used in solar modules are in the range of 130-150 microns. Wafers just 30 micron thick are achievable using the Hyperion, and yet keeping high efficiencies.
Sapphire users: Sapphire is still expensive. Using ultra-thin sapphire layers, for example, laminating glass screens to create scratch-resistant screens. LED sapphire substrate could be thinned down, thus reducing costs.
Silicon Carbide (SiC). SiC is used in power electronics. The reason to use SiC is it is much better in conducting heat, so it makes it more suitable to high-power applications where heat is an issue. SiC is using the thinnest wafer possible (physically and efficiency-wise), which would benefit power electronics-makers who utilize SiC.
GT's projections for the Hyperion are as follows: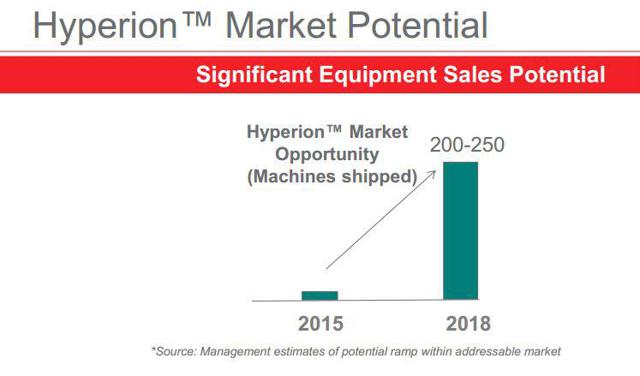 Shipping orders starting in 2015, GT management believes it has sales potential of 200-250 machines in 2018. I'll assume GT will enjoy 50% of its expected potential. GT management also discussed the ASP to be $4M-$15M, depending on the application the Hyperion is utilized for. Taking the mid-point of the ASP, $9.5M and trying to project the path to 2018, my expectations are as follows:
| | | | | |
| --- | --- | --- | --- | --- |
| Year | 2015 | 2016 | 2017 | 2018 |
| Hyperions Sold | 20 | 50 | 80 | 112.5 |
| ASP | $9.5M | $9.5M | $9.5M | $9.5M |
| Revenues | $190M | $475M | $760M | $1.06B |
As you can see, even if GT is able to materialize on 50% of its projected potential, the Hyperion could become a very significant part of GT's business going forward.
Power Electronics
GT is aiming to participate in the power electronics market through selling SiC growing equipment. It's time for GT investors to understand the SiC market, how big it is, and growth rates. GT has positioned itself as a true innovator, always thinking about its next step. We've seen it with the Hyperion, we've seen it with solar and sapphire, and now it's time to understand GT's attempt at entering the SiC market.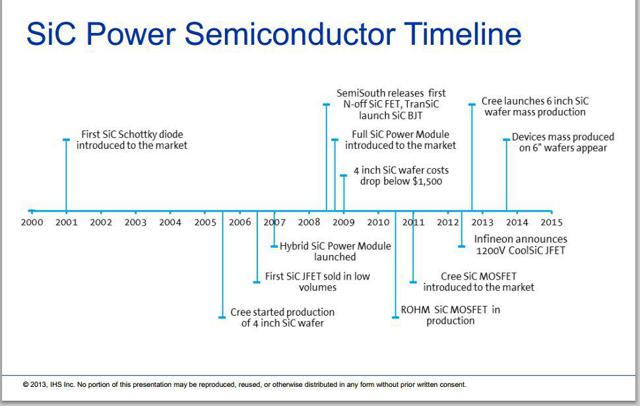 Source: IHS report
So, SiC has been pitched around for about 13 years. In the middle of last year, Cree (NASDAQ:CREE) introduced Silicon Carbide 6-inch wafers in mass production. A few months later, the first devices to be produced on 6-inch SiC wafers appeared. So, GT identified this at the right time just as the first products appear in the market, and SiC wafer manufacturing is just beginning to ramp up.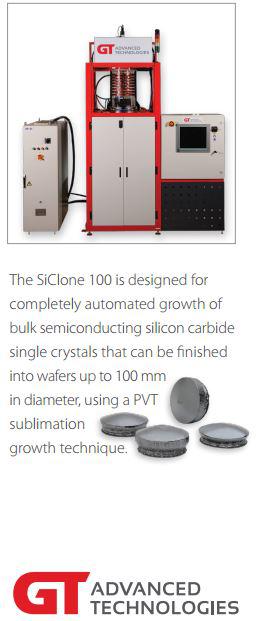 The applications for SiC are many: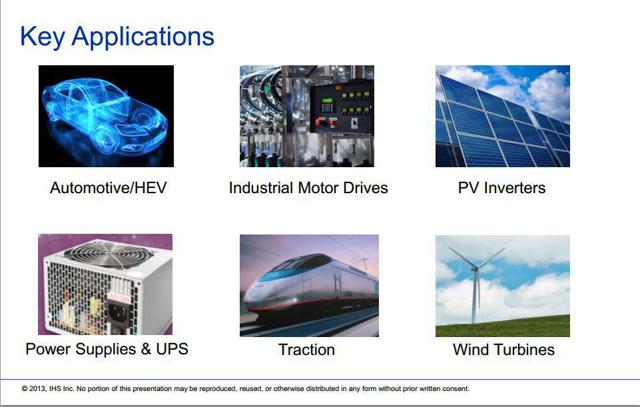 Now, we can take a look at the SiC power electronics market size: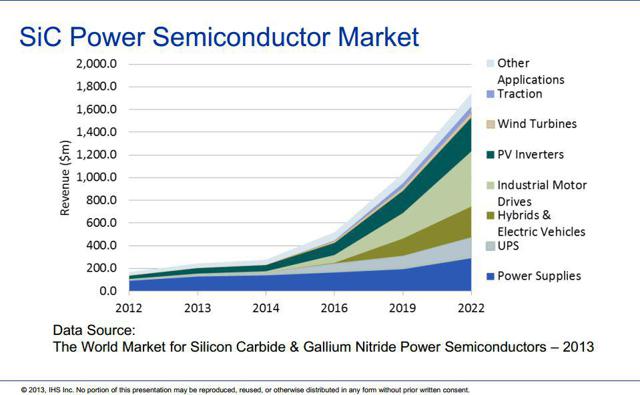 The picture as clear. Current estimates are predicting SiC to enter rapid growth in 2014, but we, as GT investors, are interested in the SiC market revenues only to understand CapEx. Citing a great NYU Stern report, the semiconductor industry spends, on average, 11.25% of sales on CapEx. So, in 2014, SiC-related CapEx will be in the range of about $23M. But looking ahead into 2018-2019, that will be about $112.5M of CapEx. That'll grow to $191.25M in 2022.
Now that we understand the real size of the SiC opportunity, I think it's safe to assume SiC growing equipment sales will ramp up towards the end of the second part of this decade. Currently, I'm building only modest SiC-related sales in my model for the coming few years.
My Model
| | | | |
| --- | --- | --- | --- |
| Year | 2014 | 2015 | 2016 |
| Polysilicon Revenues | $50M | $596M | $750M |
| Solar Revenues | $120 | $460M | $960M |
| Sapphire Revenues | $560M | $1.1B | $1.3B |
| LED Revenues | $70 | $120 | $140M |
| Hyperion Revenues | $0 | $190M | $475M |
| Total Revenues | $800M | $2.46B | $3.6B |
| | | | |
| --- | --- | --- | --- |
| Year | 2014 | 2015 | 2016 |
| Revenues | $800M | $2.46B | $3.6B |
| Gross Profit | $208M | $616M | $870M |
| OPEX | $185.9M | $250M | $350M |
| Net Income | $12.1M | $285.2M | $357M |
| Non-GAAP EPS | $0.09 | $2.12 | $2.65 |
| Shares Outstanding | 134,460,000 | 134,460,000 | 134,460,000 |
Assumptions: Each year financial expense is $10M. In 2014, there will be non-substantial tax expense. In 2015, taxes will be 20%, and in 2016, it will be 30%. Gross margin in 2014 is 26%, 2015 gross margin is 25%, and 2016 gross margin is 24%. Dilution is taken into consideration in the above model. There is a substantial increase in the workforce, especially in the Mesa facility. I expect most of the workers there to engage in manufacturing, thus, this expense will find itself in the COGS as labor. I expect S&M and R&D to climb y/y as GT increases sales into new markets and evolves its SiC offering, as well as additional R&D initiatives.
Valuation
In my last valuation of GT, I said I expect EPS to grow in 15% Y/Y in the next few years. The model I presented above shows a 25% increase in EPS, so forcing a PEG of 1, we get a P/E of 25. That means, 25 times 2015 EPS gets us to $53/share, and 25 times 2016 EPS gets us to $66/share. For those of you that are not SA PRO subscribers, in my last article from October 2013, I projected GT market cap to reach $3B by 2015, or $22.3/share. Today, I further increase my target.
Conclusion
Six months ago, I identified GT as a true innovator and noticed all of GT's markets are very uniquely aligned for growth. Now, revisiting GT, I believe this is a true innovative company, one that constantly looks for ways to improve the manufacturing process and offers great value to manufacturers in many markets. Through top-notch management, I believe GT is ready to post very impressive profits in the 1-2 years ahead. Looking further into the future, I believe GT's management will continue offering value to customers, commercializing R&D inventions, and keeping the business in stable growth and profitability.
Disclosure: I am long GTAT. I wrote this article myself, and it expresses my own opinions. I am not receiving compensation for it (other than from Seeking Alpha). I have no business relationship with any company whose stock is mentioned in this article.
Additional disclosure: Unless written otherwise, all images are taken from GT's investor presentation located on its IR website.