Convenience stores operator, Casey's General Stores Inc.'s (NASDAQ:CASY) fiscal 2010 fourth-quarter earnings surged 41.0% to $21.9 million from $15.6 million in the year-ago period. Excluding special items, earnings per share came in at 51 cents, easily topping the Zacks Consensus Estimate of 43 cents. The strong performance was primarily driven by robust sales and management's cost containment initiatives.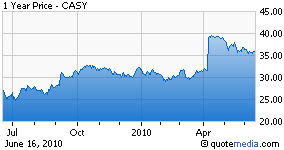 During the quarter, Casey's reported a solid 33.5% growth in total revenue to $1.18 billion from $883 million in the prior year quarter. The growth was attributable to a 5% increase in volumes coupled with a 40% growth in average retail price of gasoline. Moreover, Grocery and Other merchandise, and Prepared Food and Fountain segments also recorded a growth of 7.6% and 10.7%, respectively.
Casey's quarterly gross profit grew 9.9% year-over-year to $189.3 million, while gross margin dipped 350 basis points (bps) to 16.0%. The reduced margin was mainly caused by lower margin in the Grocery and Other merchandise division, partially offset by improved margins in Gasoline and Prepared Food and Fountain segments.
Operating expenses, as a percentage of revenues, declined 270 bps year-over-year to 11.4%, mainly due to better expense control by management. Accordingly, Casey's operating income (gross profit less operating expenses and depreciation and amortization) grew 20.7% year-over-year to $35.5 million from $29.4 million in the year-ago quarter.
Casey ended the quarter with cash and cash equivalents of $151.7 million, compared to $145.7 million in the year-ago period. Long-term debt-to-capitalization also improved to 17.9%, from 21.4% in the prior-year quarter. During fiscal 2010, the company generated $214.1 million of cash from operations and deployed $174.9 million towards capital expenditure. Bolstered by the strong performance, the company also increased its quarterly dividend, payable on Aug 16, 2010, to 10 cents per share from 8.5 cents earlier.
Looking ahead, Casey's expects increase store count by 4% to 6% in fiscal 2011. The company also plans to replace 20 stores and remodel 20 in accordance with its new store design. The Zacks Consensus Estimate on Casey's earnings for the fiscal presently stands at $2.34 per share, which jumped 5 cents over the past month as 3 of 7 covering analysts raised expectations. The most accurate estimate is even more bullish at $2.40 per share, indicating a potential upside of 2.6% over the Zacks Consensus Estimate.