...that one most perilous and long voyage ended, only begins a second; only begins a third, and so on, for ever and for aye. Such is the endlessness, yea, the intolerableness of all earthly effort.

- Herman Melville
When it comes to investing, the journey can be seen as an endless multitude of voyages that culminates and contracts yet is successful in the long-term. Each voyage is unique to the captain of the ship however, and with the proper foresight and understanding of market movement, spoils can be attained regardless of the market cycle.
In linking fishing to investing, one could state there are always fishermen who make money by catching and selling fish. When the fishing is good, more people make more money. When the fishing is tough however, most will earn less but those with the most foresight and understanding of the fishing market conditions may buck the trend and outperform versus peers.
Just having the proper foresight as an investor is not enough however, as one could miss years of gains or hit major losses by being right to early. This is why the understanding of the prevailing thought can help investors wade through the choppy waters of short-term market movement to bring home the riches. In this sense, being right "now" sometimes outweigh being right over the long-term.
Rising Rates - The 2013 Macro Theme Of The Year
Taking 2013 for example, "rising rates" became the new macro theme in town after the late-May FOMC meeting minutes release started the whole taper-talk that shook the markets. The taper-talk in turn led to the taper-tantrum that soon gave birth to the rising rates theme and as such, yield-sensitive stocks, including REITs, were hammered.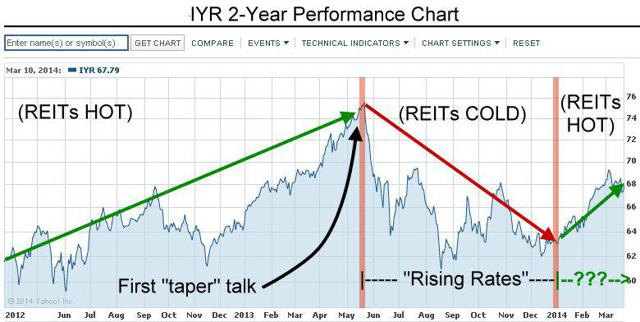 As noted by the chart above, investors who sold or shorted the aggregate U.S. REIT market in late-May 2013, as measured by the iShares U.S. REIT Index ETF (NYSEARCA:IYR), made money. Those who remained long aggregate REITs lost nearly all the paper-profit they had made in 2013, which isn't softened by the general market price-action as the S&P 500 Index was up nearly 30% on the year.
In viewing the same 2-year chart in terms of the 10-year U.S. treasury bond yield, one can note how in 2012-2013 REITs act independent of bond pricing until the rising rate theme changed the market landscape. Clearly the demand for U.S. REITs was related to the demand in U.S. treasuries, which is exactly what the rising rates theme predicted.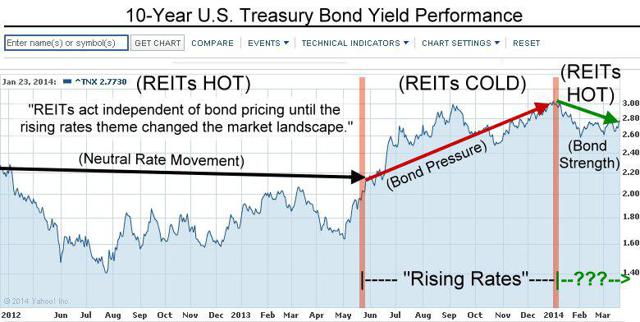 The question remains, as noted by question marks in both charts regarding the 2014 price-action movement, what do we call the new reversal in the 10-year treasury demand? Also, how does this new trend look to impact REITS, i.e. will U.S. REITs maintain a causal relationship to the 10-year treasury yields as seen during rising rates, or will they once again rise independent of the 10-year yield?
The New Macro Theme - Currency Risk
In a nutshell this new theme is called currency risk, as the major driver of demand for U.S. treasuries and stock assets is due to heightened emerging market currency risk.
This was apparent in the beginning of the year, as major EM currencies fell quickly as fear of a reduced level of expansion in the U.S. monetary stimulus program, as seen in the form of reduced growth in the reduction in the supply safe-haven fixed-income investments.
This is quite the paradox, as the 2013 investment theme that bet on the taper causing rising rates were incorrect. In a lab setting with no other variables, a reduction in demand of fixed-income assets would naturally lead to higher yields due to a constant supply. The hard-to-predict global landscape changed quickly in 2014 however, giving way to currency risk which continues to move markets today.
To learn more about currency risk, please read "Currency Risk To Push U.S. And European Stocks Higher," published February 2, 2014.
How Does Currency Risk Affect U.S. REITs?
The second part of the macro-trend question is how to decipher the affects currency risk will have on U.S. REITs. Pre-taper-tantrum, it can be noted that REITs rose independent of rates.
Many investors believe that over the long-term, which has been proven historically accurate, REITs will continue to rise independent of interest rates.
As rising rates were strongly related to the performance of U.S. REITs and other yield-sensitive investments in the second half of 2013 however, the astute investor may agree than in the short-term the causal relationship will remain intact and that further pressure on the 10-year bond yield will continue to send aggregate U.S. REITs higher.
Picking Hot REIT Names For Long-Term Gains
Rather than place a short-term bet or a long-term vote of confidence in the aggregate U.S. REIT market through IYR, both enhanced returns and higher yields may be found through individual stock names.
While the "Fedspeak" that occurred on March 19, 2014 took REITs lower for two trading sessions, a few names perked up on Friday with above-average volume. These are already name-brand, household dividend stocks that income investors are both well-aware of and that have strong buy-ratings on the Seeking Alpha contributor board.
With such large volume, it could be said that investment "whales" such as hedge funds and/or other large institutional investors, such as ultra-high net worth money managers, investment banks and mutual fund managers could be piling in on these names as we speak.
For starters, in looking at the IYR it's had the largest 1-day in trading volume in 2014, with ~18.9 MM shares traded hands, which is ~85% higher than the ~10.2 MM in the 3-month average daily trading volume.
Currently the TTM (trailing-twelve month) yield on the IYR is 3.5%, the fund holds ~$4.4 billion in assets under management and the management fee is 0.46%.
U.S. REITs Whales Are Likely Nibbling On Now
For the following names, the suggestions are based on the author's confidence in these REIT prospects moving forward. This is not an in-depth company analysis, as such information is readily available through other recent articles on Seeking Alpha.
1. Annaly Capital Management, Inc. (NLY)
NLY is a mortgage REIT (mREIT), which should not be confused with traditional, equity REITs that own and lease/rent properties such as hospitals, apartments and storage units.
Annaly invests in agency mortgage-backed securities and uses leverage to enhance results. With a high leverage ratio and huge negative exposure to rising rates, NLY was sold-off along with the rest of the mREIT sector in the back-half of 2013.
On Friday, March 21, 2014, NLY share volume spiked to ~38.6 MM shares, a 227% increase over the three-month average daily volume of ~11.8 MM shares/day. In monetary terms, at the closing price of $11.48/share (up 2.78%), ~$443 MM worth of shares traded hands, which accounts for about 4% of the company.
Over the last year NLY, which makes up the largest position of ~15% of the iShares Mortgage Real Estate Capped Index ETF (NYSEARCA:REM) that measures U.S. mREIT performance, has underperformed its peers by a noticeable margin.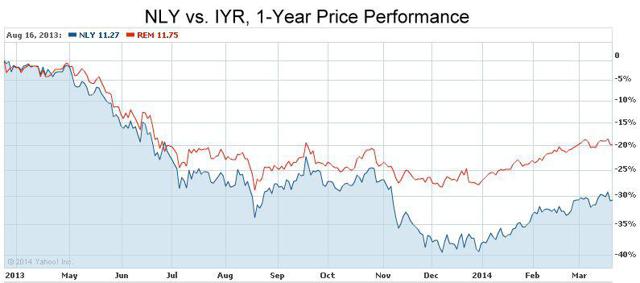 Based on the $0.30 quarterly dividend, NLY currently yields 10.5%. Investors should not that while NLY shares are currently near multi-year lows, risk is enhanced by virtue of higher volatility than stocks in the equity REIT arena.
2. American Realty Capital Properties (ARCP), Inc.
ARCP is a net-lease, retail REIT that holds properties that are mostly set on long-term leases with built-in incremental rent bumps. The company concentrates on investment-grade tenants and distribute monthly dividends.
In terms of peer evaluation, the company is undervalued compared to the similarly-structured REIT Realty Income Corp. (NYSE:O), which also offers monthly dividends.
Currently the distribution rate on ARCP shares is $1/year, which equates to a current yield of 7% on $14.27/share. By contrast, Realty Income boasts a current yield of 5.33% (a difference of -167 basis points to ARCP).
ARCP share volume on Friday March 21, 2014 was ~31.9 MM shares, which is a ~213% increase over the three-month average daily volume of ~10.2 MM shares. Using the closing price of $14.27 (up 3.18%), there was ~$454.5 MM in share volume that traded hands, which represents ~4.2% of ARCP's $10.93 billion market cap.
Conclusion
While the ETF IYR realized an 85% increase in volume on Friday March 21, 2014, several other REIT names also experienced above-average volume.
NLY and ARCP were up over 200% in average daily volume were both up ~3% with a significant amount of their respective market capitalization changing hands; investors may infer that a whale or two could be taking a nibble at these names. With several multi-billion funds competing for return, finding smaller names that are both undervalued and holstering above-average yields will help move the needle.
Also, with currency risk a new theme this year, whales may be looking to jump on the bandwagon to profit through the ownership of U.S.-based high-yielding assets, which is a direct switch from the rising rates theme the market just conquered. Such a macro shift, along with the important role of hungry whales seeking alpha, could spell above-average returns for investors ahead of the curve.
To learn more about mortgage REIT risk, please read "How Does An Intelligent Investor Navigate Mortgage REIT Risk," published March 19, 2014 on Seeking Alpha by Brad Thomas.
To learn more about the currency risk macro-theme, please read "Currency Risk To Push U.S. And European Stocks Higher," published February 2, 2014.
Disclosure: I have no positions in any stocks mentioned, and no plans to initiate any positions within the next 72 hours. I wrote this article myself, and it expresses my own opinions. I am not receiving compensation for it (other than from Seeking Alpha). I have no business relationship with any company whose stock is mentioned in this article.