There is no doubt that Google (NASDAQ:GOOG) is a phenomenal growth company. I admire many aspects of Google's overall growth strategy, but I'm especially focused on its aggressive investments in many of the most promising companies of tomorrow.
Google Ventures, the venture capital investment arm of Google, focuses mainly on early-stage companies. Google Ventures currently has a portfolio of investments in more than 225 companies across many industries. Google Capital, a separate growth equity fund backed by Google, invests solely in technology companies as they hit their growth phase.
For a young company, I can't think of a more desirable investor and partner than Google. And as a growth stock investor, I can't think of a better company backing one of my investments than Google.
I now own positions in two publicly traded companies that were originally backed by Google - HomeAway and RetailMeNot.
Both companies represent great investment opportunities.
HomeAway
Back in 2010, Google Ventures took a position in the then private company, HomeAway (NASDAQ:AWAY). HomeAway is now the world's leading online marketplace for the vacation rental industry, with sites representing approximately 890,000 paid listings of vacation rental homes in 190 countries. Through HomeAway, owners and property managers have an easy way to advertise their properties to travelers and manage the bookings online. The HomeAway portfolio includes 21 vacation rental websites. The diagram below clearly demonstrates HomeAway's global vision and market share.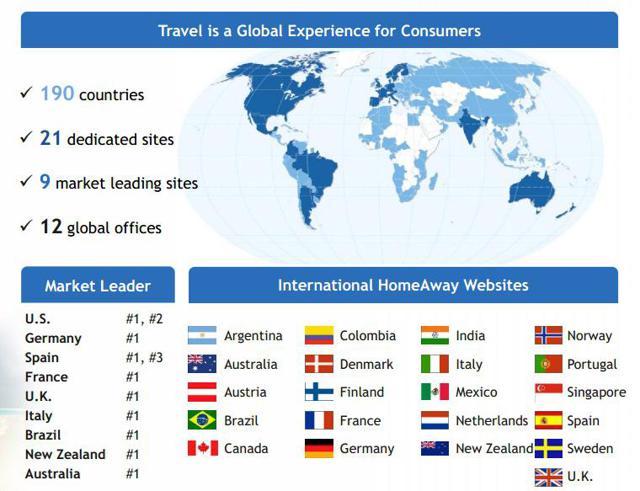 What I like about HomeAway from an investment perspective is the fact that its subscription-based model is very predictable and already profitable.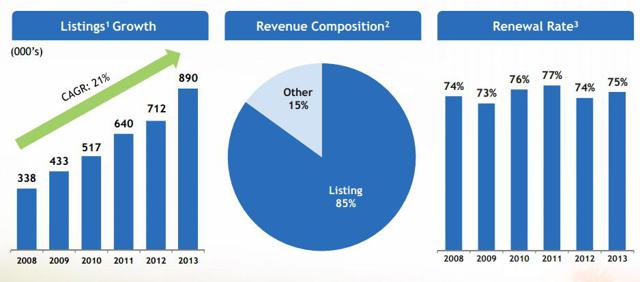 Strong and consistent revenue growth led me to recently take a small speculative position in HomeAway. In 2013, revenue grew over 23% year-over-year, EBITDA by 20%, listings by 25%, free cash flow increased almost 10%, and the subscription renewal rate was 75%.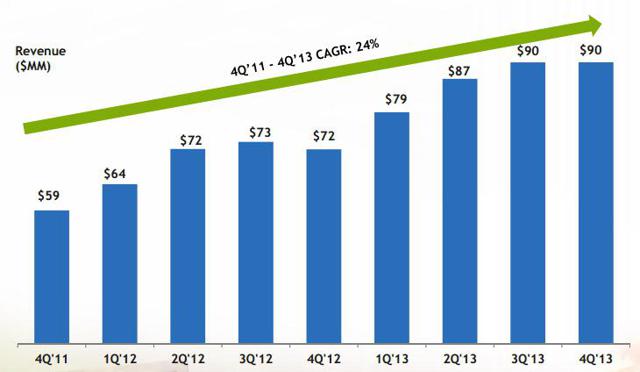 Overall traffic and monetization trends are also impressive.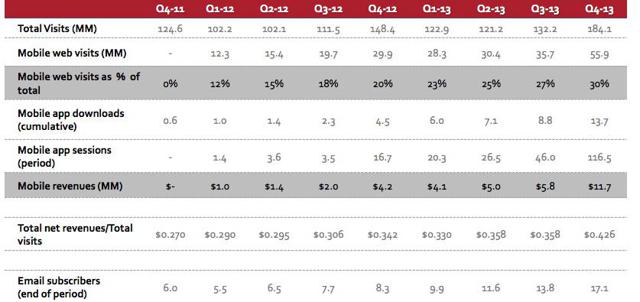 HomeAway anticipates 2014 total revenue to be in the range of $429 to $436 million. Adjusted EBITDA is expected to in the range of $119 to $125 million. I like the growth prospects for HomeAway, and I like investing in companies that have Google in their corner.
RetailMeNot
Back in 2010, Google Ventures also took a position in the then private company, RetailMeNot (NASDAQ:SALE). RetailMeNot operates the world's largest digital coupon marketplace. The company enables consumers across the globe seeking to save money to find hundreds of thousands of digital coupons from retailers.
RetailMeNot has experienced more than 500 million visits to its websites in the last 12 months. Its portfolio of websites include the leading marketplaces in the United States, Canada, the United Kingdom, Germany, France, and several other European countries.
Last month, RetailMeNot announced its fourth-quarter and 2013 financial results. I was very impressed with the results, and I recently initiated a small speculative position. RetailMeNot's fourth-quarter revenues increased 55% over the prior-year period, income rose 79%, and EBITDA grew 43%.
Operating performance and strong growth is reflected in the chart below.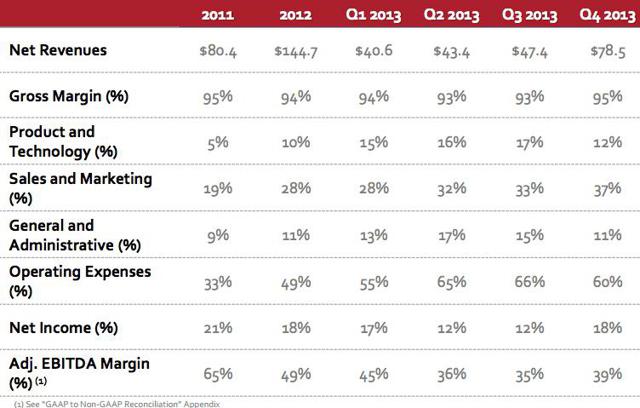 Traffic and monetization trends also reflect impressive growth rates.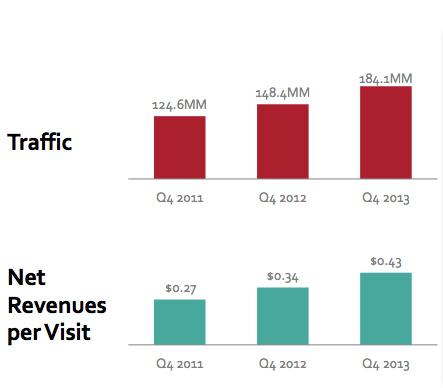 And profitability...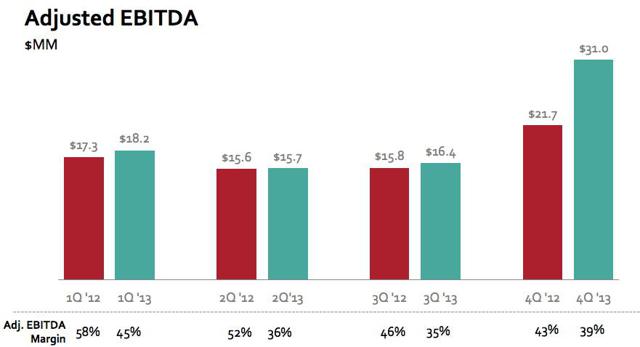 Will We Soon Have More Google-Backed IPOs?
There are two future IPOs that I can't wait to own, and both are also backed by Google investments. Last year, Google Ventures pumped more that $258 million into the revolutionary on-demand car service company, Uber Technologies. Uber is truly evolving the way people all over the world use transportation. Since Uber's founding in 2009, it has now expanded to almost 100 cities in 33 countries. This is one company I plan to closely watch as it grows globally. I look forward to its "uber" IPO that has been predicted in the media.
The other Google-backed IPO that I'm excited for is Lending Club. Last year, Google Capital took a $125 million stake in the company. Lending Club is just a six-year old start-up, and has emerged as the largest peer-to-peer lending platform in the world. The platform connects creditworthy borrowers with savvy investors, and has originated almost $4 billion in loans. Its recent growth has been amazing, and just last month, Lending Club's 70K investor accounts enabled 18,618 loans worth $360 million. This year alone, Lending Club's loan origination volume will surpass the previous five years combined. That's my kind of growth company. The Lending Club IPO has also recently been covered by the media.
Summary
I admit that I love disruptive technologies. It's clear that Uber is disrupting the transportation industry and Lending Club is disrupting the traditional banking industry. The same can be said for HomeAway disrupting the vacation rental industry and RetailMeNot disrupting the coupon industry.
These innovative technology companies create investment opportunities. And when Google identifies these early-growth companies, they become tremendous investment opportunities.
As publicly traded companies, both HomeAway and RetailMeNot are producing remarkable growth numbers. I have initiated small positions in both stocks, and it's very reassuring to know I'm also on the same team as Google.
Sources: Google, RetailMeNot, and HomeAway financial filings and investor materials. All charts are from RetailMeNot and HomeAway investor presentations.
Disclosure: I am long GOOG, AWAY, SALE. I wrote this article myself, and it expresses my own opinions. I am not receiving compensation for it (other than from Seeking Alpha). I have no business relationship with any company whose stock is mentioned in this article.
Additional disclosure: This article is intended to provide information to interested individuals. As I have no knowledge of individual investor circumstances, goals, and/or portfolio concentration or diversification, readers are expected to complete their own due diligence before purchasing any stocks mentioned or recommended.