Many of my best long-term investments have been in companies that have both growing dividends and powerful (and recognizable) brands. These companies have included Coca-Cola (NYSE:KO), Johnson & Johnson (NYSE:JNJ), General Mills (NYSE:GIS) and McDonald's (NYSE:MCD). These companies have recorded steady consistent growth through normal times and recessions alike. They have paid me more in dividends each year that I have owned them, and I look forward to owning them many years into the future. Today I'm going to take a look at PepsiCo (NYSE:PEP), a company in which I am not a shareholder. I last evaluated PepsiCo in the summer of 2013, and at that time I determined the stock price was too high for me to purchase. The price has come down a little since that time, but more importantly, I'm curious if the company's profits have grown enough to justify the current prices.
PepsiCo, Inc. was founded in 1898 and is currently headquartered in Purchase, New York. Probably best known for its cola brands (Pepsi, Diet Pepsi, 7-Up, and Mountain Dew), PepsiCo has grown over the years to become the parent company of twenty-two food and beverage brands, each of which generates over $1 billion annually. These billion-dollar brands include: Pepsi Cola, Diet Pepsi, Lays Potato Chips, Mountain Dew, Gatorade, Tropicana, 7-Up, Doritos, Quaker, Cheetos, Mirinda, Lipton, Ruffles, Tostitos, Aquafina, Pepsi Max, Brisk, Sierra Mist, Fritos, Diet Mountain Dew, The America Coffee Partnership (with Starbucks), and Walkers. With a lineup like that, it's easy to see why PepsiCo is a global powerhouse.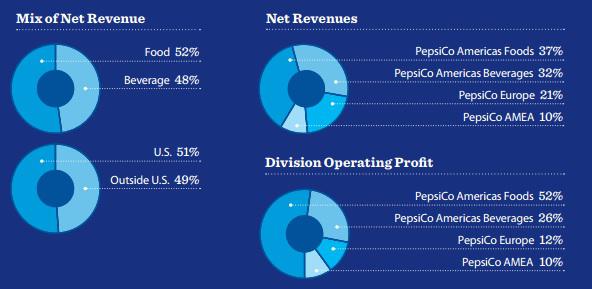 Courtesy of PepsiCo's 2013 Annual Report
Above is the revenue and profit breakdown from PepsiCo's annual report. I like that PepsiCo's revenue is split almost perfectly (52% vs. 48%) between its food and beverage divisions (respectively). I also think it's great that only 51% of PepsiCo's revenue comes from the United States. Regular readers of my articles and site know that I'm a big believer in the future of emerging markets in Africa and Asia. (Two recent articles include my purchases of China Mobile (NYSE:CHL) and last month's purchase of an emerging markets index). In keeping with that thread, the revenue and profit in PepsiCo's AMEA (Africa, Middle East, and Asia) division has been growing in recent years. At roughly 10%, I believe there is still plenty of room for future growth.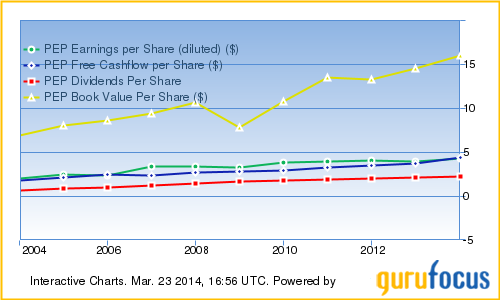 The GuruFocus.com chart above reflects PepsiCo's steady upward progress over the past decade. PepsiCo's earnings per share, free cash flow per share, book value per share, and dividends per share have all climbed steadily over the past 10 years. I expect this growth to continue over the next several years. According to Yahoo Finance, the dividend payout ratio stands at 52%, which leaves room for plenty of future dividend raises. According to PepsiCo's 2013 annual report, the company returned $6.4 billion to investors (in the form of dividends and share buybacks) last year. The number of outstanding shares has declined in 9 of the 10 past years, with the share count remaining unchanged in fiscal year 2009. Those are the kind of trends a long-term investor prefers. Along the same lines, PepsiCo's return on equity metrics have been both high and consistent over the past 10 years. See the return on equity chart below.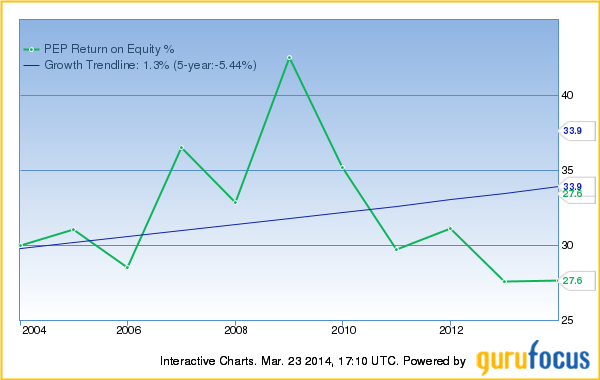 In the chart below, you can see that PepsiCo's cash position has increased more than its debt in the last couple of years. More importantly, the operating cash flow and free cash flow have continuously climbed over each of the past five years. Five years isn't a long time period, but the past five years haven't been easy for any multinational consumer corporation.


Courtesy of GuruFocus.com
To Buy or Not To Buy
By this point, it's pretty clear that PepsiCo is the type of consistent company most long-term investors would prefer. For me, the issue comes down to price. I also liked the company last summer, but found its price too high to warrant a purchase. Let's take another look at PepsiCo's price. Based on the chart below, PepsiCo's shares are trading at a slightly higher price than its 5-year average. In our current (yield starved) world, a 2.8% dividend is not so bad. A P/E (price to earnings) ratio of 19 represents a 5.26% earnings yield, which isn't great, but not horrible either.


Courtesy of Morningstar.com
On the whole, I feel that most stock markets around the world are overvalued currently. That is a conversation for another article, but it makes me wary of making new investments at the current time. I like PepsiCo's snack and juice businesses, although I think Coca-Cola has the better cola business. I would like to have these two companies as core holdings in my dividend growth portfolio soon. While I am not a technical trader, I look at recent stock charts to help confirm the timing of my purchases and sales. The chart below shows the current stock price (~$82) has been rubbing up against the 200-day moving average. Coupling that with the series of lower highs (and lower lows) the stock price has put in since November, I see no reason to rush out and buy PepsiCo at current prices. I will continue to watch PepsiCo, but not initiate an investment at these levels.

Click to enlarge
Courtesy of Yahoo Finance
Disclosure: I am long KO, GIS, MCD, JNJ, CHL, VWO. I wrote this article myself, and it expresses my own opinions. I am not receiving compensation for it (other than from Seeking Alpha). I have no business relationship with any company whose stock is mentioned in this article.
Additional Disclosure: This article is for informational purposes only and should not be considered a recommendation for anyone to buy, sell, or hold any equities. I am not a financial professional. The information above is provided by Yahoo Finance, Morningstar.com, GuruFocus.com, and PepsiCo's 2013 Annual Report.