By Jeff Bailey
Starbucks (NASDAQ:SBUX) wants growth.
And its management has two big programs in mind to achieve that end:
--A return to more rapid store openings in North America.
--And testing of a mobile remote ordering system – one imagines a smartphone app, your favorite beverage all teed up, and you press the button while still on your way to the closest Starbucks café, and it's ready when you arrive.
Starbucks has been talking about mobile remote ordering for some time, including publicly earlier this year. Sharon Zackfia, a William Blair & Co. analyst, after she met with Starbucks CEO Howard Schultz and his management team recently, said such an ordering system "could be the 'Holy Grail' of throughput" at Starbucks.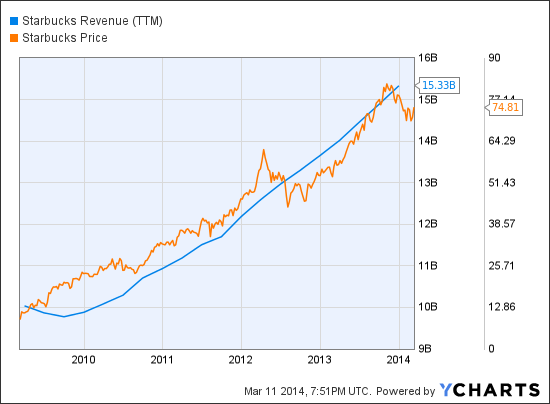 SBUX Revenue (TTM) data by YCharts
Zackfia's research note put the effort in the very basic context of extracting more sales out of each Starbucks location. As we've noted, Starbucks reported 15 successive quarters of higher same-store sales, never less than 6%, before "disappointing" with a mere 5% gain for the first fiscal quarter ended December 29, 2013. That's an amazing record, reflecting big increases in foot traffic and in customer purchase amount over time. But how to sustain it?
Remote ordering, of course, is fraught with peril. Starbucks can't afford to be seen to ignore customers already in line at its cafes. And it does no good to get your latte all ready and have it sit around and get cold; timing is crucial. Zackfia sees use of an algorithm to estimate arrivals. Remote orders would likely come in mostly during busy hours at Starbucks, so figuring out how to speed the whole operation up seems crucial. Without sacrificing quality, which was a concern before Schultz's return as CEO. Hard to do, but the payoff could be huge.
The baristas may need to step up their caffeine intake.
As we reported in January, in our reassessment of Starbucks stock, Starbucks realizes $1.3 million in sales from the average company-owned U.S. store ($1.1 million in Europe; $900,000 in Asia). Fixed costs covered, margins fatten nicely as sales rise.
The test fits in with Starbucks, since the return of Schultz as CEO, driving increased efficiency and productivity in its operation, a subject of our earlier article. Mobile ordering would also likely increase the use of mobile payments and gift cards, the latter of which is a big boost to Starbucks' cash flow.
Zackfia also reported that recently opened Starbucks stores in the U.S. have been performing particularly well vs. those opened in earlier periods, giving Schultz confidence to throw open the throttle again. Remember, too-rapid growth in new stores was one of the main problems years back. Schultz returned, slammed on the brakes, closed hundreds of stores and improved operations in remaining ones.
As long as the new stores don't cannibalize sales from existing outlets, growth within the U.S. is probably the most profitable. The infrastructure of distribution is all built out. Advertising can be amortized across more sales sites.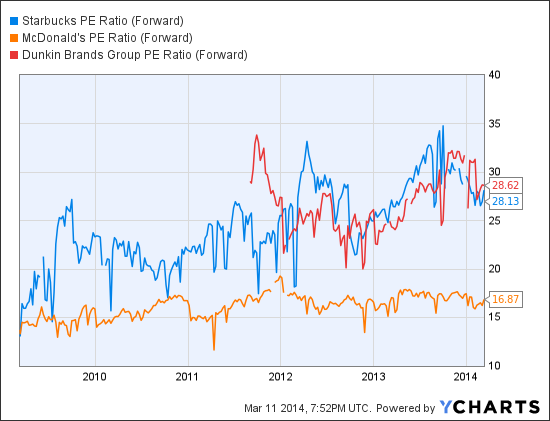 SBUX PE Ratio (Forward) data by YCharts
Keeping overall sales growing 10% or more can produce EPS growth of 15% to 20%, Zackfia writes. And that can keep Starbucks stock trading near its current forward PE ratio of 28. That's about equal to Dunkin Brands (NASDAQ:DNKN) but far higher than McDonald's (NYSE:MCD).
Disclosure: None