Market pundits are expecting a major pullback in the Dow with some suggesting that the Dow may get as low as 5,000. Will the Dow drop substantially or is this just a slight pullback? No one knows for sure exactly where the Dow will end up. Whether the market rises or falls, these 3 stocks should benefit from the slow economic recovery.
Temporary Services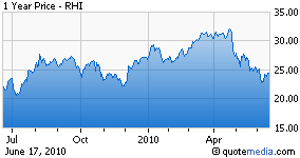 Temporary jobs look like they are here to stay as companies slowly begin to hire workers again. Temp workers are attractive to companies because they cannot demand the same benefits as full time employees. In the future, full time employees will have to go to the temp service route to gain employment. Robert Half is well positioned to benefit from this trend. Robert Half is a large staffing firm that focuses on finding jobs for professionals in the accounting/finance and technology fields. The economic recovery is leading to increased demand for these temporary employees. Investors will have to pay up for Robert Half with shares trading at 27 times earnings. The stock would be a steal at $20.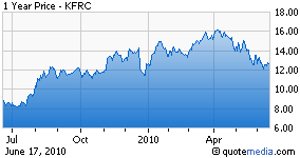 Investors looking for other temp companies should check out Kforce. Kforce is the cheapest stock in the sector trading at just 17 times 2011's earnings. It is also the riskiest play with a highly leveraged balance sheet and a market cap of $500 million dollars. Kforce has just $1 million in cash and $22 million in debt. However, earnings are expected to grow a remarkable 55% over the next 5 years. Kforce stands to benefit from its partnership with the federal government to provide employees. This is not a stock for the faint of heart.
Apollo Group (NASDAQ:APOL)
Who hasn't heard of the University of Phoenix? As unemployment remains high, so will enrollment at the University of Phoenix. Unemployed workers often go back to school to improve their job prospects and the University of Phoenix will be a big beneficiary. Shares of the Apollo Group have been in a freefall since April dropping from the mid $60's to the upper $40's. The stock trades at just 9 times forward earnings and growth is projected at a 16% clip over the next 5 years. There is some risk with Apollo however. The stock has dropped due to fears of new regulations from the Department of Education. The Department of Education is considering regulations that would cut funding to for profit colleges if their graduates' student loans debt was too high to be repaid, over 10 years, with 8 percent of their starting salary. It's unclear exactly what effect this would have on University of Phoenix's earnings if passed.
Disclosure: No positions