The share price for Valero Energy (NYSE:VLO) has appreciated by 33% over the past 12 months, outperforming a return of 20% for the S&P 500 Index. Given that the stock still trades at an inexpensive valuation on a relative basis, I believe that a significant price upside remains, as the company's solid liquidity prospects should ensure a capacity to drive double-digit growth for dividend and share buybacks, which would exceed peer average.
Despite the solid price run-up, Valero still trades at a 4.3x consensus 2015 EBITDA estimate and 8.4x consensus 2015 EPS estimate, both of which are at about a 9% to 10% discount to average trading multiples from Valero's refining peers. Given that 1) Valero's multiple refineries are more complex and advanced than those of its competitors in a way that the system allows Valero to process lower-quality crude to premium products, 2) Valero's consensus long-term EPS growth estimate at 10.3 is fairly comparable to peer average of 11.3%, 3) its profitability metrics, such as returns on total equity and common equity are slightly above the group average, and 4) the stock's dividend yield is not far off from peer average, but its dividend growth prospect appears to be superior (discussed later), my view is that even a modest premium valuation for Valero can be substantiated, and the current valuation discount looks compelling to me (see chart below).

Valero has managed to grow operating cash flow by 32% CAGR, from just $1.8B in 2009 to $5.6B in 2013 (see chart below).

Of the $5.6B operating cash flow in 2013, $3.4B was used for capital investment, leaving $2.2B in free cash flow. The free cash flow was used to fund a $0.9B share buyback and $0.5B dividend payment in the year. Going forward, I expect the operating cash flow to experience healthy growth based on the following factors:
Valero reported a record operating cash flow of $2.1B in Q4 2013. The exceptional performance was driven by a strong refining margin owing to management's feedstock optimization effort to capture widened Gulf Coast crude price differentials. The strong performance was also partially attributed to lower ethanol RIN costs that resulted in higher ethanol operating income. Over the next few years, it is believed that the Gulf Coast crude price differential will remain at the current level, or even widen owing to increased flow of discounted domestic crude oil to the region.
Profitability is expected to remain healthy in the Gulf Coast region, as two projects at Port Arthur and St. Charles are expected to be completed in the year, followed by significant operating leverage. Valero has also been transitioning its Quebec refinery to process the discounted North American crude, and expects production to ramp up in 2014.
On the ethanol front, management believes that Valero should continue to benefit from a solid export market, as US ethanol producers enjoy lower costs than other international players. Even if export production ramps up in the US and it results in an oversupplied market, management believes that Valero's advantage on cost should allow the company to remain competitive relative to other domestic peers.
I have performed an analysis to roughly gauge Valero's capacity to sustain double-digit dividend and share buyback growth, and my conclusion is positive. My analysis was based on very conservative assumptions. Operating cash flow was assumed to grow by just 5.0% CAGR from 2013 to 2016. Annual capital expenditure growth was assumed to be 8.0% over the period, and the projected capex of $3.0B in 2014 is in line with management's guidance. After factoring in mandatory debt repayment, free cash flow is estimated to grow from $2.2B in 2013 to $2.6B in 2016. Even this relatively slow free cash flow growth profile is able to comfortably sustain a 10% CAGR of share repurchase and 20% CAGR of dividend from 2013 to 2016 without notable reduction in annual cash surplus (see chart below). In addition, Valero's strong balance sheet, with $4.3B cash and just 0.4x net debt to EBITDA leverage would provide a solid support to the dividend plan, should there be any shortfall in operating cash flow.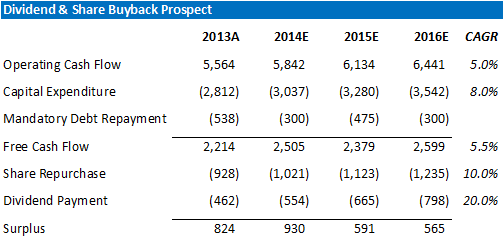 In light of Valero's below-average valuation, but solid operating fundamentals and above-average cash distribution prospect, I believe a buy rating is warranted.
All charts are created by the author, and data used in the article and the charts is sourced from S&P Capital IQ, unless otherwise specified.
Disclosure: I am long VLO. I wrote this article myself, and it expresses my own opinions. I am not receiving compensation for it (other than from Seeking Alpha). I have no business relationship with any company whose stock is mentioned in this article.