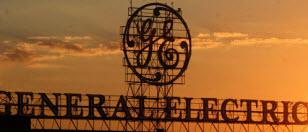 I have been a General Electric (NYSE:GE) bull for quite some time. Yet, based on recent shifts in the stock's fundamentals and performance I have reconsidered my opinion. The current budding geopolitical hazards increase the risk significantly. The company may have to lower guidance going forward. In the following sections I will lay out the reasons why I think investors should avoid the stock for now.
Fundamentals Are Weakening
The PEG ratio is a primary factor in determining whether a stock is under or overvalued. GE's current forward PEG ratio is 1.8. The company's five-year average forward PEG ratio is 1.5. This implies the company is currently trading at a 21% premium to its five-year historical average. Taking this into account, the shares should be trading for closer to $20 rather than $25 currently. Furthermore, GE's trailing two month PE of 18.3 is a 15% premium versus the company's five-year historical average TTM PE of 15.9. The best case is the current forward PE of 14.9 is only trading at a 5% premium to the historical average of 14.2.

(Information provided by Thomson Reuters)
GE is in the midst of a major turnaround which has caught the eye of many contrarian investors betting on a recovery in the stock. I know, I was one of them. Nevertheless, I'm not so sure the story has remained intact. GE sales did pass the $1 billion mark in 2013. Yet, on closer inspection, the Middle East and Africa were the only regions posting strong sales revenue growth. Sales in the US, Europe, Pacific Basin and Americas regions actually declined 1% year-over-year.
GE's stock performance has lagged
The stock is down 8.6% year to date and has recently broken below the 50 and 20 day DMAs. The stock is up nearly 13% for the past 52 weeks. Nonetheless, that is a meager return compared to the nearly 30% return for the market as a whole in 2013.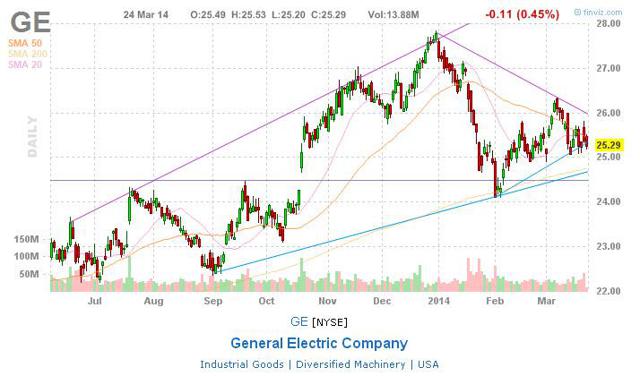 Click to enlarge
Moreover, looking at the chart, you can see we are at a major inflection point. The bulls and bears are in a tug of war regarding the stock and the bears are winning. The stock is in a descending triangle formation while in the midst of a downtrend. This is a bearish formation that usually is indicative of continued downside risk. Descending triangles are bearish patterns that indicate distribution. It's hard to get excited about a stock whose performance and fundamentals are both signaling trouble ahead.
Emerging market and geopolitical risks are high and growing
GE is counting on growth coming from emerging markets. In the last few months two major developments have taken place that may seriously threaten the stability of these markets. Axel Merk, chief investment officer of Merk Investments, told CNBC that Fed members have been acting confused, and a lack of clarity in policy direction would continue to hurt the more vulnerable emerging markets this year.
"Fed policy is going to be volatile and the key implication from that is that it's poison for emerging markets, because the volatility is bad for markets with little liquidity."
Emerging markets, which have been one of the biggest beneficiaries of quantitative easing, were hit particularly hard last year when talk of "tapering" first started to panic investors. Countries with higher current account deficits saw vicious selloffs as a result.
The elephant in the room is the Russian factor. General Electric's Capital Aviation Services unit is the world's largest aircraft leasing company. The unit has 54 airplanes in Russia. Norm Liu, chief executive officer of GECAS, said in an interview at an International Society of Transport Aircraft Trading conference in San Diego recently,
"Hopefully the industry can weather it out, avoid heavy sanctions. This is a unique situation for all Western businesses."
If the conflict between President Vladimir Putin and the West is confined to diplomatic circles, he said he's less concerned. "If it crosses beyond that, it's a different story," he said.
The current geopolitical turmoil presents multinational corporations with two new major risks. Sanctions could inadvertently punish U.S. interests, and the Russians could push back against American companies as well. At the very least, there has been a significant amount of uncertainty and risk in the air currently.
Positives for GE
Financial Strength
GE has an enormous amount of firepower. It can move in to a new industry and start making profits in short order by acquisition and expansion. GE's strong financial position allows the company to do a high level of R&D which leads to increased profits.
Room for Improvement
GE is focused on improving EPS. It is working on both ends of the equation to get there. There is room for improved efficiencies throughout the company. As time passes, I posit we will see significant improvements to fixed and overhead costs. These savings will directly improve the bottom line.
Conclusion
I remain guarded on the prospects for GE given the recent softness in the fundamentals and stock performance. Further, the recent uptick in geopolitical tensions and possibility of sanctions backfiring makes the potential reward not worth the risk in my book. I see the stock moving sideways at best to lower in 2014. I am not recommending you short the stock. GE is essentially a no touch for me at this point.
Disclosure: I have no positions in any stocks mentioned, and no plans to initiate any positions within the next 72 hours. I wrote this article myself, and it expresses my own opinions. I am not receiving compensation for it (other than from Seeking Alpha). I have no business relationship with any company whose stock is mentioned in this article.