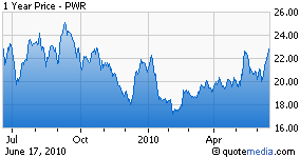 I've written about this stock before but it's recent price action shows it deserves to be revisited.
Quanta Services (NYSE:PWR) is a leading provider of specialty electrical contracting and maintenance services primarily related to electric and telecommunications infrastructure in North America. In addition, the Company provides electrical contracting services to the commercial and industrial markets and installs transportation control and lighting systems. Some of Quantas services include the installation, repair and maintenance of electric power transmission and distribution lines and telecommunication and cable television lines, the construction of electric substations, and the erection of cellular telephone.
Double digit sales growth is almost guaranteed, as companies strive to meet the new reliability and renewable energy mandates. Congress has given some investment incentives for new infrastructure that is too good to pass up.
Two of their biggest clients, Verizon (NYSE:VZ) and AT&T (NYSE:T), are in the middle of major upgrades to their networks, and PWR will perform most of that work.
The stock hit 5 new highs in the last 5 trading sessions, and had a 6.71% price appreciation last month. The stock is trading above it's 20, 50 and 100-day moving averages, and has earned a 100% Barchart technical buy signal. The stock trades around 22.94, with a 50-day moving average of 22.66.

Investor sentiment is very high on this stock. On Motley Fool, the CAPS members voted that the stock will beat the market by a vote of 539 to 11, and the more experienced All Stars have a similar vote of 161 to 3. Fool notes that of the last 22 articles columnists have written, 21 have been positive.

The Wall Street brokerage analysts are very high on this stock, with 14 buy and 4 hold recommendations published. Double digit sales increases of 20.40% this year and 12.60% next year are predicted. Earnings forecasts are even better, with and increases of 34.30% this year and 29.80% next year. Long-term investors will appreciate a forecast of a 12.18% 5-year compounded annual EPS growth rate.
The stock meets my criteria:
Recent price appreciation and new highs in more than 50% of the recent trading sessions
100% Barchart technical buy signal on all 13 of the 13 technical indicators
High investor sentiment
Positive articles by the financial press
Wall Street brokerages recommend this stock to their clients based on double digit forecasts of sales and earnings increases
Disclosure: No positions