Mobile advertising works on a fine line - trekking between too many ads being annoying and not enough hurting the bottom line of a company. Facebook is a major company that will continue to capture the growth of mobile ad revenue in 2014. Since it started advertising on mobile apps, Facebook has had much success. Moving into 2014, Facebook will be a beneficiary of the explosive growth in mobile advertising.
A few days ago, reports surfaced by eMarketer on the amount of mobile growth in ads that is expected in 2014. The firm has forecasted 75% ad growth in 2014.
There is a large amount of growth in store for mobile ad sales, expected to reach $31.45B. Mobile advertising may just be a portion of an advertiser's revenue, although it does offer a large revenue opportunity - especially for Facebook.
(click to enlarge) (Source)

Click to enlarge
As can be seen from Facebook's revenue over the past three years, advertising accounts for the lion's share of sales (89%, 84% and 85% respectively). To expand this revenue further, Facebook would have to attract more of the existing business available, or gain revenue from new advertisers. The explosive growth in store for mobile advertising can help the latter be an easier route than competing to gain advertising customers from other businesses - namely Google (NASDAQ:GOOG).
Facebook (NASDAQ:FB), which saw its mobile ad sales rise 4x Y/Y in Q4 and make up 53% of its ad revenue, is expected to have a 21.7% mobile ad share, up from 17.5% in 2013. (Source)
The key item with explosive revenue growth in the area of mobile ads is that they make up a significant portion of Facebook's revenues - nearly 53% in the 4Q of 2013. This means that growth in the mobile ad market will directly benefit Facebook - as over half of their revenues stem from this area.
More interestingly, Facebook is competing successfully in this market against others. Businesses usually employ many advertising mediums within their marketing strategy. Facebook stands out, as over 92% of businesses surveyed (500+ marketers) advertise on Facebook over other popular mediums.
(click to enlarge) (Source)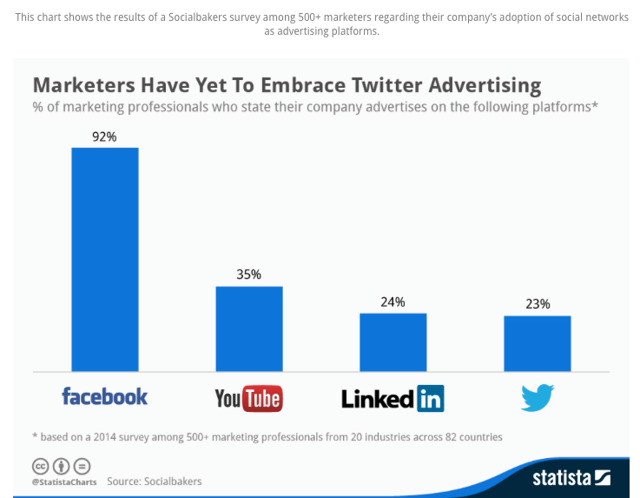 Click to enlarge
With the explosive growth in ad revenue comes Facebook's need to compete effectively. We have already seen Facebook's popularity with marketing, but hidden in a news report is Facebook's ad share growth - up to 21.7% from 17.5% in 2013.
Marketers utilize Facebook for a variety of reasons, namely for Facebook's huge user base of 1.2 billion MAUs that use Facebook each month. Marketers can further target by several filters, point users to other web destinations while using Facebook's ad system and measurement tools.
[Facebook] offers marketers the following benefits:

| | |
| --- | --- |
| | |
| • | Targeted Reach. With over 1.2 billion MAUs using our service every month, Facebook offers marketers the ability to reach their existing and prospective customers. Marketers can target their ads to people on Facebook based on demographic factors such as age, location, gender, education, and specific interests that users have chosen to share with us. In addition, marketers may choose to match their own data or third-party data with ours, so they can find existing customers or potential new ones directly on Facebook. We also offer marketers the ability to include social context with their marketing messages. Social context is information that highlights a friend's connections with a particular brand or business, and we believe that social context improves ad effectiveness. |

| | |
| --- | --- |
| | |
| • | Facebook Ads . Our ads offer marketers the opportunity to communicate their messages to consumers and to direct them to specific destinations such as a web page or a Facebook Page. Marketers purchase ads that can appear in multiple locations including in the right-hand side of most page types on personal computers and in the News Feed on personal computers or mobile devices. Our ads are effectively integrated into the Facebook experience in a manner designed to deliver impressive returns for marketers while optimizing the user experience. |




| | |
| --- | --- |
| | |
| • | Facebook Ad System. Our ad creation tools are designed to align with marketers' advertising goals. When marketers create an ad campaign on Facebook, they can specify their marketing objectives and the types of people they want to reach. In addition, marketers can use our products such as Custom Audiences to more precisely target people such as those who have previously expressed interest in that particular marketer. Using our ad system, marketers indicate the maximum price they are willing to pay for their ad, either per click (CPC), per action (CPA), or per thousand impressions (CPM), and their maximum budget. Our system also supports guaranteed delivery of a fixed number of ad impressions for a fixed price. Facebook's ad serving technology dynamically determines the best available ad to show each user based on the combination of the user's unique attributes and the real-time comparison of bids from eligible ads. We enable marketers to deploy and adjust campaigns rapidly. |

| | |
| --- | --- |
| | |
| • | Ad Measurement. Marketers can use our platform to track and optimize both the in-store and online performance of their ad campaigns. Offline and online conversion measurement and partnerships with third parties help marketers understand how their ad investments impact specific business outcomes (e.g. in-store sales, offsite conversions, application installs). These insights also help marketers make modifications to their ad campaigns to maximize results. |
Facebook has been able to compete successfully in mobile advertising and has a plan on how to maintain its platform. Although Google should not be left out of the equation, as Google is Facebook's main competitor.
The same report linked above demonstrated Google's prowess as well in mobile advertising - having an expected market share of 46.8% in 2014, down from 2013's 49.8%. Google will have to face an expected $770M drop off in PC search revenue, although its mobile search revenue is expected to grow by $1.76B. Google's web browsing only accounts for 20% of smartphone usage, with its AdMob unit still being a top mobile ad player. Google is expected to integrate mobile app content within its search results, this could boost revenue for Google in the future.
Twitter (NYSE:TWTR) cannot be left out of the equation. Tons of news breaks on Twitter each day, especially stock market related news. Twitter's mobile ad sales account for 75% of its revenue, and its market share is expected to rise 2.6% from 2.4%.
(click to enlarge) (Source)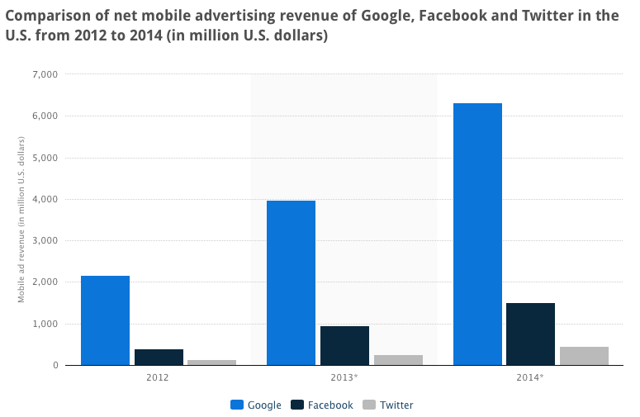 Click to enlarge
Facebook, Google and Twitter are all expected to see mobile advertising growth in 2014. All in all, Facebook will be a large beneficiary of the growth in mobile advertising as marketers continue to choose Facebook over Twitter, Facebook does not face a falling market share like Google and Facebook is continuing to monetize popular applications - such as instagram.
The lion's share of Facebook's revenue comes from mobile advertising, an area that Facebook has shown they are able to compete successfully in. As such, they will see meaningful mobile ad growth in 2014.
Disclosure: I have no positions in any stocks mentioned, and no plans to initiate any positions within the next 72 hours. I wrote this article myself, and it expresses my own opinions. I am not receiving compensation for it (other than from Seeking Alpha). I have no business relationship with any company whose stock is mentioned in this article.
Additional disclosure: Always do your own research and contact a financial professional before executing any trades. This article is informational and is in my own personal opinion.