With today's revelation that Apple (NASDAQ:AAPL) is in talks with Comcast (NASDAQ:CMCSA), what can be expected for the future of Netflix (NASDAQ:NFLX)? The notion that Netflix has finally met its match and that Apple is going to eat Netflix's lunch might jump to mind, and presumably that's why we saw a precipitous drop in today's price.
A look at the possibilities and competition
One thing that stands out historically about Apple is that Apple does not give anything away, so whatever Apple and Comcast are discussing, the particulars are not likely to include unlimited streaming ala Netflix, and that puts Apple and Netflix into distinctly different business models. What that means is that Apple and Netflix may not find themselves in direct competition.
Apple's model is likely to be some sort of expansion of the existing Apple TV service, which includes a PPV streaming service. This product, the Apple TV box, produced 1 billion in revenue for Apple in 2013. Meanwhile, Netflix has all but surpassed HBO (NYSE:TWX) in revenue, with 1.2B and 1.3B respectively, in the 4th quarter 2013. While Apple TV has grown over the years, it is not clear that Apple TV is an eminent threat to either Netflix, which continues to grow exponentially, or HBO, as both have 5 times the revenue, and Netflix continues to grow subs on a global scale.
There has long been talk of Apple shaking up the TV viewers of the world with something new, and perhaps this is something to be concerned about.
"Industry executives and Apple observers continue to believe that the company will come up with some sort of wearable device, like a smart-watch, and speculation persists about a long-rumored TV product of some sort to shake up the living room viewing experience."
In fact, Apple TV allows the user to stream Netflix, so it remains unclear to the author that Apple is planning something radical, or is simply following Netflix's lead in facilitating the smooth functionality of their devices. There are complaints concerning throttling going back to 2008, and as recently as February, Apple's own troubleshooting page lists ISP speed as the first step in resolving playback issues, which would seem to be a highly likely reason for talks with Comcast given the recent deal that Netflix and Comcast put together.
Should Apple enter the space as a more direct competitor, it is likely that they would continue with some version of a PPV service by adding free titles as well. That would put them more in direct competition with Amazon (NASDAQ:AMZN), HULU (DIS, FOX, GE), VUDU (NYSE:WMT) and the like, which, combined, have something slightly over 10% market share, with Netflix carrying the rest. While Netflix will have to work to keep market share, Apple's entry into the space in some more direct way hardly smacks of an eminent loss of share for Netflix since Netflix clearly dominates the streaming market.
Then there was the rumor today that Carl Icahn sold half of his remaining shares in Netflix, which later proved to be false. The announcement of the sale of 1/2 of his position back in October 2013 produced a strong negative move in the stock's price. There would be no reason to believe that a similar announcement wouldn't produce a similar result.
Technically speaking
As of today's down draft, Netflix is very close to the lower trendline of the uptrend that it has enjoyed since bottoming in 2012. This is coincident with the lower trendline of the more recent 2013 trendline, and support in the upper mid 370's in the chart.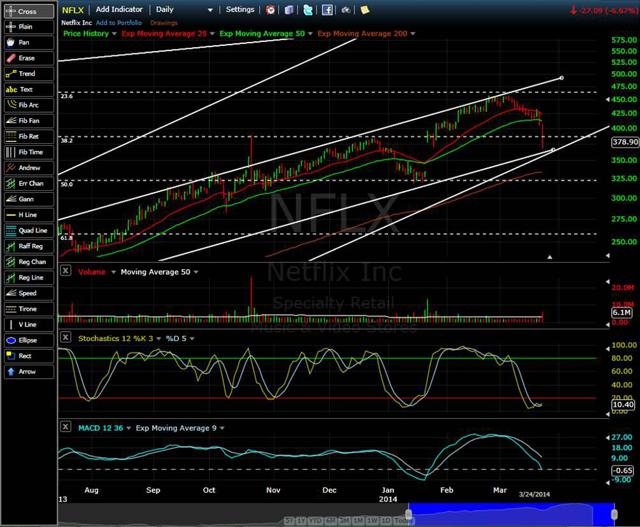 Click to enlarge
Daily Stochastic is well into oversold territory and Weekly Stochastic, while out of overbought territory is still well above the recent low on 1/17/14. A bottom here would be bullish, putting in a higher low.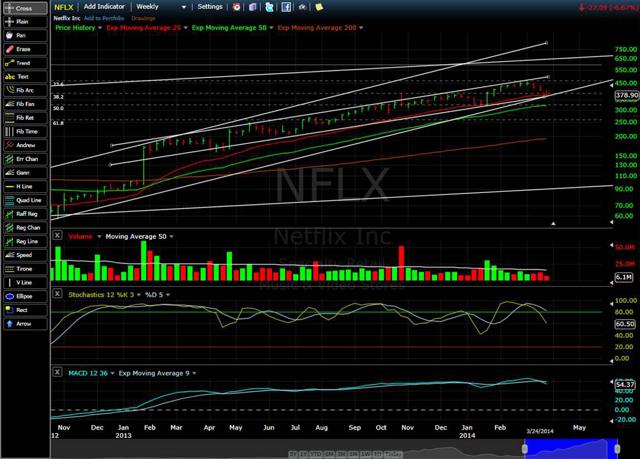 Click to enlarge
In addition, the price has hit the 38.2% Fibonacci retracement line.
All of these suggest that Netflix could go higher from this level.
The troubling technical is the reducing volume since the 2012 lows. That should indicate a progressive loss of interest in the stock, and potentially a price drop, however, since the volume has been dropping since the middle of 2012 while price has steadily increased, it is not clear at all what meaning it might have at this moment. It does represent a divergence, and ultimately could resolve itself in a sharp price drop.
In conclusion
While it may be tempting to assign fault to Apple for the large drop in Netflix price today, it is not clear at all that Apple represents any significant competition to Netflix, and it seems far more likely that the drop occurred on the rumor of Carl Icahn selling ½ of his remaining shares, which ultimately proved to be false. Technically, this move puts Netflix at a nice price to enter a long position at least for the short term.
Disclosure: I have no positions in any stocks mentioned, and no plans to initiate any positions within the next 72 hours. I wrote this article myself, and it expresses my own opinions. I am not receiving compensation for it (other than from Seeking Alpha). I have no business relationship with any company whose stock is mentioned in this article.
Additional disclosure: Thanks to Worden Brothers for the charting software.