Many of you have already read various articles on Seeking Alpha and elsewhere regarding Plug Power Inc. (symbol: PLUG). The article below outlines why I believe that shares of PLUG should soon be on their way to $8, with an eventual price target of $14. There are a number of catalysts for this, but this article will focus mainly on the technical (chart-wise) reasons why right now maybe the right time to take a long position (or cover your short), as I have done so over the last couple of days.
Take a look at the current chart of PLUG: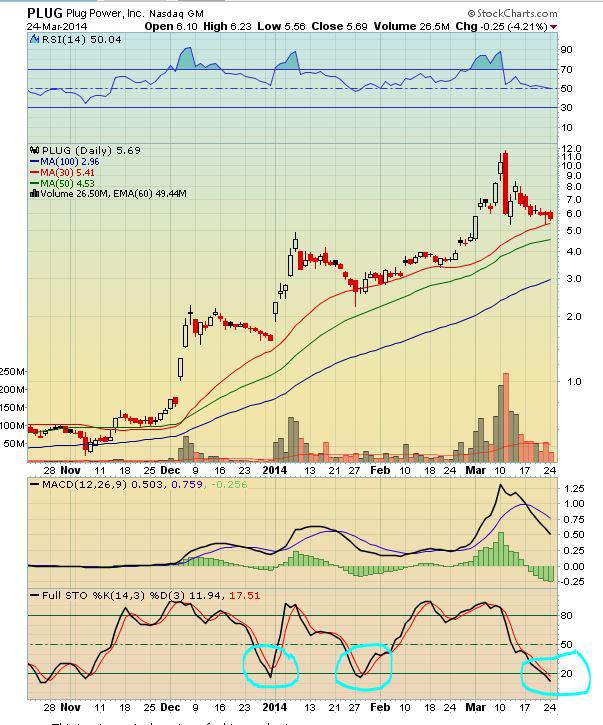 One can clearly see that based on the March 24, 2014 closing price of $5.69, Plug Power (SYMBOL: PLUG) is no longer overbought as the the RSI has a reading of 50 (from an extreme level of 94). Please also note (I have circled using the cyan color) that last two times the Full Stochastics have fallen to the current levels (below 20), the stock started a significant new bullish uptrend.
Now, please take a look below at the P&F chart of PLUG. For those who do not know what P&F stands for, it stands for Point & Figure chart. You can read about it in great detail here.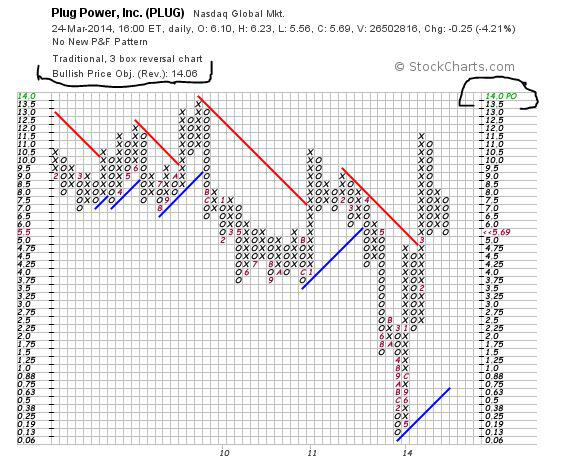 The current chart setup is targeting a potential $14.06 price objective. I have underlined it in black.
Short Interest update on Plug Power
One can clearly see that since 2014 started, as the price of PLUG climbed from the $2 dollar levels (and as high as $11.72) to the current mid-$5's, the short interest has increased almost three-fold from 7 million shares sold short to almost 20 million. Data from Nasdaq.com :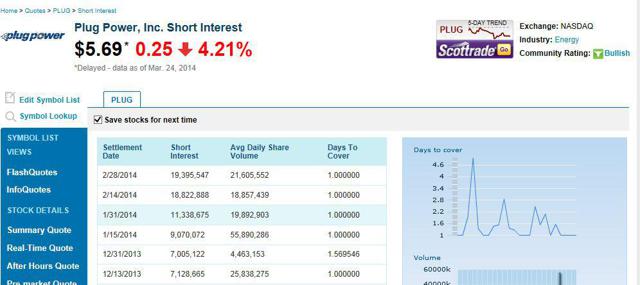 The latest information that I can find is that over 39% of the trading float is now sold short. This is historically the highest percentage level ever:
Short Info Data from GuruFocus.com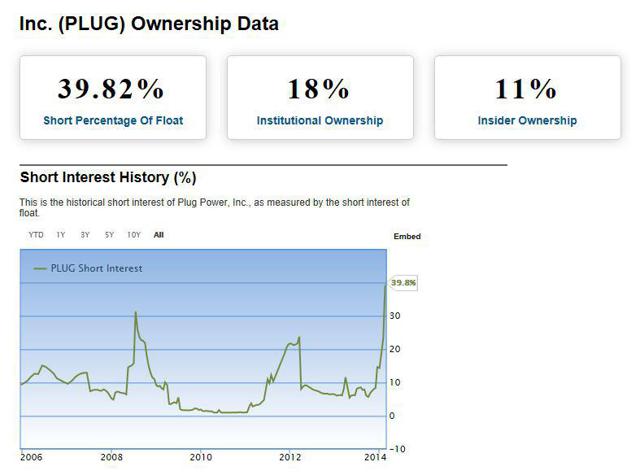 Insider Sales of Plug Power in 2014
What may shock you is that since 2014 started (and PLUG stock price gaining as much as 500%), no insider has sold any shares on the open market. Even when the stock hit $11 a couple of weeks ago, no one sold! Data from Yahoo.com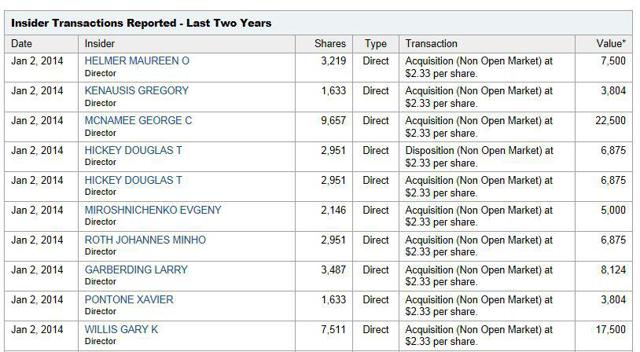 Conclusion
Believe it or not, but I myself was short PLUG (along with BLDP and FCEL) until a few days ago. I then did some more in-depth reading (from both sides of the argument), studied the chart and realized that Plug Power could be one of those special stocks that are hated by fundamentalists but turn out to be one of the pioneers & market leaders. Those type of companies certainly get rewarded with premium. Anyone remember Tesla shorts at $80, $100, $120 levels? Interestingly enough, it was the same Citron Research shop (which recently bashed PLUG) called the "top" on Tesla (SYMBOL: TSLA) when it was trading around the $120 level in August / September 2013. Guess how high Tesla was trading just five months later: $250+
I believe that there is now a perfect opportunity for a long trade on PLUG, with the first potential target being $8, then $11 and later on a possible challenge to the $14 price level. I think that this unique technical setup, combined together with the enormous short position and insiders not selling shares, is by itself a lethal combination for an epic run-up (short squeeze?). And of course there is always anticipation of new contracts being announced, expansion of existing ones and so on.
In case you think that my price targets are somehow unattainable, please take a look at a recent article written by Michael Bigger, a former banker / trader who managed $5+ billion accounts. He started buying PLUG at .23 cents (yes, down there) and he thinks that PLUG has an eventual $10 billion market cap possibility (that works out roughly to $100 per share).
Disclaimer: Material presented here is for informational purposes only. Nothing in this article should be taken as a solicitation to purchase or sell securities. Before buying or selling any stock, you should do your own research and reach your own conclusion. Further, these are our 'opinions' and we may be wrong. We may have positions in securities mentioned in this article. You should take this into consideration before acting on any advice given in this article. If this makes you uncomfortable, then do not listen to our thoughts and opinions. The contents of this article do not take into consideration your individual investment objectives so consult with your own financial adviser before making an investment decision. Investing includes certain risks including loss of principal.
Disclosure: I am long PLUG. I wrote this article myself, and it expresses my own opinions. I am not receiving compensation for it. I have no business relationship with any company whose stock is mentioned in this article.