Last week I wrote an article on Mortgage REITs (or mREITs) where I declared that it could be time to take a closer look at the mispriced risk relative to the more volatile asset sector. Accordingly, I am starting to "dip my toe" into the higher yielding REIT class, as I believe there could be an increased opportunity to benefit from the securities that are guaranteed by Fannie and Freddie with backing of the U.S. government.
Agency mREITs have no credit risk in their MBS portfolio and, according to NAREIT, hold 5% or less of the Agency MBS market. In a recent interview, Calvin Schnure, Senior Economist at NAREIT explains the value proposition for Agency mREITs:
There's a need for several hundred billion dollars in coming years to recapitalize the mortgage market as Fannie and Freddie wind down, the Fed tapers its purchases, and the housing market gets back on its feet. The mREIT structure is a proven vehicle for raising capital in public markets and managing the risks.
mREITs have been in and out of vogue for the last five years or so (many of them sprung up in 2007/2008 and others after the financial crisis in 2009) due to their high dividend yields. During the last year or so, however, many investors have discovered that risk is embedded in mREITs as well. Many have chosen to ignore the reductions in book values and cuts in the dividends, as the yields are still decent.
However, one should not ignore cuts to the dividends and reduction in book value by saying, "I am a long-term investor, so book value reductions and dividend cuts don't affect me". They do. The book value is the base from which returns and yields are generated. As a result, if an investor is adding mREITs to their portfolio, they might want to start with an mREIT that is more conservative and pick the risk-adjusted ones that are easiest to manage and understand. One such mortgage REIT is Capstead Mortgage Corporation (NYSE:CMO).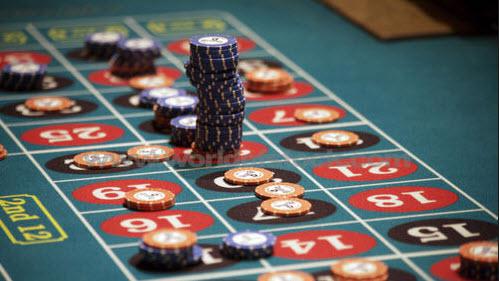 Capstead Mortgage Corporation - Simple But Proceed With Caution
Capstead Mortgage Corporation invests in a leveraged portfolio of almost exclusively residential adjustable-rate mortgage ("ARM") securities issued and guaranteed by Fannie Mae, Freddie Mac or Ginnie Mae. ARM securities reset to more current interest rates within a relatively short period of time. Founded in 1985, Capstead is the oldest publicly-traded Agency mREIT.
As an investor in adjustable rate loans, the risk that Capstead takes on their books is spread risk - the risk that ARM spreads will change and impact book value. While this risk may not seem substantial, one must consider that as an adjustable rate (hence lower rate) investor, leverage will be higher to create the dividend and therefore all risks are magnified. As of December 31, 2013, leverage was 8.5x (having increased from 8.0x a year earlier).
Capstead's portfolio contains securities that are typically backed by seasoned mortgage loans with coupon interest rates that are currently resetting to more current rates at least annually, or will begin doing so in five years or less (fixed then float loans). Graphically, the portfolio looks like this: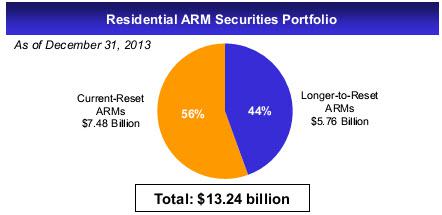 Fifty-six percent of the mortgages in the portfolio will reset within one year. This reset profile allows the mortgages to reset to current rates earlier and experience less price fluctuation.
As earlier stated, due to the shorter duration nature of the mortgages (resets), portfolio leverage has to be higher in order to generate returns and yield. As the chart below shows, this REIT has been steadily increasing leverage to keep returns/dividends high.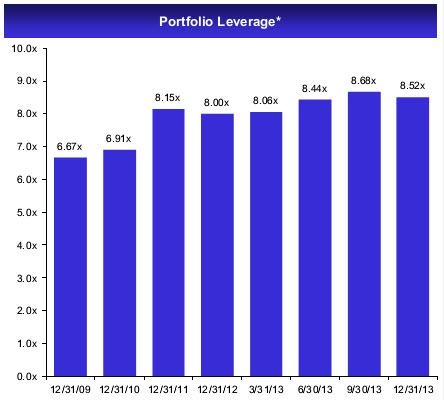 If we look at other agency mortgage REITs, we can get a feel for the use of leverage in an adjustable rate portfolio. For this purpose, we will look at Annaly Capital (NYSE:NLY), American Capital Agency Corp (NASDAQ:AGNC), MFA Financial (NYSE:MFA) and Hatteras Financial (NYSE:HTS):

Now My Disclaimer
Some of my readers (and newsletter subscribers) know that I'm not a huge fan of mREITs. In fact, up until very recently, I have not mentioned the "kissing cousins" (to Equity REITs) in a positive light. It's almost impossible for me - a true value investor - to recommend a company where I have to use mathematical ratios, and even astrology, to determine when a stock is going up or down.
That's not to say that mREITs are bad investments; however, I must stress that I believe it is better to be in the market, invested in value stocks that offer the highest potential returns, than to play the timing game.
Given my knowledge of the mREIT sector, I believe that CapStead is a speculative operation and based upon the earnings history, the dividend record has been considerably volatile. To me, the real danger to an investor is being out of the market when there is a big move (downward) and then accepting the fact that one must endure temporary (or even permanent) market declines.
We all know that the true recipe for creating wealth in the stock market is to find high quality stocks with above-average appreciation potential and safe and growing dividends. It is important to recognize the fact that dividends are vital to the recipe, as they represent a commitment by the company to shareholders - a commitment that many are counting on for income. In the book, The Ultimate Dividend Playbook, Josh Peters explains:
Dividend increases - even more than current earnings or earnings projections - are a forward-looking indicator of growth and total return prospects.
Peters went on to explain:
A ridiculous yield combined with an inherently vulnerable business model sends ominous signals of doom.
CapStead's current dividend yield is 10.48% and on March 13th the company announced plans to pay a first quarter 2014 common dividend of $0.34 per common share (on April 17, 2014 - to stockholders of record as of March 31, 2014.).

As you can see below, CapStead's dividend yield has been somewhat "choppy" and much less predictable than the lower-risk Equity REITs. This implies that CapStead (and most mREITs) is much less durable (than most blue chip Equity REITs) and the earnings stream is much less predictable given the vulnerability of higher levered business models.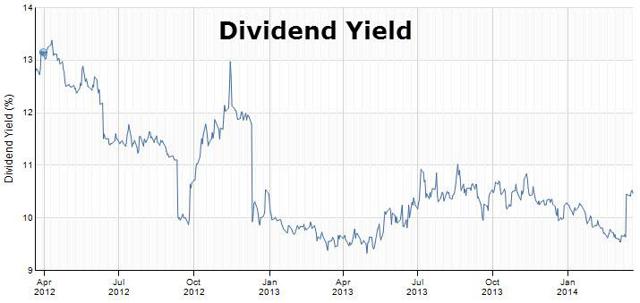 The FAST Graph below looks more like Six Flags than CapStead's earnings history; however, as you can see (below), the dividend history (the pink line) suggests the volatility reflected in the high-leverage platform. It's clear that investors in CapStead are taking on considerably more risk without compensating returns. In a nut shell, the decision to invest in CapStead should be based on one's risk tolerance level and acumen of the underlying business model.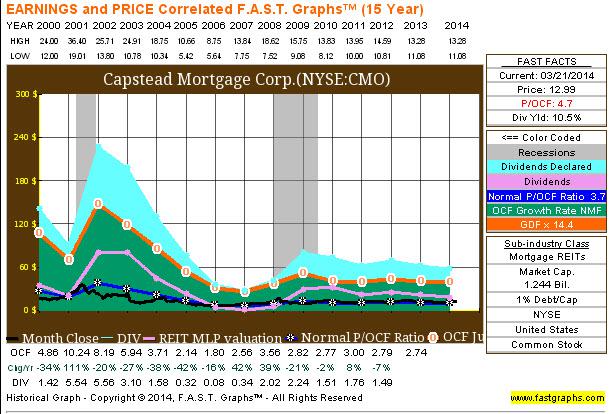 Ben Graham once remarked that earnings are the principal factor driving stock prices and based upon CapStead's 5-year total return performance, this mREIT is no proxy for sustainable cash flow. Over the last 5 years CapStead has returned 19.30%, compared with more favorable Equity REIT alternatives, such as: Realty Income (NYSE:O) - returned 135%, W.P. Carey (NYSE:WPC) - returned 172%, and National Retail Investors (NYSE:NNN) - returned 128%.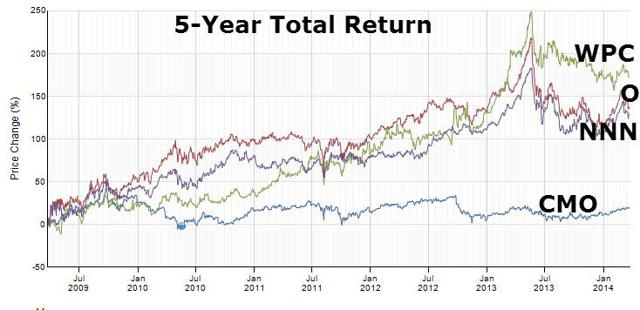 Admittedly, comparing a durably attractive dividend-REIT like Realty Income with a less-than-durable REIT like CapStead is not an "apples to apples" comparison. As noted at the outset, an mREIT is an asset class that is driven by spread investing, as opposed to hard asset ("brick and mortar") investing. The fuel for mREITs is called leverage and most can't sustain their dividend without utilizing significant levels of it.
Is The Thrill of Victory Worth the Agony of Defeat?
OK. Now I will share my recommendation. I trust by now you understand my fear of the speculative mREIT business model. I am certain there are investors who have created significant wealth by trading mREIT securities, but I am not one of them.
Remember that REITs cannot leverage themselves too much given their lack of retained capital. Accordingly, that equity cushion provides considerable collateral value for the preferred shares. If you consider the default rate of REIT preferreds versus other high income alternatives, REIT preferreds are the most favorable. In addition, REIT preferreds are safest because they count towards REIT distribution requirements and are paid before common dividends.
I find that the CapStead preferred issue, CMO-E, is attractive. At $24.43, the issue is trading at a discount to par with a strip yield of 7.90%. Because this mREIT focuses on ARMs, rising rates can be opportunistic. The issue goes ex-dividend in two days ($.47), so at $24.43 you can lower your basis in the stock to below $24.
In summary, I will continue looking for value. That means I will not consider the yield of a specific REIT until I've analyzed the safety of the dividend first. In my opinion, CapStead's common dividend yield of 10.48% does not compensate for the higher risk that impedes the dependability of the dividend stream. Given my risk-tolerance level, I cannot justify this opportunity and more importantly, I cannot stomach the potential for loss. I thought this quote from Frank J. Williams (from If You Must Speculate Learn The Rules) would sum up the thesis of this article:
An investor is one who buys sound securities where he knows his principal will be safe and he will get a fair income return on his money. The speculator is he who buys today with the hope of selling tomorrow or next month at a higher price.
Value investing is the stress-free route to investment success and even though it's easy for me to write about it, it's not always easy to execute it in "real life". Investors who pay close attention to profit margins (over a span of time) can predict the most favorable results (than trying to play the timing game). For more information on my "sleep well at night" ("SWAN") REIT picks, check out my newsletter HERE.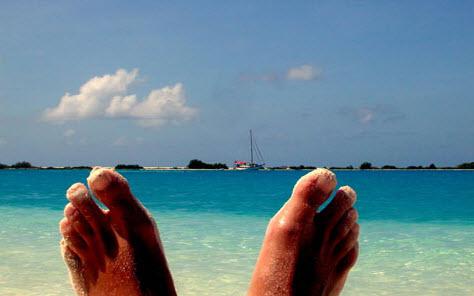 Sources: SNL Financial and FAST Graphs.
Disclaimer: This article is intended to provide information to interested parties. As I have no knowledge of individual investor circumstances, goals, and/or portfolio concentration or diversification, readers are expected to complete their own due diligence before purchasing any stocks mentioned or recommended.
Disclosure: I am long O, DLR, VTR, HTA, STAG, UMH, CSG, GPT, ARCP, ROIC, MPW, HCN, OHI, LXP, KIM, BX. I wrote this article myself, and it expresses my own opinions. I am not receiving compensation for it (other than from Seeking Alpha). I have no business relationship with any company whose stock is mentioned in this article.