There are many factors behind the continued growth of AutoZone (NYSE:AZO), an automotive aftermarket retailer, which is showing no signs of stopping anytime soon.
Over the last year, the stock has returned 35.67% compared to 58.68% and 44.20%, respectively, for Advance Auto Parts (NYSE:AAP) and O'Reilly Automotive (NASDAQ:ORLY). Although AutoZone has been an industry-laggard of late, below are a few reasons to remain optimistic on the stock.
30th-straight quarter of double digit EPS growth
In the fiscal-second quarter that ended Feb. 14, the Memphis, Tennessee-based auto parts retailer reported net sales of $2 billion, an increase of 7.3% from the same period a year ago. Accordingly, domestic same-store sales rose 4.3% for the quarter. Net income for the quarter increased by as much as 9.4% - to $192.8 million - over the same period last year, while diluted earnings per share grew 18.8% to $5.63 per share, marking the thirtieth consecutive quarter of double digit earnings per share growth. These are remarkable figures by any means and reflect the company's ability to sustain growth.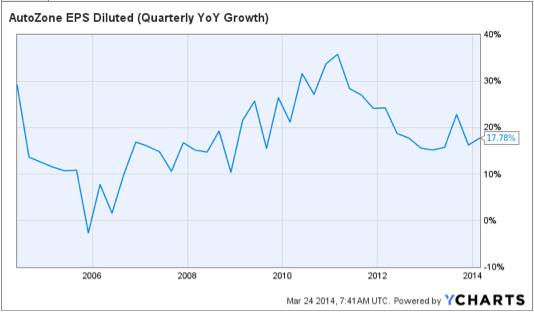 Average age of vehicles continues to rise
According to a recent study by Polk, a global automotive market intelligence firm, the average age of all light vehicles on US roads is at an all-time high of 11.4 years. That compares to an average age of 8.4 and 9.6 years, respectively, in 1995 and 2002. In addition, Polk expects the trend to continue through 2016, while prices of vehicles in operation (VIO) decline providing greater incentive for customers to purchase used rather than new. Clearly the shift gives way to significant opportunities for certain automotive aftermarket segments. Simply put, it means more potential customers for automotive retail chains like AutoZone.
Business thrives in extreme weather conditions
Unlike most other industries, auto part retailers burgeon in severe weather conditions. AutoZone delivered a strong fiscal-second quarter earnings helped by the polar vortex. As temperatures fell to as low as minus 37 Fahrenheit earlier this year, it caused more wear and tear on vehicles. Apparently, severe cold weakens car batteries and thickens engine oil, affecting the engine that in turn results in considerable wear and tear of other parts. Brakes, wipers and tires also wear out more due to snow.
On the other hand, damages or deterioration sustained from hot weather conditions can be even worse. Excessive fluid evaporation affects the car battery and can damage its internals, rendering it useless. Extreme heat increases stress on tire tread-cracks, sidewall bubbles, bald spots or other structural defects to cause disintegration or a blowout, particularly at high speeds. Belts, hoses and cooling system failures along with paint and upholstery issues often happen in hotter months.
In recent years, heat, flood or icy cold, extreme weather events have increased in intensity as well as frequency. With very little being done to contain climatic changes and no factual evidence of a trend reversal so far, such events are only likely to increase in the future.
Do-it-yourself trends
As a car ages, its maintenance and repair expenses increase. It only makes sense to own an old car if you are inclined to DIY repairs. Otherwise, costs of maintenance or professional repair can sometimes exceed the actual value of the car. In other words, the DIY fad is one of the reasons why average age of vehicles in the US is on the rise. Take away DIY-repairs, and a number of old car users will get rid of their vehicles.
According to a 2013 study by AutoMD, despite an improved financial outlook, 79% of car owners choose to do their own repairs, citing saving money or an ageing vehicle as the primary reason. As a result of this trend, the automotive aftermarket industry continues to benefit. Needless to say, the DIY information on the Internet continues to become more readily available, which further promotes DIY repairs.
Growing store count
Last quarter, the company unveiled 28 new stores in the United States and four new stores in Mexico. For the full year 2013, it opened 195 net new stores. As of Feb. 15, 2014, AutoZone had 4,871 store in the US, 367 stores in Mexico, and four stores in Brazil for a total count of 5,242. Its continued expansion in domestic and international markets will help sustain the revenue growth, as well as support the growth of its US commercial-parts market share that is still only 2.5%. Apart from that, AutoZone's commercial program - that engages in prompt parts delivery to repair and service stations nationwide - is currently a work in progress as the company sees significant improvement areas to increase the average revenue per program. With improvements and as more stores join the program, the company will be able to generate better sales in future.
Returning cash to shareholders
AutoZone has a rather strong history of stock buybacks. Over the last five years, the company has reduced its shares outstanding by as much as 37.37%. In comparison, Advanced Auto Parts and O'Reilly Automotive reduced their share count by 23.66% and 21.86%, respectively, during the same period.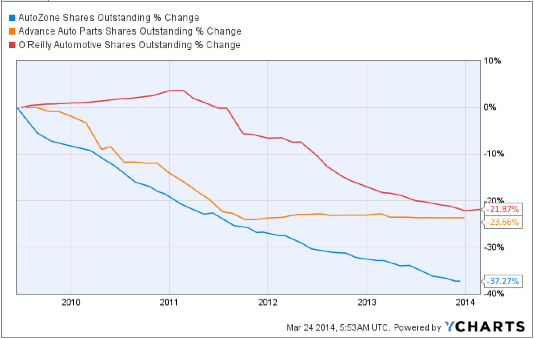 Under its share repurchase program, the company repurchased 404,000 shares of its common stock for $200 million during the fiscal-second quarter of 2014. Year to date, the auto parts retailer has bought back 1.082 million shares and had $727 million remaining under its current share repurchase authorization.
Outlook for 2014
The company is expected to report a year-over-year revenue growth of 5.78% to $2.33 billion in the quarter ending May 14, according to consensus analysts' estimates on Reuters. It is expected to increase per-share earnings by 16.23% to $8.45 in the quarter. Therefore, it is very much likely to see a 31st straight quarter of double-digit EPS growth. For the full year 2014, the company is forecasted to report revenues of $9.49 billion and earnings of $31.57/share.
Bottom line
AutoZone has performed exceptionally well for the last several years and the industry trends indicate that the company will continue to perform well. Figuratively speaking, the company's rear-view mirror shows enormous success, while windshield shows several opportunities down the road.
Disclosure: I have no positions in any stocks mentioned, and no plans to initiate any positions within the next 72 hours. I wrote this article myself, and it expresses my own opinions. I am not receiving compensation for it (other than from Seeking Alpha). I have no business relationship with any company whose stock is mentioned in this article.