First of all, I'm long Apple (NASDAQ:AAPL) so the rumor that Apple and Comcast (NASDAQ:CMCSA) are in talks over a joint venture in streaming video was to my advantage. The propaganda helped my AAPL shoot up a little bit. However, I pity the Netflix (NASDAQ:NFLX) holders who got dealt a bad beat.
I know how upsetting it is to have your ticker get beaten down by the market due to rumors. My 3D Systems position is still in the red because Mr. Market is susceptible to hearsay. Just because The Wall Street Journal was the source of this piece of news, it doesn't really mean that Apple and Comcast are actually going to push through with this joint venture.
Yes there might be discussions between these two companies. The WSJ authors who wrote the story might have a great scoop but Dan Rayburn questioned the accuracy of the story. However, The Wall Street Journal is so influential that all the things it publishes have a crowning halo of legitimacy. Rayburn's rebuttal of some technical details fell on deaf ears. The WSJ report ignited a sell-off of NFLX.
Shorts, along with a flock of gullible and panicky investors caused NFLX to drop more than 7% after WSJ published the story. Gossip is a very effective technique to quickly shoot down a high-flying stock like Netflix. A lot of investors are susceptible to the news so the sell-side crowd is very adept in exploiting hearsay to make a quick buck.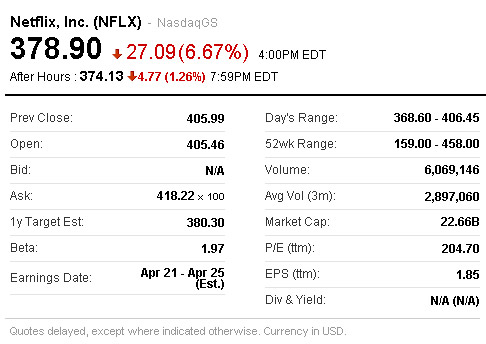 Just like what happened to my 3D Systems investment, NFLX took a dive because of hearsay evidence. I am not the only one who is skeptical about the Apple and Comcast deal. More enlightened experts share my point of view that this streaming TV joint venture has little chance of ever coming into fruition. If ever it really develops into something more than just a rumor, the project still have a long time to become a reality.
Comcast And Apple May Not Agree On Terms
Apple wants to make its old hobby, the Apple TV, to stream live and on-demand video streams much like what Netflix is doing now. Apple needs new products and services to satisfy investors grown wary of the company's big reliance on iPhone sales - which already contributes more than 56% of Apple's revenue.
Before the WSJ's report, Apple was already rumored to be in negotiation with Time Warner Cable last month with a similar speculation that the cable company will use the Apple's upcoming set-top box. However, nothing real came out of the said news leak.
The new gossip now says Apple wants priority "last-mile" bandwidth access for Apple's streaming video services. Dan Rayburn attacked this statement, saying the WSJ authors did not really understand how content is delivered. I believe Rayburn more than WSJ.
Comcast, the biggest cable service operator in the U.S. may also have trouble complying with this priority request of Apple. Netflix already signed an agreement with Comcast last month for a direct connection to Comcast's cable and internet network. The said deal allows customers to receive improved Netflix viewing experience.
Furthermore, Comcast but may not agree to Apple's request that future users of its Apple TV set-top boxes have to log in using their Apple ID. Such permission gives too much control to Apple. Sources reveal that Comcast is loath to surrender to Apple the right to manage customer data.
It is also unlikely that Comcast is enthusiastic about Apple's plan to sell the set-top boxes directly to customers instead of letting Comcast rent them out to subscribers.
I'm going to trust the experts, I agree with Rayburn's report that WSJ's was inaccurate. Nevertheless, the damage was done. NFLX investors got knocked down by a -7% drop hook.
My Recommendation
Just like what I did with my DDD investment, it is good for NFLX long investors to endure propaganda-driven down cycles. It is also an opportunity for those skilled and brave traders to ride the shorts by buying put options to make money out of their actions.
NFLX doesn't have the stratospheric Price/Sales of 3D Systems, but its high TTM P/E of 204 make it still vulnerable to rumors. Savvy shorts are always wishing for bad news gossip to induce panic among nervous investors. I do not recommend a buy on the dip for Netflix now. The price may still go lower because Apple's mammoth cash reserves make it a credible future competitor to Netflix.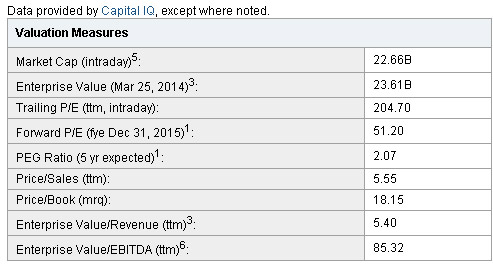 Conclusion
Netflix is already facing serious competition from Verizon and Amazon Prime. Apple might just be able to persuade Comcast or TWC to help the iPhone maker become a serious contender in the streaming media market.
Netflix's double digit growth rate may no longer be feasible with Apple/Comcast in the picture. Apple, despite its huge cash reserves, is unlikely to make a tender offer for Netflix anytime soon.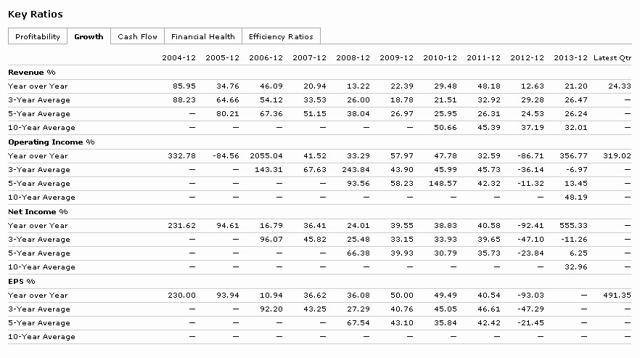 Due to the fear factor that Apple/Comcast rumors provoked, NFLX may have hard time ever reaching its earlier March 5 high again soon. The market for Netflix is on a downward spiral since it hit $453 20 days ago. More rumors can only aggravate the situation.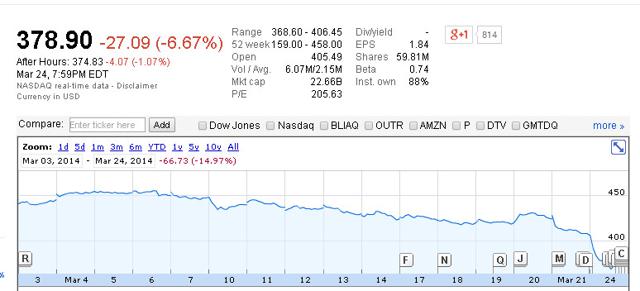 The WSJ report definitely caused a higher volume of sell-side trading on March 24. New long-term investors should stay away from Netflix for now. The stock may fall further. The bears are strong and many this week.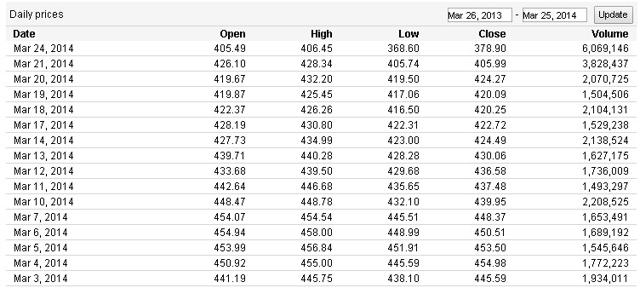 Disclosure: I am long AAPL. I wrote this article myself, and it expresses my own opinions. I am not receiving compensation for it (other than from Seeking Alpha). I have no business relationship with any company whose stock is mentioned in this article.