Existing home sales for February were released last Thursday. Although the reported headline number was in line with analyst expectations at a 4.6mm seasonally adjusted annualized rate - or SAAR - existing home sales have now declined for six straight months. They have fallen to the same SAAR they were at in 1998. As I will show with a more detailed look at the data that has been released by National Association Realtors, the underlying data is reflecting the high likelihood that the housing market is in trouble.
The report for February (data table link) showed that, seasonally adjusted, home sales dropped .4% from January and 7.1% from February 2013. Three of the four regions experienced double-digit sales declines from 2013 (Northeast, Midwest, West) while the South experienced a .5% decline. Moreover, existing home sales have dropped 14.4% from their peak level in July 2013. Please note that the data is SAAR, meaning that the NAR uses its statistical models to "cleanse" the data of seasonality. This enables us to compare and analyze month to month sales regardless of the time of year.
While many analysts plus the NAR chief economist, Lawrence Yun, have been blaming declining sales on low inventory, you can see from the data link that inventory was up 6.4% from January and 5.3% from February 2013. In fact, the months-supply metric was up over 13% year over year. As this graph shows, inventory has been steadily rising since December (source: NAR):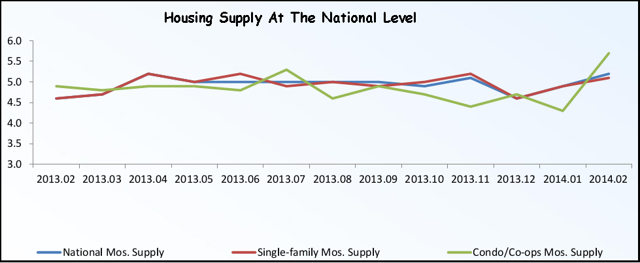 Redfin, the national internet-based real estate brokerage and research firm explains that,
Several markets along the West Coast have seen sharp increases in inventory, yet home sales in the West fell 13.4 percent year over year, hitting their lowest point in five years in the first two months of 2014.
The article linked right below the graph documents several West region cities like Los Angeles, San Diego and Phoenix in which housing inventories have increased anywhere from 17-38%. Yet, those cities experienced significant year/year declines in home sales.
It is thus becoming pretty clear that low inventory has not been the primary factor behind declining homes sales. Furthermore, as I have detailed in some previous articles, the weather has not been a credible factor either.
The fundamental problem in the housing market is structural. As I explained in my previous article both the investment buyer and first-time buyers are leaving the market. The latest data from the NAR highlights this (source is the NAR, linked above, edits are mine):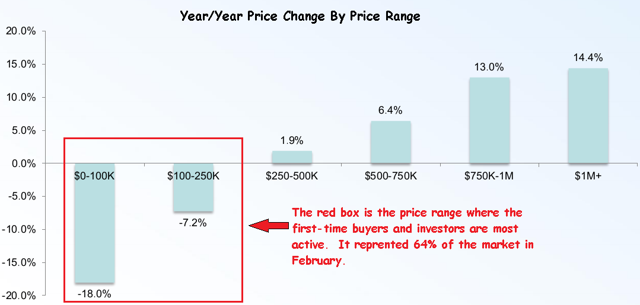 This chart shows the change in price by price range for February. The red box show the price range which represents investment and first-time buyers. I detailed in my last article the fact that the big investment buyer cohort has been significantly reducing its purchases. As you can see, the lowest priced, distressed price segment experienced an 18% drop in price year over year. The $100-250k segment which is where the majority of first-time buyers are populated dropped by 7%. Clearly, prices would not be plunging like this if demand wasn't falling.
Per the data released by the NAR, distressed homes - foreclosures and short-sales - accounted 16% of sales in February vs. 25% in February 2013. First time buyers were 28% of sales vs 30% in February 2013. While the decline does not appear severe, remember that overall sales fell 7% year over year, meaning first time buyers were a lower percentage of a smaller sales "pie." NAR research showed that (from the link at the top) 20% of all buyers under the age of 33 - the prime group of first-time buyers - delayed buying a home because of outstanding debt, with student debt being the biggest problem. Thus, this data provided by the NAR for both investment and first-time buyers further reinforces my thesis that the demand side of the housing market is now fundamentally impaired.
I've got one last chart which will drive this point home. This comes from Dshort.com Advisor Perspectives and it shows the high correlation between the level of mortgage purchase applications and household median income going back to 1995: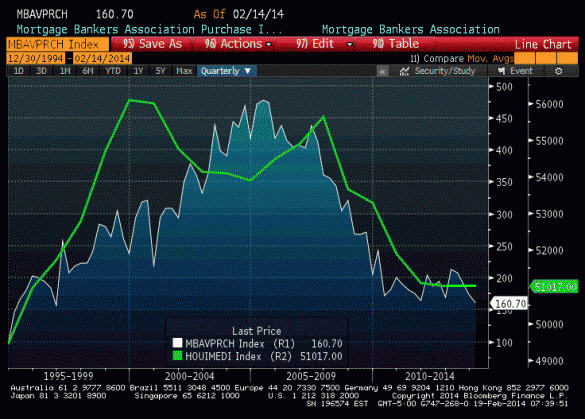 As long as the average American household income is flat or declining, once the investment buyer and small-time flippers drop away from the market, the housing market will go into a serious decline. I believe that the data is already reflecting this dynamic.
I continue to believe that shorting individual homebuilder stocks is the best way to play the view that the housing market is in trouble. Since bouncing off an extreme oversold condition for most of the last 6 months, the Dow Jones Home Construction Index (DJUSHB) has dropped nearly 11% since the end of February. By comparison, the S&P 500 has been flat. For me at least, this is a signal from the market that something is wrong with the housing market. I am short DR Horton (NYSE:DHI), KB Home (NYSE:KBH) and Ryland (NYSE:RYL). Those are my current best ideas for shorting. Because of the high short interest in general in homebuilder stocks, shorting them requires patience and the discipline to add to your position when the sector makes short bursts higher. However, it is my view that over the next 2-3 years homebuilder shorts will outperform most other market sectors.
Disclosure: I am short DHI, KBH, RYL. I wrote this article myself, and it expresses my own opinions. I am not receiving compensation for it (other than from Seeking Alpha). I have no business relationship with any company whose stock is mentioned in this article.