Procter & Gamble (NYSE:PG) is one of the largest publicly-traded companies in the world and this company enjoys a giant footprint all over the world as it sells its products in almost every country. In the last year, the company's stock performance left many investors unimpressed and many investors are wondering whether this is a good investment. In this article, we'll attempt to answer this question.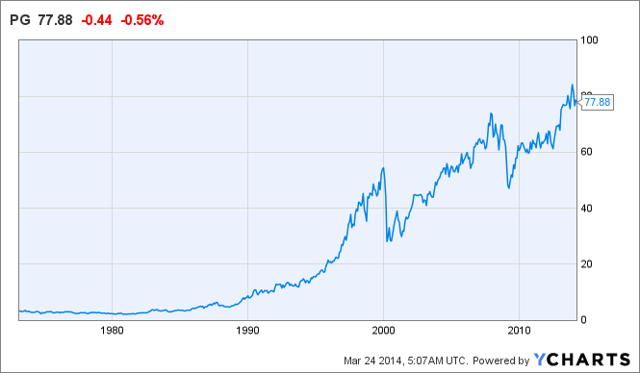 Click to enlarge
After growing at a steady rate for much of 1980s and 1990s, PG's growth rate accelerated dramatically in the early 2000s. In less than a decade, the company was able to grow its revenues from $40 billion to above $80 billion, which indicates a revenue growth rate of 100%. Of course, PG's growth took a big hit with the Great Recession of 2008 and the company has been in a "recovery" mode ever since. In the chart below, you can see how PG's growth rate slowed down dramatically during and after the Great Recession. Nevertheless, there is still some growth left in front of the company.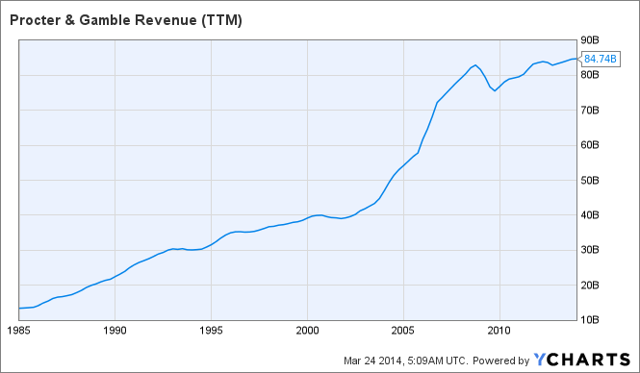 Click to enlarge
In the recent years, PG's profit growth has been fairly flat even though the numbers look a little better if we look at longer periods, such as the last decade. A decade ago, PG was able to generate $25 billion in gross profits, a little less than $10 billion in operating income and about $6 billion in net profits, whereas the company generated about $42 billion in gross profits, nearly $15 billion in operating income and nearly $11 billion in net profits today. The growth is there but it is difficult to see unless one looks at a long-term period like an entire decade.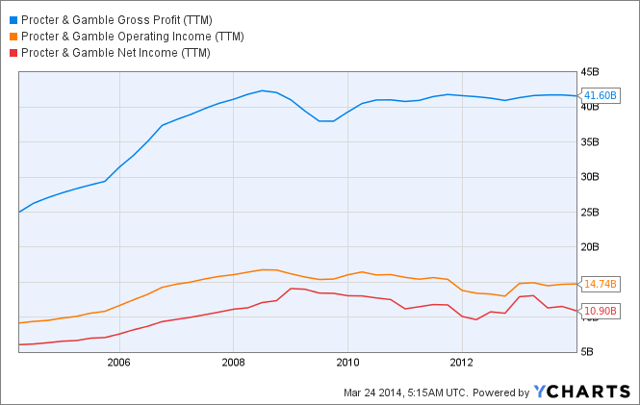 Click to enlarge
How about margins? The chart below shows the fluctuations in PG's margins over the last decade. Notice how the company's net profit margin peaked around the same time as the Great Recession. This was a time many companies were cutting their expenses, learning to do more with less and reducing their headcounts in reaction to a slowing global economy. After this period, PG's margins returned back to their normals. In the last decade, PG's gross margin and operating margin fell in single digits while the company's net profit margin rose in single digits.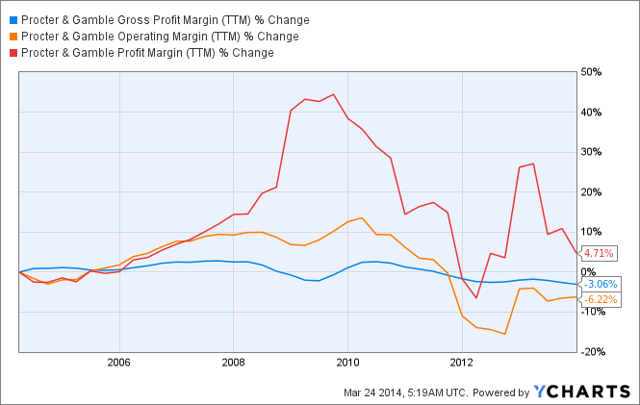 Click to enlarge
More specifically, the company's current gross profit margin is 49.09%, its operating margin is 17.40% and its profit margin is 12.86%. All three margins are not at levels much above their 10-year lows even though the company's margins did not show much of a fluctuation over the years. The good news is that PG's margins and profitability is pretty predictable.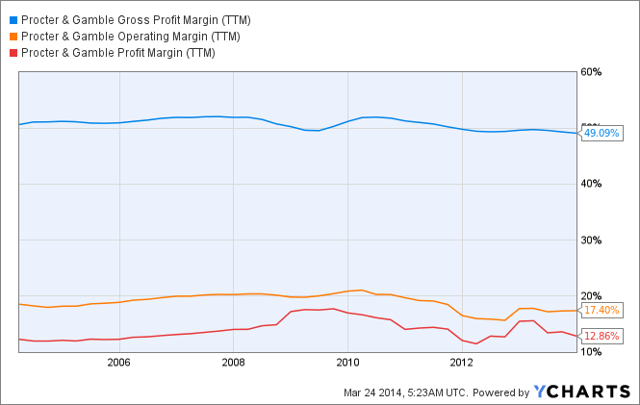 Click to enlarge
During this time, the company had to keep its investors happy, so it kept increasing the dividends even though the profits were not increasing at a dramatic rate. The chart below shows the historical dividend payments and the dividend yield of PG and you will notice that the company is rightfully proud of its dividend history. The current yield is above the market average as well as yields of most high-quality bonds. On the other hand, if the company doesn't start growing its profits rapidly, the dividend growth might be in jeopardy.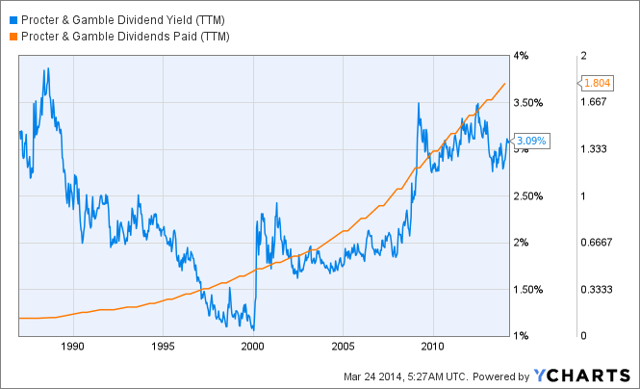 Click to enlarge
The chart below shows the company's payout rate. For those that don't know, this rate shows how much of a company's profits in a given year are spent on dividends. Basically, if a company has a payout ratio of 100%, that means the company pays all of its profits on dividends, which would make the investors happy in the short term but it may make them upset in the long term since the company is not investing its income on growing. Of course, this is an acceptable practice in certain industries such as the REIT industry. Historically, PG used to return about 40% of its earnings to its investors in shape of dividends; however, this figure started to rise rapidly after 2010. During this period, the company continued to raise its dividends even though profits did not grow by much. As a result, PG's payout ratio reached nearly 62% which can be dangerous.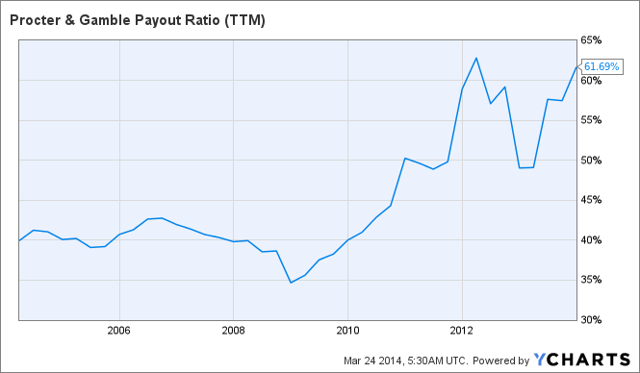 Click to enlarge
Of course, the company is also spending money on reducing its share count so that there is more dividend and more profits to go around per share. Since 2006, PG's share count fell dramatically and it will continue to do so if the company's current policy of buying its shares back doesn't change anytime soon (which we don't expect it to). This way, PG can grow its earnings and dividends per share without growing its net income.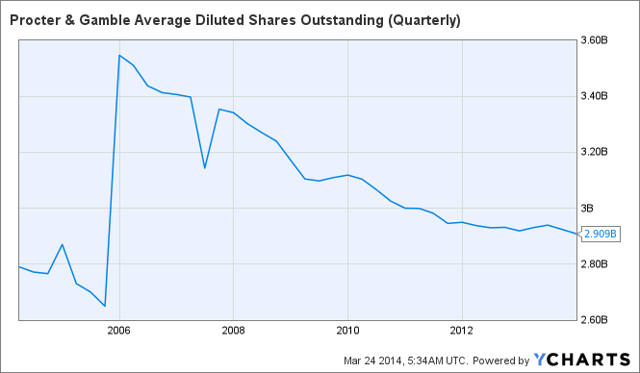 Click to enlarge
Here is a demonstration of how PG grows its EPS without growing its net income by much. Between 2007 and now, PG's net income only grew by 9.40% while the company's EPS grew by 26.97%.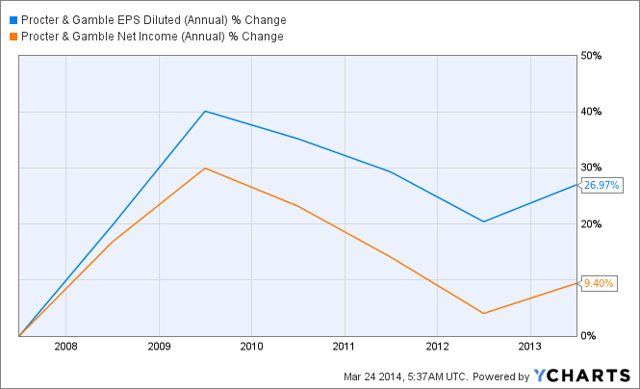 Click to enlarge
How does the company's valuation look then? Historically, the company's P/E ratio ranged between 11 and 45 while the historical norm is closer to low 20s. The current P/E ratio of 21 is roughly in line with the PG's historical valuation even though the company's growth has slowed down considerably in the past few years.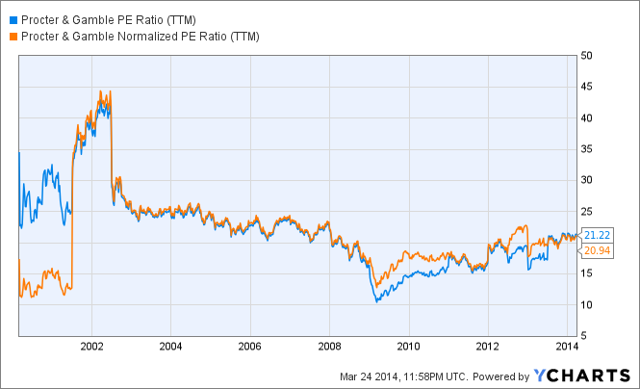 Click to enlarge
Moving forward, the analysts expect the company to earn $4.21 this year, $4.55 next year and $5.00 in 2016. This indicates double-digit earnings growth for the company even though its revenues are expected to keep up with the global economic growth which is expected to be in low single-digit percentages (around 2-4%) for the next few years. Will the company buyback enough shares or expand its margins enough to see the double-digit growth analysts are looking for? It will be interesting to see, but it is too difficult to make the call right now. For the time being, my call for PG is "be cautious."
Disclosure: I have no positions in any stocks mentioned, and no plans to initiate any positions within the next 72 hours. I wrote this article myself, and it expresses my own opinions. I am not receiving compensation for it (other than from Seeking Alpha). I have no business relationship with any company whose stock is mentioned in this article.