"A bull market is like sex. It feels best just before it ends." - Barton Biggs
With the S&P 500 near all-time highs, inquiring minds want to know whether this bull market is about to end or will there be more market gains to come?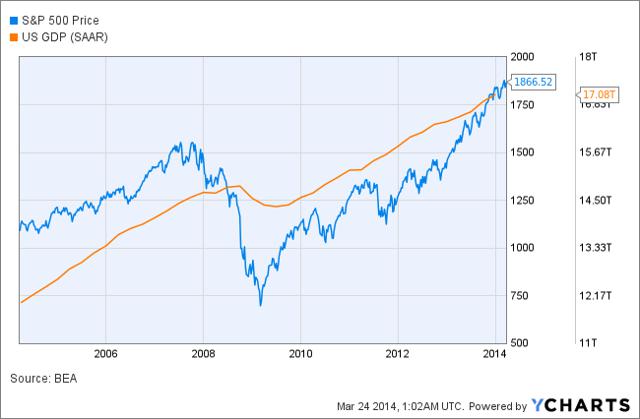 The improving U.S. economy and robust stock market performance with the help of Viagra-like effects of QE may be just what the doctor ordered to keep this feel good market erect. According to the Bureau of Economic Analysis, real gross domestic product (the output of goods and services produced by labor and property) increased at an annual rate of 2.4 percent in the fourth quarter of 2013 compared to a 4.1 percent increase in the previous quarter. In contrast, the S&P 500 (NYSEARCA:SPY) increased 10.5% and 5.3% over the same periods, respectively.
As the chart above suggests, the hefty stock market gains in the past five years appear to be making up for the panic drop in the S&P 500 during the '08-09 crisis relative to the GDP's trajectory.
While economic conditions are on the mend, investors now face upcoming monetary challenges. Recently the Federal Open Market Committee released the following statement on further measured reduction in asset purchases from $65 billion per month to $55 billion per month starting in April 2014:
In light of the cumulative progress toward maximum employment and the improvement in the outlook for labor market conditions since the inception of the current asset purchase program, the Committee decided to make a further measured reduction in the pace of its asset purchases. Beginning in April, the Committee will add to its holdings of agency mortgage-backed securities at a pace of $25 billion per month rather than $30 billion per month, and will add to its holdings of longer-term Treasury securities at a pace of $30 billion per month rather than $35 billion per month. The Committee is maintaining its existing policy of reinvesting principal payments from its holdings of agency debt and agency mortgage-backed securities in agency mortgage-backed securities and of rolling over maturing Treasury securities at auction. The Committee's sizable and still-increasing holdings of longer-term securities should maintain downward pressure on longer-term interest rates, support mortgage markets, and help to make broader financial conditions more accommodative, which in turn should promote a stronger economic recovery and help to ensure that inflation, over time, is at the rate most consistent with the Committee's dual mandate.
Additionally, the bull market is in the latter stage of the business cycle and sentiment readings such as the Citigroup Panic/Euphoria Model might suggest we are nearing a market top (see chart below).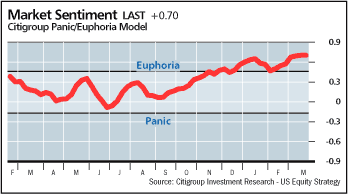 Conclusion
With certain indicators suggesting an overheated market (elevated margin interest, higher valuations, and a bullish sentiment to name a few), a market climax may be in our near future.
Investors who were fortunate to experience this bullish ride might consider taking some chips off the table. For investors who are starting to commit new capital, proceeding with caution come to mind.
However, if you do decide to invest your savings now, here are some parting words from Warren Buffett, "keep things simple" by "accumulating shares over a long period, and never sell when the news is bad and stocks are well off their highs".
Disclaimer: Please note the fact that a general recommendation made of a particular security, commodity, or investment area does not mean it is suitable for you or should be purchased by you. For example, we may already have purchased such securities at a lower cost and/or the position for you may represent too much concentration in one security or industry. Before deciding to invest you should carefully consider your investment objectives, level of experience, and risk appetite. The possibility exists that you could sustain a loss of some or all of your initial investment and therefore you should seek advice from an independent financial advisor if you have any doubts.
Disclosure: I am long SPY. I may reduce SPY or other long positions over the next 72 hours. I wrote this article myself, and it expresses my own opinions. I am not receiving compensation for it (other than from Seeking Alpha). I have no business relationship with any company whose stock is mentioned in this article.