With this series of articles, I am looking to track the performance of my portfolio to determine when to action to rebalance, initiate new positions and exit others. Finishing out FY 2013, the portfolio is up 39%. In this article, I will proceed to talk about positions from greatest return to greatest loss for the portfolio in the last quarter.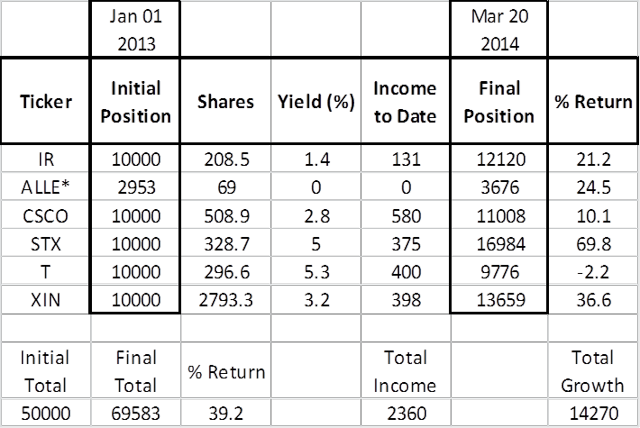 Allegion (NYSE:ALLE)
Allegion's performance was up 21% for the quarter which makes the return almost 25% since the spinoff occurred. The company announced Q4 revenue of $550.6 million, up 0.8% YOY (up 4.5% excluding separation costs) and full year FY13 revenue of $2.1 billion, up 2.3% YOY (up 3.7% excluding separation costs). The company also announced a quarterly dividend of 8 cents a share (0.59% yield) and approved a buyback program for $200 million worth of shares. Given this demonstrated interest in returning shareholder value and a current forward P/E of 18.1, I will continue to hold Allegion and see how the market perceives its value as more investors begin take notice of it.
Cisco (NASDAQ:CSCO)
Performance for the quarter was up 2.6%, but the price remains almost in the bottom quarter of the 52 week price range. Cisco's revenue was down 8% YOY with $11.2 billion reported this quarter, but the company announced another $4 billion in buybacks and raised the dividend 12% to 0.19 a quarter resulting in a yield of 3.5%. Recently, Barclay's downgraded Cisco to equal weight with a $23 price target along with other firms voicing concerns over competitors taking away market share. I like Cisco for the return of cash to shareholders that equates to over 100% of FCF for FY13. Although I am not a fan of John Chambers (NYSE:CEO) as his comments in selected conference calls from the past two years have derailed otherwise successful results, I will continue to stick with Cisco as the current valuation seems pretty cheap with a forward P/E of 10.4.
Xinyuan Real Estate
Performance for the quarter was down 3.7% and this company remains one of the lowest valuations one can come across in a legitimate business with a current P/E of 2.7 and a forward P/E of 2.2. The dividend yield for Xinyuan is just over 4%, the company has a BV per share of around $12 and management announced a buyback of $60 million within the last year that represents around a 16% reduction in the share count with the current pricing. The company expects reduced revenues for Q1 and Q2 this year as development of the projects bought at land auctions last year occur and for revenues to be back loaded in the year as presales begin for these projects after development. I continue to like Xinyuan as they have attracted the interest of major funds and the market seems to undervalue the firm no matter what strategy the management inacts.
AT&T (NYSE:T)
Performance for the quarter was down 3.7%, but AT&T has a forward P/E of 11.2 and maintains a 5.3% yield. The company is successfully growing mobile data (17%) and U-verse subscriptions (28%) YOY with continued gains from both of these services anticipated in the next year. The company performed buybacks of $13 billion for around $366 million shares and paid out 10 billion of dividends for a total of $23 billion or 166% of FCF spent on increasing shareholder value. This would be alarming if AT&T were a smaller company as they appear to be spending more money creating value than they are taking in, but considering that their corporate borrowing rate in November 2013 was 2.375% on $1.6 billion and the firm's D/E remains at 0.8, there's not a considerable enough debt load to legitimately be worried about insolvency. I will continue to hold AT&T as I like the management's commitment to addressing shareholder value .
Ingersoll Rand (NYSE:IR)
Performance for the quarter was down 6%, but revenues for both climate and industrial segments were up YOY. Guidance for 2014 EPS is $2.95 to $3.10, with another round of buybacks for $1.5 billion having been authorized by the board along with a dividend increase resulting in a yield of 1.7%. I will continue to stick with Ingersoll Rand for the time being as a forward P/E of 15.9 doesn't point to it being overvalued at this point, but I may look to decrease my position unless a significant development comes along as I was mainly holding in order to see what developed with the Allegion spinoff.
Seagate Technologies (NASDAQ:STX)
Performance for the quarter was down 13% on the back soft guidance for FY14, but management continues to pledge to return 70% of FCF to shareholders. The stock still has a yield of 3.2% and the company is in the process of acquiring Xyratex and anticipates completion in June 2014. Seagate and Western Digital form a duopoly that controls the traditional hard drive market and as such will continue to be an essential component within the technology laden landscape. This situation doesn't look to change any time soon, so I am happy to collect the dividends while I wait for a viable, cheap, and new storage capacity to be presented.
Overall
A rough quarter for the portfolio overall with a quarterly loss of 4%, but it caps off an excellent fiscal year with a 39% return that managed to beat the DJIA's return of 23.6% pretty handily (calculated as since inception Jan 01, 2013). I need to address what to do about Ingersoll Rand now that the spin off has been completed, but that will require a more thorough look at the company than will be presented here.
Disclosure: I am long IR, STX, CSCO, T, ALLE, XIN. I wrote this article myself, and it expresses my own opinions. I am not receiving compensation for it (other than from Seeking Alpha). I have no business relationship with any company whose stock is mentioned in this article.