The effect of an above average season of winter storms did have a negative effect on F3Q2014 earnings for FedEx Corporation (NYSE:FDX). The company missed its revenue estimate by $160 million and missed its earnings estimate by 23 cents per share. Despite the miss, revenue of $11.3 billion increased 3.2% year-over-year and EPS of $1.23 increased 9% year-over-year. This shows that the weather had a negative effect, but not a devastating one for the company. Overall, FedEx still looks like a strong investment for the long-term.
The FedEx Ground and FedEx Freight segments were strong in F3Q2014 with revenue gains of 10% and 9% respectively. However, revenue for FedEx Express was flat for the quarter due to lower freight revenue and lower fuel surcharges.
Stable fuel prices are likely to benefit FedEx for 2014 and 2015. Eia.gov expects the average price of retail gasoline to be $3.44 in 2014 and $3.36 in 2015. This should keep costs under control and allow for positive earnings growth.
FedEx authorized a share repurchase program last quarter to the tune of 32 million shares. This should help contribute to a boost in earnings per share and lay a solid foundation for the stock to move higher. As of February 28, 2014, FedEx had 15.2 million shares remaining in the plan.
The company generated a healthy cash flow of $4.3 billion for the past twelve months with $968 million left as free cash flow. The balance sheet is solid as FedEx has nearly 2 times more current assets than current liabilities. There are also over 2 times more total assets than total liabilities.
Valuation
FedEx looks fairly valued as it's trading at about 15 times expected 2015 EPS of $8.84. This fair valuation is reinforced by a PEG of 1.32 and a price-to-book ratio of 2.65. Competitor, United Parcel Service (NYSE:UPS) is trading with a higher valuation. UPS has a forward P/E of 16, a PEG of 1.7, and a price-to-book ratio of 13.8. FedEx's EV/EBITDA of 7.1 is also lower than UPS's figure of 10.7. Overall, FedEx has a fair price, but is priced more attractively than its main competitor.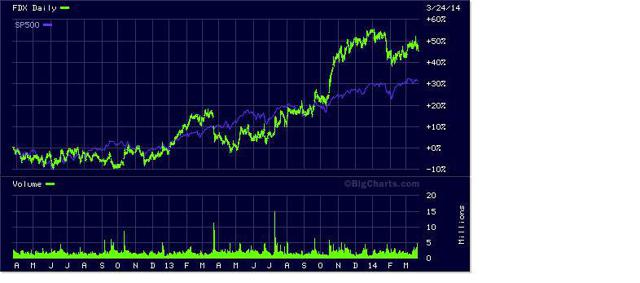 The Risks
One troubling factor for FedEx is the lower growth for the Express segment as compared to the Ground & Freight segments. Customers have been using more of the lower-priced services than the Express services. The company has implemented a profit improvement program which is focused on FedEx Express and FedEx Services. However, most of the benefits of this program will not be realized until 2015 and 2016. The success of the program depends on the health of the economy. So, if the economy continues to improve over the next few years, the Express segment is likely to experience increases again. If the economy hits a rough patch, then the Express segment is likely to show weakness.
Conclusion
FedEx is expected to grow earnings at 15% annually for the next five years. This is expected to come from 2% - 4% annual revenue growth, gross margin expansion, and share buybacks. The stock is priced better than UPS, but fairly valued as compared to the S&P 500. The stock should perform well along with the improving economy. Since FedEx's expected earnings growth is higher than that of the average S&P 500 company, I think that FedEx will outperform the index over the next few years.
Disclosure: I have no positions in any stocks mentioned, and no plans to initiate any positions within the next 72 hours. I wrote this article myself, and it expresses my own opinions. I am not receiving compensation for it (other than from Seeking Alpha). I have no business relationship with any company whose stock is mentioned in this article.