What a comeback. Microsoft (NASDAQ:MSFT) just reclaimed the $40 mark, an accomplishment many thought could not be reached again after the dotcom bubble burst at the beginning of the century. Microsoft last traded at $40 during the high-flying dotcom years in 1999 and 2000, when a hamburger joint with an internet connection would have fetched a multi-million dollar valuation. Those times are long gone.
Microsoft, however, continues to benefit from strong sales momentum and extraordinary profitability as a software company. In my January 26, 2014 article 'Can Microsoft reach new 52-week Highs?,' I pushed for a re-evaluation of Microsoft amid solid second quarter results and a large gross cash position of $10 per share with significantly limited downside risk. Microsoft was trading at $36.81 at the time. I wrote:
Microsoft's Devices and Consumer Business proved especially strong during the most recent quarter. Revenues in the Device segment increased by 13% compared to last year, while Commercial revenues increased by 10% y-o-y. Microsoft sold 7.4 million XBox consoles (3.5 million XBox 360 and 3.9 million XBox One) supported by strong holiday season game console demand. The Commercial segment is Microsoft's most important business segment, accounting for 52% of Q2 2014 revenues and 65% of total gross margin.
I expect that Microsoft will also deliver solid commercial revenue growth when it releases third quarter results next month. Microsoft might also be good for a few surprises with regard to Xbox and tablet sales and might even deliver an EPS surprise.
Microsoft going cross-platform?
Microsoft clearly benefited from positive momentum over the last couple of days which was mainly driven by news/rumors that Microsoft's Office suite may become available on Apple (NASDAQ:AAPL) devices. As Reuters reported on March 17, 2014 [emphasis added]:
Microsoft Corp Chief Executive Satya Nadella may unveil an iPad version of the company's Office software suite on March 27, a source familiar with the event told Reuters, and use his first big press appearance to launch the company's most profitable product in a version compatible with Apple Inc's popular tablet.

Investors for years have urged Microsoft to adapt Office for mobile devices from Apple and Google (NASDAQ:GOOG) Inc, rather than shackling it to Windows as PC sales decline. But the Redmond, Washington-based software giant has been reluctant to undermine its other lucrative franchise, its PC operating software.

Microsoft gives up some $2.5 billion a year in revenue by keeping Office off the iPad, which has now sold almost 200 million units, analysts estimate.

Microsoft has had iPad and iPhone versions of Office primed for several months now, sources told Reuters, but the company has dallied on their release due to internal divisions, among other things.

Although Nadella is expected to discuss his thinking in depth next week, the company has already signaled that it will adopt a more liberal attitude toward putting its software on different platforms.
I have never really understood why Microsoft is so entrenched with its platform strategy. Microsoft Office is a hugely popular office suite of desktop applications, and with the much-publicized decline in desktop sales and boom in mobile devices, it would only make sense for Microsoft to go cross-platform. If analyst estimates of $2.5 billion in potential revenues are correct, Microsoft could add approximately 3% or more to its annual revenue base (H1 2014 revenues stood at $43 billion/2014 annualized revenues at $86 billion) simply by giving up its narrow platform strategy.
Technical picture
From a technical standpoint, Microsoft's share price is increasingly likely to fall back below the $40 mark as the Relative Strength Index signals a value close to 70 -- and thereby indicating overbought territory.
With or without the most recent surge above the $40 level, Microsoft's return since the 1980s is just spectacular; almost 40,000% could have been gained by investors who bought Microsoft as soon as it went public.
(Source: Yahoo Finance)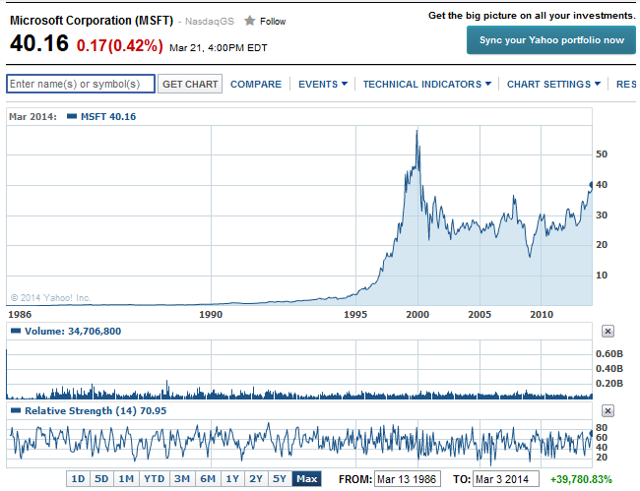 Conclusion
Should Microsoft follow through and indeed deliver game-changing news with respect to a shifting platform strategy, it will lead to a new stream of revenues and earnings originating in the high-growth market of mobile device office applications. The huge popularity of Microsoft Office would make sure that the product gains solid traction and market acceptance on other platforms as well.
I think the market is right in its optimistic assessment that Microsoft could expect a huge windfall if it adopts a more liberal platform strategy, and the software maker surely deserves a higher valuation as a result.
However, there is a good chance that Microsoft's stock price will be trading a bit weaker in the coming weeks, as the Relative Strength Index already signals a slightly overbought sentiment. Should Microsoft fall back below the $40 mark over the next couple of weeks when the initial excitement subsides, Microsoft would be an even better bargain than it already is. Long-term BUY.
Disclosure: I am long MSFT. I wrote this article myself, and it expresses my own opinions. I am not receiving compensation for it (other than from Seeking Alpha). I have no business relationship with any company whose stock is mentioned in this article.