Look folks, nothing in the stock market ever makes perfect sense. We all know that right? For dividend seeking investors who are planning for a more secure retirement, listening to all the talking heads, or spinning tops can test our investing patience and quite frankly much of it can actually derail a really solid plan for a better financial future.
If I was to listen to every expert, I would not know which end is up or which end is down. The only way I know how to invest is by having a plan, a strategy to implement the plan and a goal. As it is, my goal is to live comfortably in retirement for the rest of my life and my wife's life. Hopefully I have been able to convey my own thoughts about this to many folks who have the same goal. After 2 1/2 years of writing for Seeking Alpha, I sure hope folks do not jump at every suggestion anyone makes, or thinks that the sky will fall, or that the market will continue to go up endlessly.
The one thing I think I have shown is that by investing in mega cap, blue chip, dividend growth stocks, much of the ups and downs can almost be ignored.
That's why I spend the time putting together these portfolios that everyone can see for themselves. The latest being BTDP (Buy The Dip Portfolio). It is easy, and simple to follow, to see how my own plan actually works.
The BTDP consists of the following stocks: AT&T (NYSE:T), Exxon Mobil (NYSE:XOM), Johnson & Johnson (NYSE:JNJ), Coca-Cola (NYSE:KO), Procter & Gamble (NYSE:PG), General Electric (NYSE:GE), McDonald's (NYSE:MCD), Chevron (NYSE:CVX), Apple (NASDAQ:AAPL) General Motors (NYSE:GM), Ford (NYSE:F), Microsoft (NASDAQ:MSFT), Wal-Mart (NYSE:WMT), and Pfizer (NYSE:PFE).
Here is the initial chart: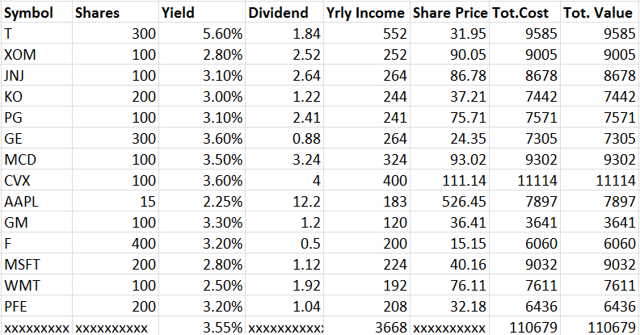 We are going to follow this portfolio, plus we will compare it with an ETF Only Portfolio [ETFOP]. So a more conservative investor can see how market fluctuations hardly make a dent in our primary focus; income.
Right now it looks like for a $110k investment, I will have about $3,668 annually coming in, without doing a thing. That is before dividend increases of course.
Holy Cow The Market Actually Went Down!
Let me try to put to rest all of the gloom and doom talk once and for all. First of all, it is true that the market has recovered from the great recession lows of about 5 -6 years ago, and things are getting better with our economy. That being said, the actual increase from just before the great recession up to right now has not been that amazing.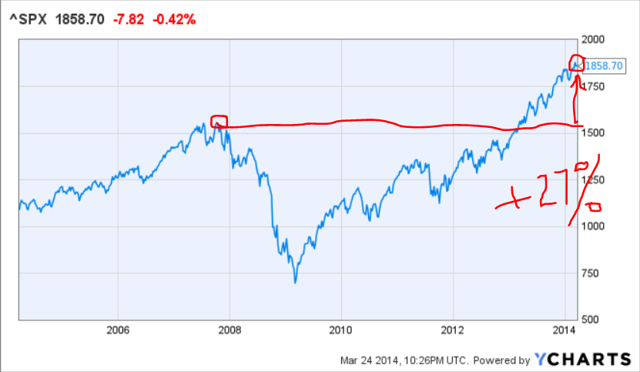 When I look at this chart I obviously see a recovery, but the fact also shows that the S&P 500 has risen only 27% since the nasty days of 2007/08. After nearly 6 years, that is an average of only 5% roughly per year ... below the historical average folks (over 8% per year).
Short the S&P? Hey, this thing might just be getting started! Short at your own risk, and as far as I am concerned there is plenty of it.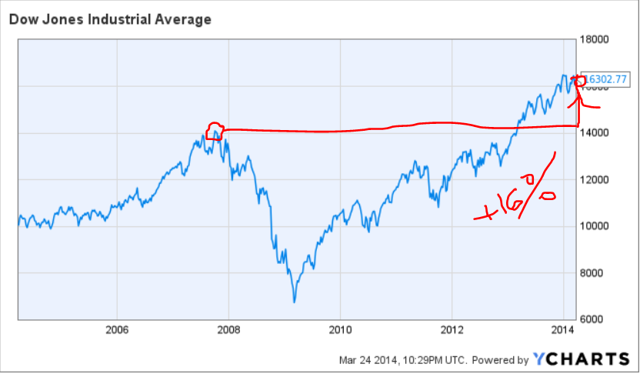 Likewise the Dow. An increase of about 16% in nearly 6 years is not even 3% per year. Guess what; our dividend stocks have increased dividends more than that (3%) in just one year!
Overextended? Not in my world.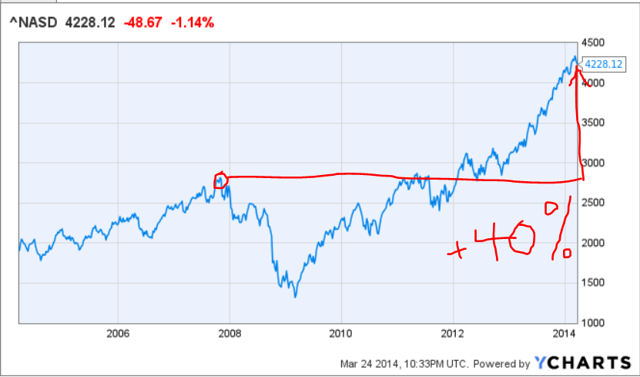 Well now we have something to at least discuss. An upward move of more than 40% since the great recession. Impressive, but still just about 8% per year. Perhaps a bit frothy, but off the charts?
Keep in mind that the Nasdaq has most of those real aggressive little growth stocks also. 8% per year is simply not that unbelievable.
Basically, what I am saying is that it is my opinion that the markets are NOT anywhere near crumbling because of its move up. Of course I have no idea what might occur in the next 5 seconds, but markets can drop and rise normally, which in the case of this particular bull market, has had more ups than downs, but from a very low and dark place.
Will it go all the way back down or even close? I do not have a working crystal ball, but I see nothing that could make that happen as I write this.
Short the market? Nope, not for me.
Well, What About Rising Interest Rates?
Yes, it seems like the interest rate environment might get back to normal. Does that mean that the markets will collapse and the end of mankind as we know it will happen today?
Take a look at this chart, from 1928-2013:
I did not pull them from the air, check out the link I noted. To my eye it seems that there has been little difference in market returns when interest rates rise and for the overall period since 1928.
The first fact that stands out from the data is that stocks don't necessary perform poorly when interest rates rise. All major US equity asset classes had double digit returns, and results aren't materially different than the average annual returns during the entire period.

Secondly, when rates do rise, we still see pronounced additional returns from value stocks and small cap stocks. Compared to the +10.1% average return on the "market", which is dominated by the largest and most growth oriented stocks, large value companies provided over 2% higher returns, small cap stocks almost 3% higher returns, and small value stocks almost 6% higher returns. While all stock returns are 1-2% lower during periods when rates rise, the relative returns amongst asset classes are largely in line with the results over all periods since 1928.
Yes, the market will fluctuate, rise, fall, stay flat, whatever. The main point is that for dividend income seeking investors, the income will keep coming in and probably increase with proven dividend champs and winners.
To short this market might be the riskiest investment at the current market levels. Think about it.
Disclaimer: The opinions of the author are not recommendations to either buy or sell any security. Please do your own research prior to making any investment decision.
Disclosure: I am long AAPL, CVX, F, GE, GM, JNJ, KO, MCD, MSFT, T, XOM. I wrote this article myself, and it expresses my own opinions. I am not receiving compensation for it (other than from Seeking Alpha). I have no business relationship with any company whose stock is mentioned in this article.